Linux Kernel Compile
A more real-world benchmark to test the integer processing power of our quad Xeon server is a Linux kernel compile. Although very few people compile their own kernel, it gives us a good idea how the CPUs handle a complex build.
To do this we have downloaded the 3.11 kernel from kernel.org. We then compiled the kernel with the "time make -jx" command, where x stand for the maximum amount of threads that the platform is capable of using. To make the graph more readeable, the number of seconds in wall time was converted into the number of builds per hour.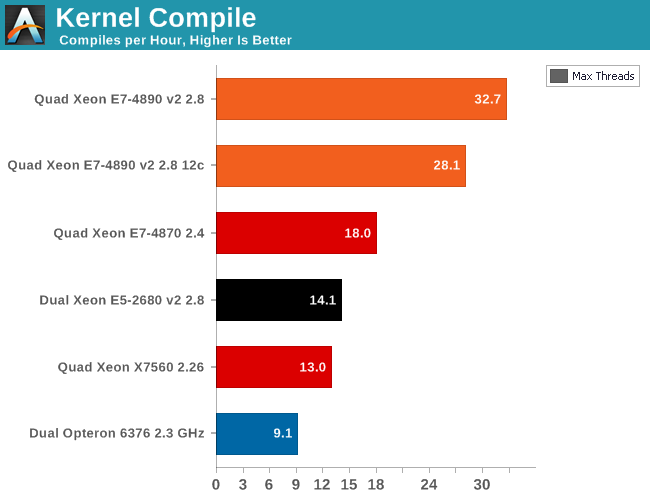 The flagship SKU is almost twice as fast as the previous E7 platform and 2.5 times faster than the Xeon X7560.
It is interesting to note that Xeon 8857-V2 (simulated by the E7-4890 v2 with three cores disabled) will be about twice as fast as the Xeon E5-2680 v2 and delivers almost 90% of the performance of the flagship at 60% of the price. This may be a good option to help hard working developers be more productive and happy?
Of course, we wil be the first to admit that this is a niche market. Let's take a look at some software this platform is built to handle: SAP ERP.