Metro: Last Light
As always, kicking off our look at performance is 4A Games' latest entry in their Metro series of subterranean shooters, Metro: Last Light. The original Metro: 2033 was a graphically punishing game for its time and Metro: Last Light is in its own right too. On the other hand it scales well with resolution and quality settings, so it's still playable on lower end hardware.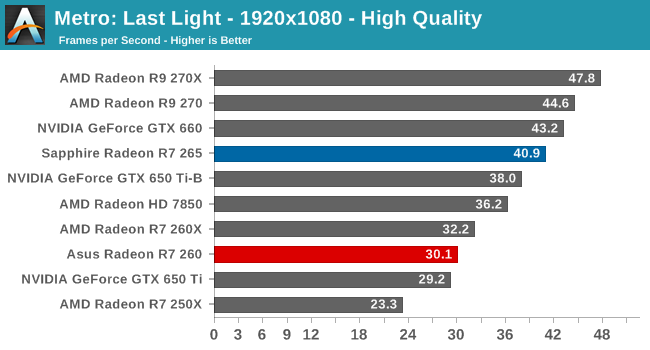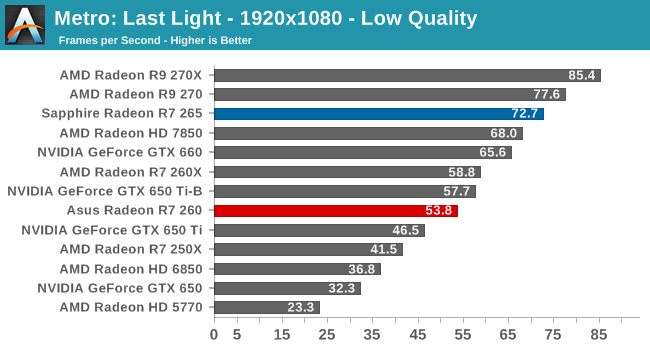 With AMD's R7 260 series restructuring, NVIDIA's closest competitor to the R7 265 and R7 260 for the moment is the GTX 650 Ti, with the GTX 660 also partially competing with the R7 265 from above. A win for AMD in this case is for the R7 260 to beat the GTX 650 Ti, and for the R7 265 to come within striking distance of the GTX 660.
To that end, both of AMD's new cards have little trouble hitting their goals under Metro. At high quality settings the R7 265 is within 6% of the GTX 660 while the R7 260 edges out the GTX 650 Ti. Meanwhile at lower quality settings, where both cards should be far more playable than the 30-40fps rates we saw at high quality, both cards easily surpass NVIDIA's closest competitors.