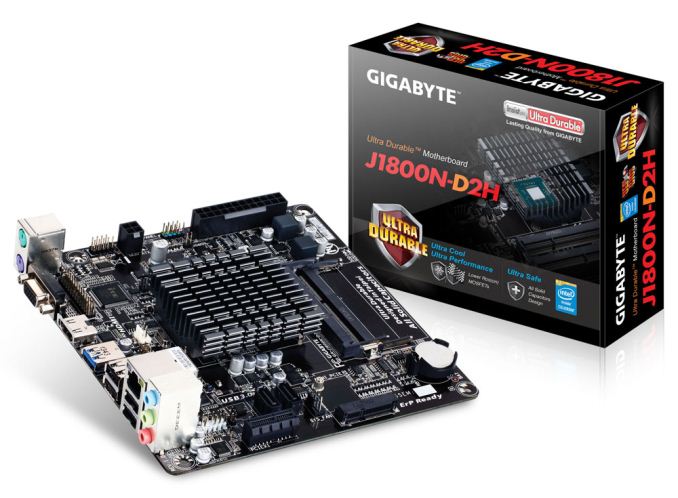 News on the grapevine is filtering down for Bay Trail-D. We have had the 20W Avoton server equivalent processor in our offices for a little while now, but alongside this Intel have 10W consumer based Celerons to market. With the chips being a ball-grid-array arrangement it is up to the motherboard manufacturers to provide the base on which these processors sit. Alongside some display from MSI at CES, GIGABYTE and Biostar are coming to market with their versions.
From GIGABYTE, this is the J1800N-D2H, using the 10W Intel Celeron J1800 Bay Trail-D SoC, a dual core Silvermont CPU starting at 2.41 GHz with turbo up to 2.58 GHz. N in the name indicates mini-ITX, and D2H positions the motherboard at the lower end in terms of specifications. The board itself uses a passive heatsink to cool the CPU (more than understandable for 10W), two DDR3L SO-DIMM 1333 MHz slots (1.35V memory only), a D-sub and HDMI audio output, two PS/2 ports, USB 3.0, a USB 2.0 hub, two SATA 3 Gbps ports, a PCIe 2.0 x1 slot, a mini-PCIe slot, Realtek ALC887 audio and Realtek NIC, all in a 17cm square form factor.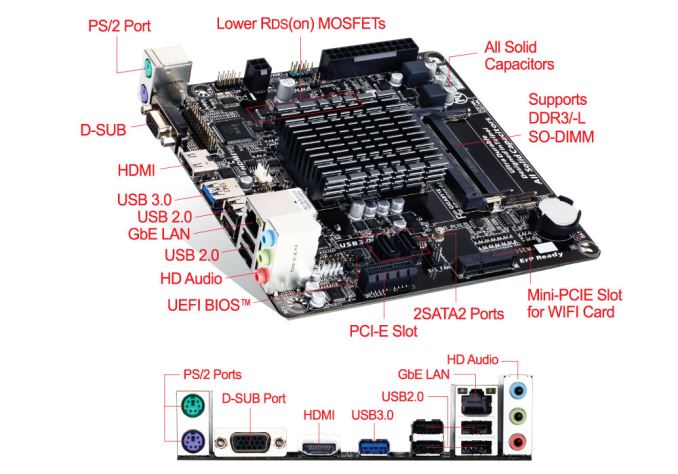 The Biostar J1800NH is a similar product with the Celeron J1800 SoC, using instead a single DDR3L SO-DIMM slot, fewer USB 2.0 ports and a Realtek ALC662 audio codec instead.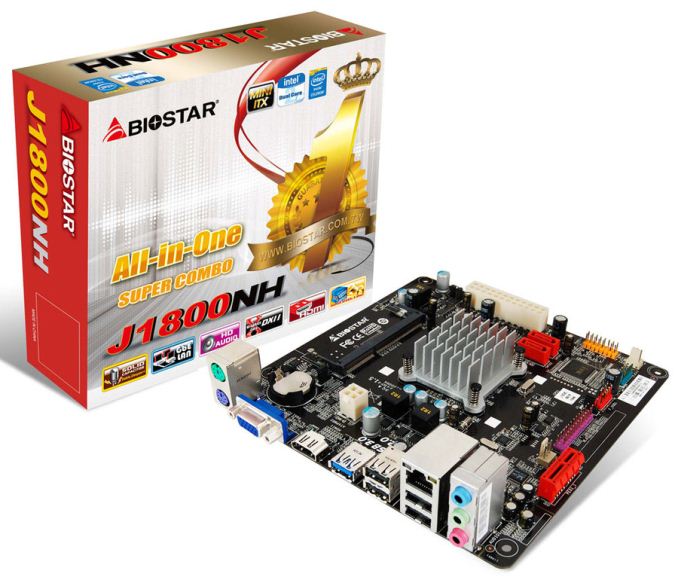 What is perhaps more surprising is the pricing. The Biostar motherboard is currently available for $56 with a $60 MSRP – the GIGABYTE motherboard, and the MSI one at CES, should be around $60 as well. However this SoC, sold by Intel, is listed as $72 tray price (i.e. in batches of 1000). This means either that these manufacturers are getting them at a discount, or selling them at a loss.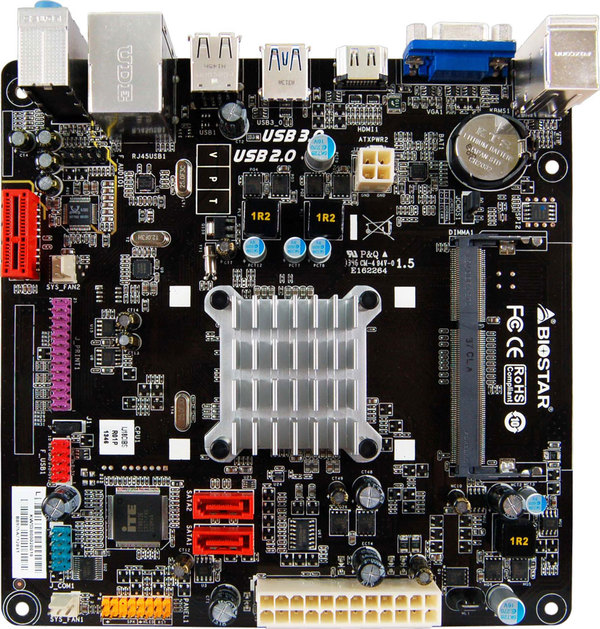 The purpose for Bay Trail-D is tablet like performance in a desktop form factor, with perhaps the added advantage of expandability and connectors. Users wanting quad core solutions will have to keep eyes peeled for J1850/J1900 versions, or jump to Pentium J2850/J2900. We saw that ECS was going to release a line of these motherboards last year. As mentioned, we have Avoton in to test, specifically Intel's 8-core Silvermont solution for IPC/servers. Keep your eyes peeled for that review.
Sources: Fanless Tech via Liliputing via Tech Report.