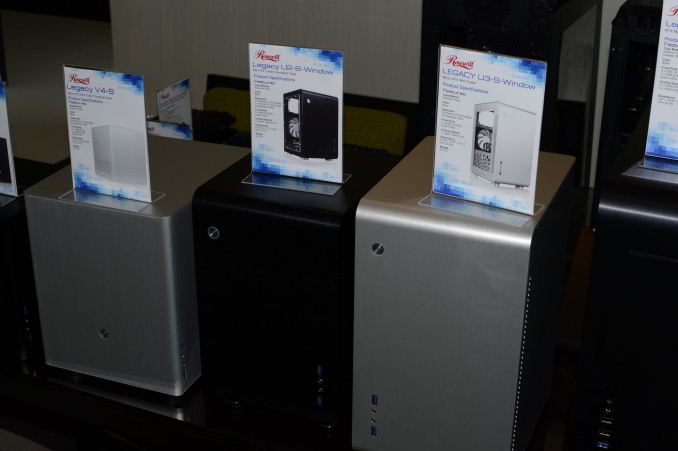 Rosewill is one of those manufacturers that seems to dabble in just about everything. We mostly know them for their cases, power supplies, keyboards, and mice, but there's plenty more – headphones/headsets, speakers, chairs, security cameras, flashlights, power banks… I'm not sure how long the list is, but it's far more than we tend to cover. Our focus is mostly on the four traditional areas, of course, and Rosewill had some new cases and peripherals on display.
Starting with the cases, Rosewill has announced a new line of cases with the Legacy brand name. These are available in a range of sizes from mini-ITX to ATX, and they all feature aluminum allow exteriors with steel interiors. One of the cases even has "butterfly" sides that lift out sort of like the doors on a Lamborghini, which is sort of novel. Build quality looks good on the Legacy series, but without testing I can't say much about cooling or other aspects of performance. Also on display was an updated version of the Blizzcon 2013 Blackhawk case, which has more of a gamer slant in terms of styling, while the Rise takes a more minimalist approach to case aesthetics and the Stealth has some angular themes inspired by the famous stealth fighter/bomber.
Moving over to the keyboard side of things, Rosewill had a couple membrane-based keyboards with three-color backlighting (red, blue, or purple). The RK-8300 and RK-8500 are basically the same, except the RK-8300 doesn't have all the extra multimedia keys or the volume knob. Rosewill also had an as-yet-unnamed compact mechanical keyboard on display, and I believe it may be RGB backlit, but it wasn't playing right with the powered USB hub so I couldn't get the full demo. If it is RGB LEDs, it won't be using Cherry MX switches, so that will be interesting to see what the keyboard feels like in comparison to the Cherry MX keyboards.