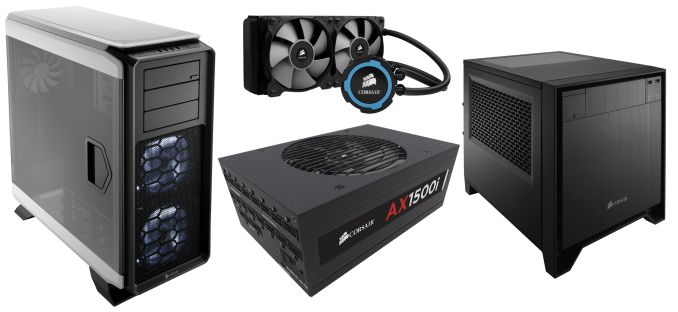 With another year comes another Consumer Electronics Show, held in Las Vegas every January. CES represents one of the three major showcasing events in the calendar, the other two being Computex held during June in Taiwan, and CeBIT held in Germany in March. Typically the North American and Asian shows hit hardest in terms of new releases and previews of upcoming equipment, and this year's CES is no different. Corsair got in touch with us before the event regarding their new releases and previews, including new power supplies, cases, liquid cooling and keyboards. Here's a sneak peak before we head on over to their booth.
New Cases: Graphite Series 760T and 730T
Corsair's Graphite range currently includes the 230T and the 600T in a series of colors, but as of February the higher end full tower sized 760T and 730T will join the ranks. The 760T is shown below, using swing out windowed side panels to look in to the PC – the 730T will be almost identical in design except the side panels which will be steel for a simpler and sleeker appearance.
These cases will feature nine expansion slots for a full on multi-GPU arrangement, six 3.5"/2.5" hard disk mounts can be relocated to any of four mounting locations. This is in addition to four side mounted 2.5" bays to allow the cages to be removed entirely. The front features two LED lit 140mm fans with another at the rear, all with an integrated fan speed toggle (760T only). The front can be adjusted into a 280mm radiator mount, and the top can also be changed into a 360mm radiator mount, alongside the three 5.25" bays.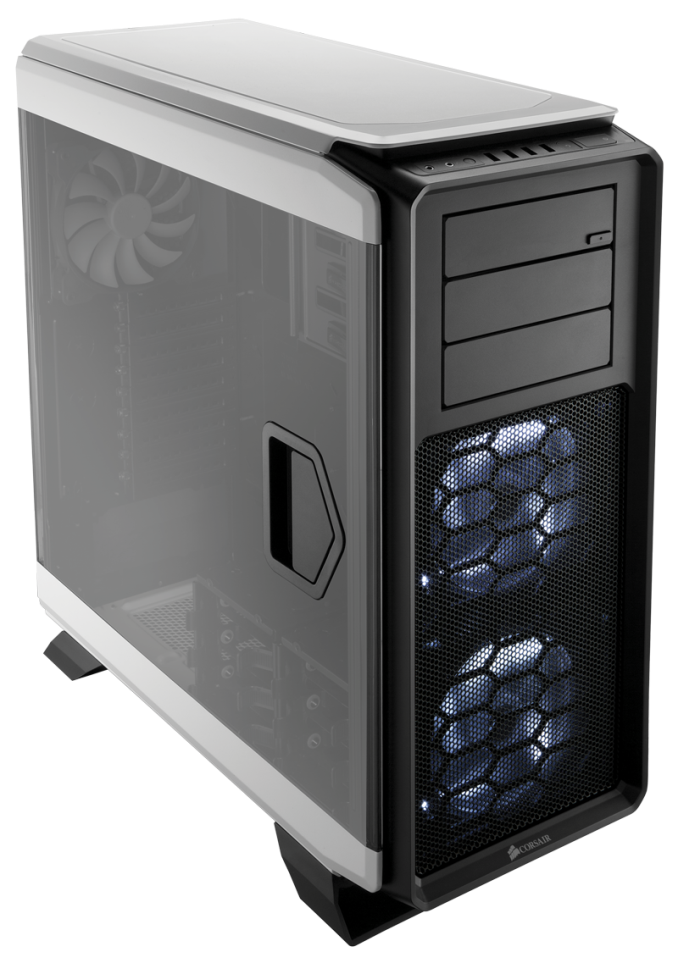 Expansion Room


- 9 e

xpansion slots
- Six 3.5"/2.5" combo bays in two modular hard drive cages, with room for two more cages
- Four tool-free 2.5" side-mounted drive cages
-

Three tool-free 5.25" bays for expansion




- Four front mounted USB ports (two USB 3.0)

Cooling Flexibility
- Fan Hi/Low controller (760T only)
- Three included high-airflow 140mm fans (2 front LED, 1 rear)
- Room for up to 8 fans:
- Top – 3 x 120mm or 3 x 140mm
- Front – 2 x 140mm/120mm
- Rear – 1 x 140mm/120mm
- Bottom – 120mm
- Radiator compatibility:
- Top – 360mm or 280mm
- Front – 280mm or 240mm
- Bottom – 120mm
-

Rear – 140mm or 120mm

Easy to build
- Full swing out side panels release with a single latch,
- Tool-free drive bays.
- Center-post standoff holds motherboard in place while you secure the other screws.
- Thumbscrews included for all expansion slots.
- C

able routing room and plentiful tie-downs behind the motherboard tray

Dimensions
-

22.4" x 9.7" x 22.2"
The 760T should retail at $180 (black) and $190 (Arctic White), while the 730T edition has an MSRP of $140, while both come with a two year warranty.
New Closed-loop Liquid Cooler: Hydro Series H105
Love them or hate them, CLCs are here to stay. I have owned several over the years, including the H50, H80i and H100 – they offer a very reasonable cooling performance without seeming overly bulky and are not restricted by motherboard or large CPU cooler + large GPU designs. The new one in the Corsair family for Q1 2014 is the H105, a 240mm design like the H100 and H110, though this time the radiator is 38mm thick.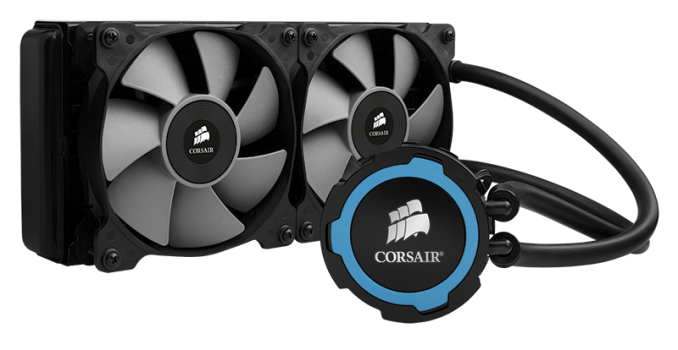 Being a fan manufacturer as well, Corsair are keen to promote their use of high static pressure fans (the exact value of the static pressure has been requested) that combine performance and a suitable noise profile, with up to 73CFM (800-2700 RPM) @ 37.7 dBA. All modern sockets (AM2 and up, 1156 and up) are supported.
The H105 will retail for $120, come with a 5-year limited warranty and be available from January.
New Mini-ITX Case: Obsidian 250D
Corsair is finally jumping on the mini-ITX bandwagon with the 250D – a model designed to follow cues from the popular Obsidian series. The 250D is marketed with a 'no-compromise' banner, supporting large liquid coolers, full-length graphics cards and full size modular power supplies. Dimensions for all this come in at 11.4 x 10.9 x 13.81 inches (290 x 277 x 351.2 mm) at 9.7 lbs with a brushed aluminum outlook over a steel construction.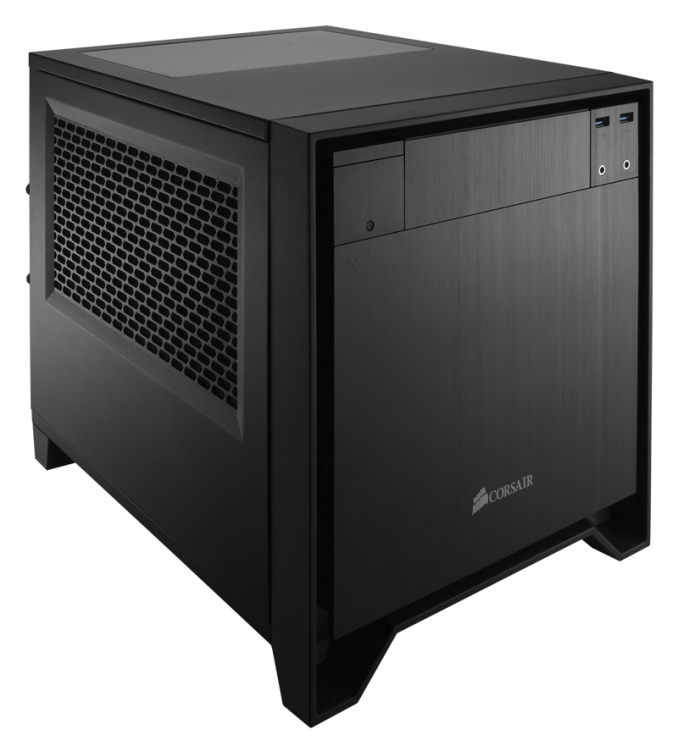 The case allows 290mm of internal clearance for GPUs, and 200mm for PSUs. Alongside two 3.5"/2.5" bays and two 2.5" only bays is a full size 5.25" bay on the front, next to two USB 3.0 ports on the polished case frontage. Two fans are included (140mm and 120mm), with room up to five fans.
We have the Obsidian 250D and H105 in for review, so keep an eye out for those. The 250D should be on sale in late January with a two year warranty and an MSRP of $90.