Overclocking
Our final evaluation criteria is overclocking. Since the 290 Tri-X OC is based on AMD's reference board, the card has the same overclocking functionality and capabilities as any reference card. Which is to say that we have voltage control and monitoring, but the board itself is not particularly engineered for extreme overclocking. At the same time the nature of putting together a card like the 290 Tri-X OC means that Sapphire is doing some degree of binning,
Radeon R9 290 Overclocking
Sapphire Radeon R9 290 Tri-X OC
Ref. Radeon R9 290
Shipping Core Clock
699MHz
662MHz
Shipping Boost Clock
1000MHz
947MHz
Shipping Memory Clock
5.2GHz
5GHz
Shipping Boost Voltage
~1.18v
~1.18v
Overclock Core Clock
824MHz
790MHz
Overclock Boost Clock
1125MHz
1075MHz
Overclock Memory Clock
6GHz
5.6GHz
Overclock Max Boost Voltage
~1.23v
~1.18v
For overclocking the 290 Tri-X OC, we increased the PowerTune limit by 20% and the voltage by 50mV to what's roughly 1.23v. Out of this we were able to get another 125MHz (13%) out of the GPU and 800MHz (15%) out of the VRAM, now topping out at 1125MHz for the GPU boost clock, and 6GHz for the VRAM. The final clockspeeds are better than our previous efforts at overclocking our reference 290 (which was prior to voltage control), although only moderately so.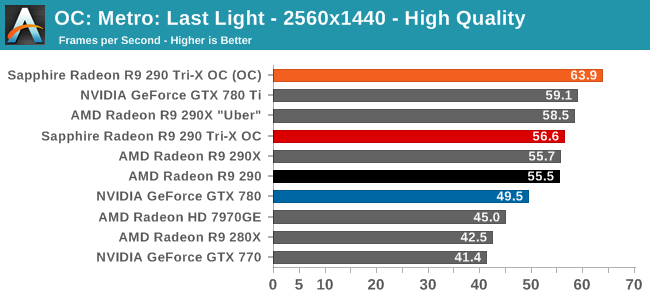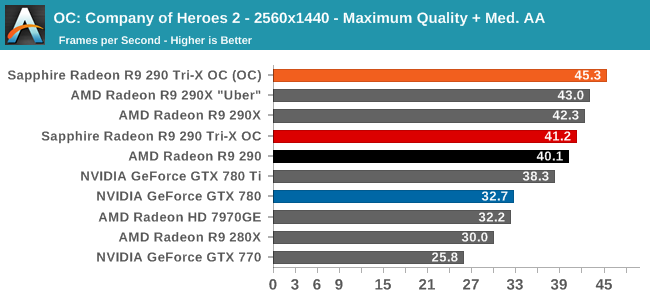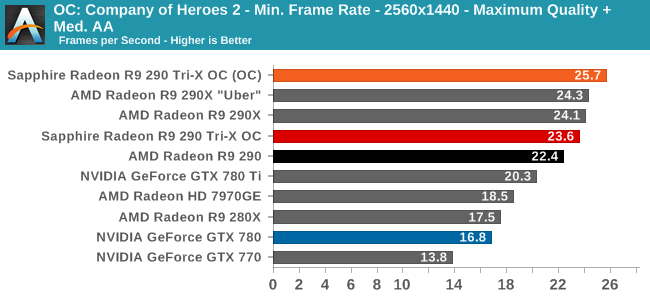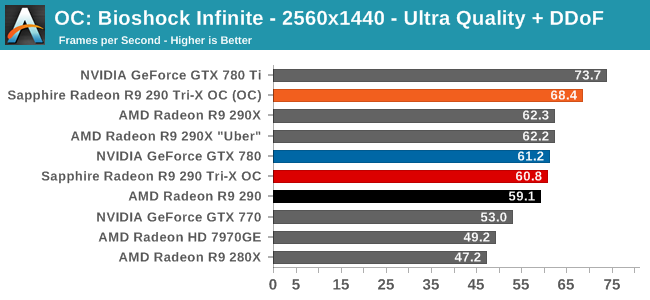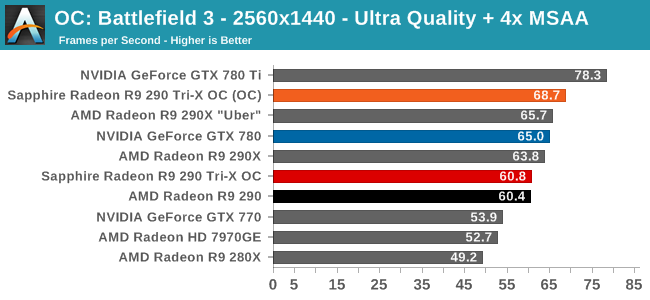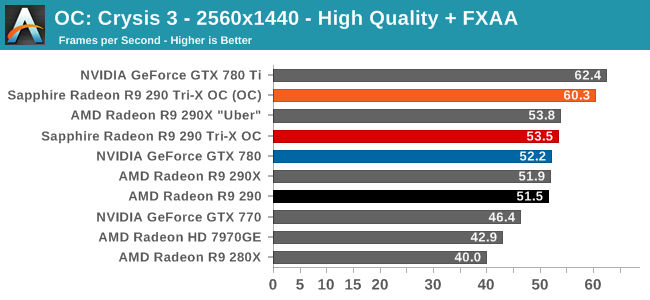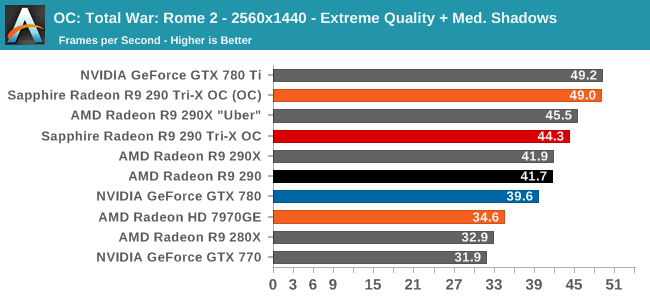 Starting first with gaming performance, as a more extensive overclock relative to Sapphire's factory overclock, the performance gains from our own overclocking have yielded very solid results, despite the fact that this isn't explicitly an overclocking board. Between the 13% core overclock and 15% memory overclock, the average performance increase measures in at 12%, varying depending on whether a game is more bandwidth limited, GPU limited, or CPU limited.
At 12% faster the overclocked 290 Tri-X OC is fast enough to largely close the gap between it and the reference GeForce GTX 780 Ti. Otherwise it will consistently outscore the 290X in "uber" mode, even in spite of the pared down nature of the Hawaii GPUs used in 290 cards.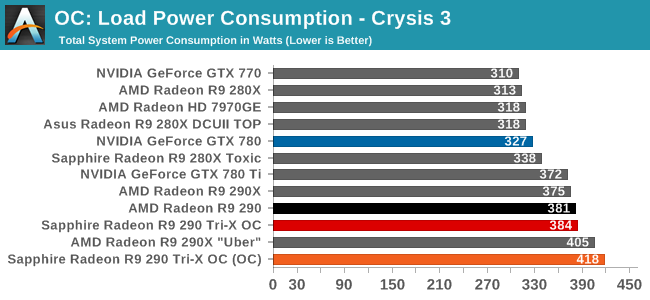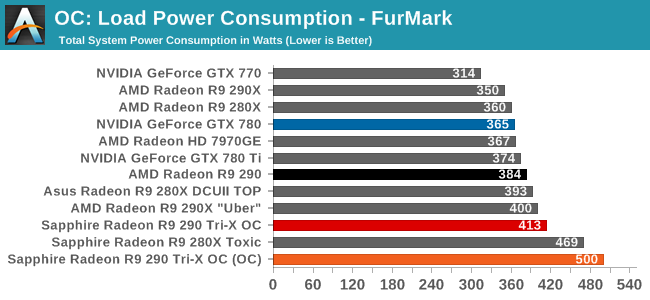 The power consumption penalty for overclocking is significant, but outside of the outright power limited FurMark, is not unreasonable. Under Crysis 3 the additional 13% in performance comes at a cost of 30W at the wall, most of which will be from the video card.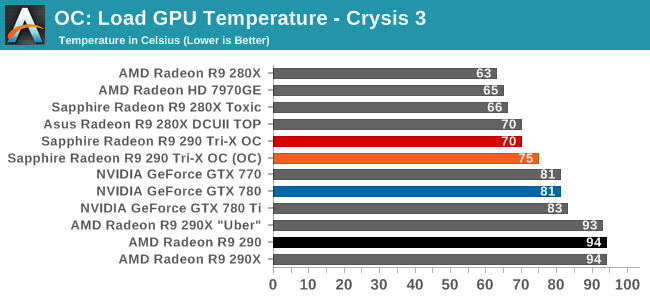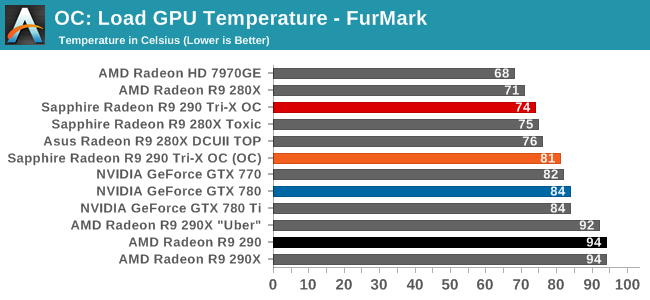 Along with power consumption overclocking also comes with the expected increase in operating temperatures. Under Crysis 3 this is an increase of 5C to 75C, while for FurMark (where the increase in power was greater) this is an additional 7C to 81C. FurMark definitely gives the Tri-X cooler a harder time when the video card is overclocked, but as this is a worst case scenario it also means that operating temperatures should still remain well under 80C, as evidenced by Crysis 3.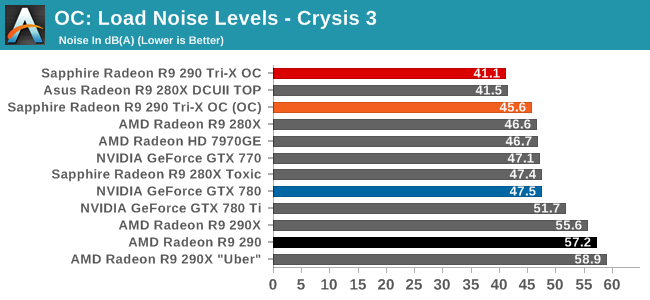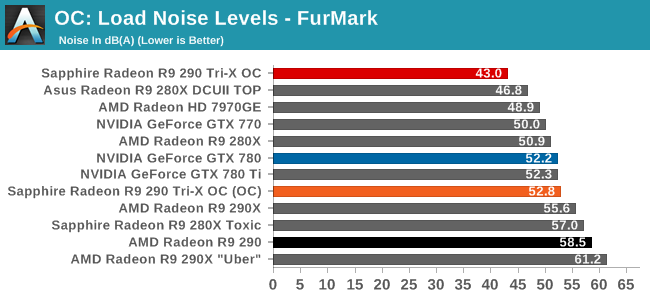 Even with our overclocking the 290 Tri-X OC still holds up rather well when it comes to Crysis 3. At 45.6dB this is a 4.5dB increase in noise, more than enough to be noticed, but notably it's still quieter than our stock 280X and 7970GE, both of which are similarly open air coolers. FurMark on the other hand pushes the card much harder since it's reaching the new 120% PowerTime power limit, leading to a jump in noise of just under 10dB to 52.8dB. Even faced with an overclocked FurMark the Tri-X cooler is still holding up very well, though we've clearly reached the point (with regards to thermal loads) where it has lost its near-silence.