On the camera side the Moto G includes a 5 MP rear facing camera with autofocus and LED flash, on the front it includes a 1.3 MP camera. I did some digging and found that the rear facing camera CMOS is an Aptina AR0543 CMOS. There's nothing on Aptina's website about the AR0543, but there is an AR0542 which probably is its predecessor with 1/4 Inch format and 1.4 μm pixels. I suspect this is exactly the form factor of the sensor in Moto G, with some slight improvements, I believe the color filter array is Bayer as well, not RGBW like Moto X. The rear facing camera module has a focal length of 3.5 mm which works out to around a 37mm focal length in 35mm-equivalent units, the system has an F/# of 2.4, which is great for a device of this cost.
On the front is the Aptina MT9M114 1.3 MP, 1/6 Inch with 1.9 µm pixels sensor that we've seen a lot of in recent days.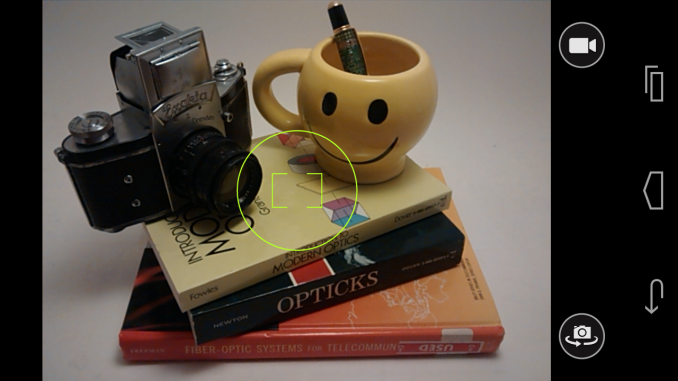 Motorola uses the same camera application as the Moto X, and reflects the most recent UI changes that have rolled out in both OTAs and through the Play Store. The biggest change is a new spot focus and exposure point which can be dragged around the live preview. Motorola calls it manual focus and exposure, in practice it's really a weighted spot meter and focus point that you can drag around. I'd only call what LG has on the G2 or Nokia bundles as manual focus, but the new camera app is a substantial improvement over the UI as it launched with the Moto X, which didn't afford any exposure or metering controls (instead taking a scene average), only tap to focus, which ran a full AF search wherever you tapped.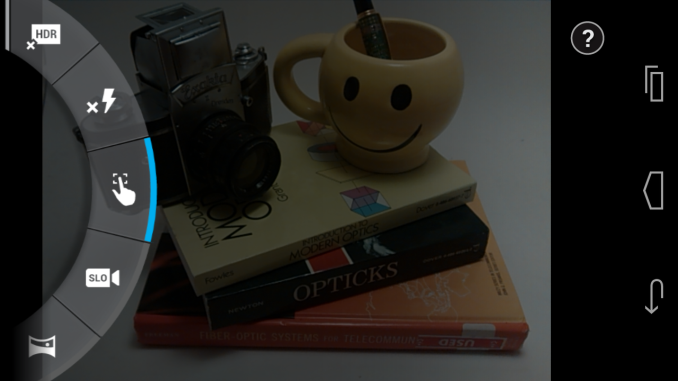 The camera settings menu still is a ring chooser that slides out with a drag from the left side, and has settings for HDR, flash, tap to focus/expose, slow motion video, panorama, location, a new aspect ratio toggle (16:9 and 4:3) and shutter sound. The aspect ratio toggle is what's new versus the X, since the Moto G has a standard 4:3 aspect ratio sensor and not the 16:9 aspect ratio aspect ratio of the Moto X. By default the Moto G launches with the 16:9 aspect ratio for image capture, cropping off part of the image area, but tapping 4:3 gives you a proper live, full field of view, 4:3 preview. Major kudos to Motorola for giving an aspect-correct live preview. Shot to shot latency is longer than Moto X or other flagships, but not inordinately long or on the order of seconds. I should note that the Moto G does not include the same wrist-flick camera activation gesture as the Moto X.
To evaluate image quality we turn to the usual combination of photos taken at the bench locations, although location 7 wasn't available, and photo tests in a lightbox with lights on, and off, and of test charts. I also continue to take photos while out and about with devices to get samples in a variety of other conditions.
Moto G still image quality is better than I had suspected. Outdoors in well lit scenes the Moto G is totally capable of delivering good quality shots with good exposure and focus.
My only major criticism is that there's definitely some off-axis loss of sharpness, the leftmost part of almost every image gets blurry quickly, the right side doesn't show nearly as much. Alignment tolerances for smartphone optics are a part of module cost, I wouldn't be surprised to see variance like this. In low light or indoors, the Moto G occasionally struggles to produce images without blur, but that's a complaint I still levy against some modern flagships. There's also a bit of light leakage on the Moto G which crops up when outdoors, but nothing crazy. Front facing camera quality is totally par with other flagships I've tried, which isn't surprising.
Camera - Video
On the video side, the Moto G's interface is, no surprise, just like the Moto X. There's a video button that immediately starts video capture, successive taps in the image area capture still frames from the live video. Although MSM8x26 supports up to 1080p30 video encode for H.264, Moto G oddly enough captures video at 720p30 in H.264 High profile at 10 Mbps. Audio is stereo thankfully at 128 kbps AAC.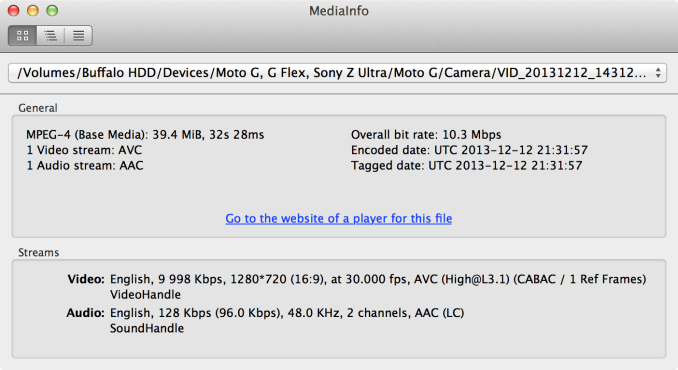 As always I've uploaded a copy of the video recorded at the usual place to YouTube and to our servers for you to look at without the additional compression.
Video from the Moto G is well exposed and appears great for being 720p. I would personally miss 1080p, but the Moto G seems great for the resolution it affords. There's no dropped frames or visible macroblocking, and exposure seems good, again my only desire would be for 1080p resolution.