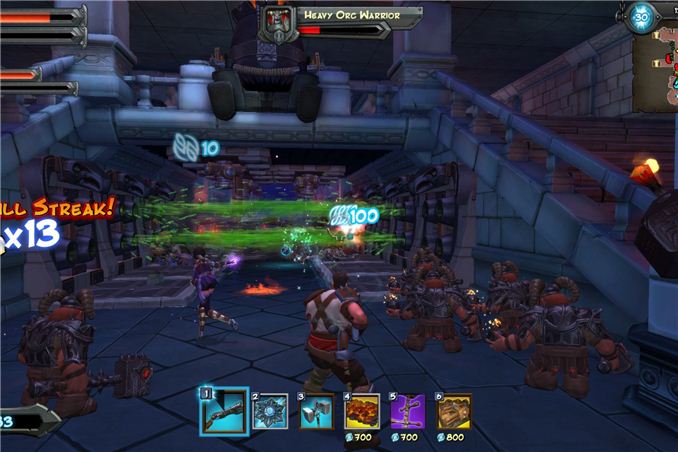 I'm late on this one, as I was traveling last week, but the current Humble Jumbo Bundle definitely deserves your attention. I actually bought this bundle while I was away on Thanksgiving vacation, but it still has a week left and this is definitely one you should buy. The current average price is only $4.21 and you get nine games, many of which are worth more than $5 on their own. The full list consists of Natural Selection 2, Sanctum 2, and Magicka (with "Vietnam" and "Dungeons and Daemons" DLC), which is a reasonable starting point. If you pay more than the average price, however, you'll also receive Orcs Must Die! GOTY, Orcs Must Die! 2: Complete Pack, Sanctum: Collection, Garry's Mod, Cities in Motion 2, and Serious Sam 3: BFE, which is pretty insane. There are also soundtracks for six of the games available (Orcs Must Die!, Cities in Motion 2, and Garry's Mod being the exceptions).
Since I missed mentioning it last week, I'm also going to bring up the current Humble Weekly, which has ten indie titles for $6. The core seven games are OddPlanet, Splotches, Faerie Solitaire, MANOS: The Hands of Fate, Vincere Totus Astrum, and Pitiri 1977. You also get the game-creation software Multimedia Fusion 2, which was apparently used to create these six games. Pay $6 or more and you'll also receive Knytt Underground, NightSky, and Really Big Sky. Nearly all of the games are available as DRM-free releases. Those who like Steam can also get Faerie Solitaire, Knytt Underground, NightSky, and Really Big Sky on that platform (with three of those four – Really Big Sky being the exception – also being available for OS X). And Android users also get a few bonuses, as MANOS and Nightsky versions for that OS are included.
Still need more options for some indie gaming goodness? I received an email from another company similar to Humble Bundle that has several bundles all going on right now. The company is Bundle Stars (based in the UK), and while it's not a "name your own price and/or give to charity" site, they have six current bundles that range in price from $2.50 up to $4.01, with one other bundle being priced at a hefty $8.99 (yes, that's tongue-in-cheek). Some of the games are older, some are probably not that great, but at less than $1 per game it's hard to complain. The current six bundles going on are the Planes, Trains, and Automobiles (nine vehicular games for $4.01), Indie Capsule Bundle (seven indie games for $3.50), The Outer Limits (ten games for $4.01), Ultimate Sci-Fi (eight games for $3.50), Superpower Sims (nine simulation games for $8.99), FPS Warrior (six FPS shooters for $3.50), and Blaze of Glory (six strategy games for $2.50). The bundles have anywhere from seven to 28 days remaining, and if you missed some of these games at launch and want to give them a shot this is the modern day bargain-bin, with Steam codes available for all of the games.
Source: Humble Jumbo Bundle