Networking Performance and Streaming Aspects
In this section, we will take a look at the networking capabilities of the unit and also our standard HTPC streaming tests (involving YouTube and Netflix). Starting with this review, we are standardizing our evaluation of the wireless networking capabilities of UCFF and industrial PCs. Our standard test router is the Netgear R7000 Nighthawk configured with both 2.4 GHz and 5 GHz networks. The router is placed approximately 20 ft. away, separated by a drywall (as in typical US buildings). A wired client (Zotac ID89-Plus) is connected to the R7000 and serves as one endpoint for jPerf evaluation. The UCFF PC is made to connect to the two wireless SSIDs and jPerf tests are conducted for both TCP and UDP transfers with pre-set transfer parameters.
In our NUC build, Intel's Dual-Band Wireless-7260 delivers 2T2R 802.11ac speeds and provides very good throughput numbers when used with an appropriate router. As the gallery below shows, the 2.4 GHz band is able to deliver TCP throughput in the region of 86 Mbps and UDP throughput in the region of 96 Mbps.
The theoretical bandwidth number for 2x2 802.11ac is 867 Mbps. Practically, in the 5 GHz band, the 7260's TCP throughput is around 210 Mbps and UDP throughput is around 239 Mbps in our test setup.
Network Streaming Performance - Netflix and YouTube
YouTube and Netflix are two very popular streaming services utilized on HTPCs. With Windows 8, Silverlight is no longer necessary for Netflix streaming. The Netflix app on Windows 8 supports high definition streams (up to 5.8 Mbps) as well as 5.1-channel Dolby Digital Plus audio on selected titles.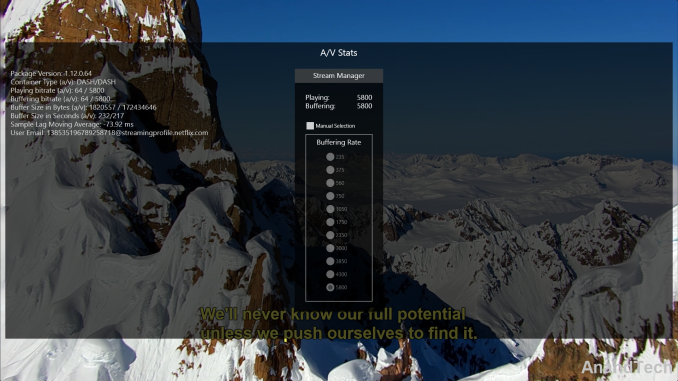 It is not immediately evident whether GPU acceleration is available or not from the OSD messages. However, GPU-Z reported an average GPU utilization of 4% throughout the time that the Netflix app was playing back video. The average power consumption was around 8.5 W. Coming it at less than 10 W for the whole system while streaming HD video is very impressive. The spikes in the GPU usage were observed whenever the subtitles or control OSD kicked in. There is obviously some correlation between these spikes and the recorder power consumption at the wall.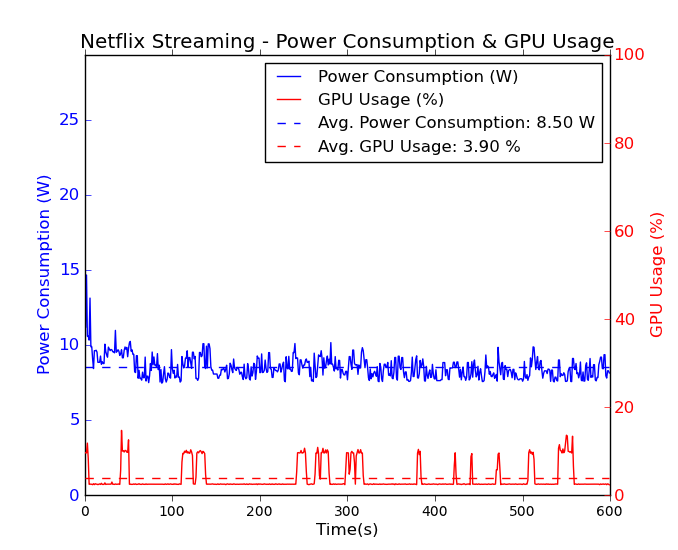 One of the issues that I faced with the Netflix app was that bitstreaming HD audio (Dolby Digital Plus) would just not work. The playback was jerky to the point of being unwatchable and with either no or intermittent audio output to the AV receiver. Apparently, this is an issue faced by multiple users, and the problem stems from the Intel Display Audio Driver. Intel's rep on the forums, however, has been unable to reproduce the issue. So, it looks like many users are being left high and dry, unable to take advantage of one of the most important aspects of running Netflix as a Metro app.
Unlike Silverlight, Adobe Flash continues to maintain some relevance right now. YouTube continues to use Adobe Flash to serve FLV (at SD resolutions) and MP4 (at both SD and HD resolutions) streams. YouTube's debug OSD indicates whether hardware acceleration is being used or not.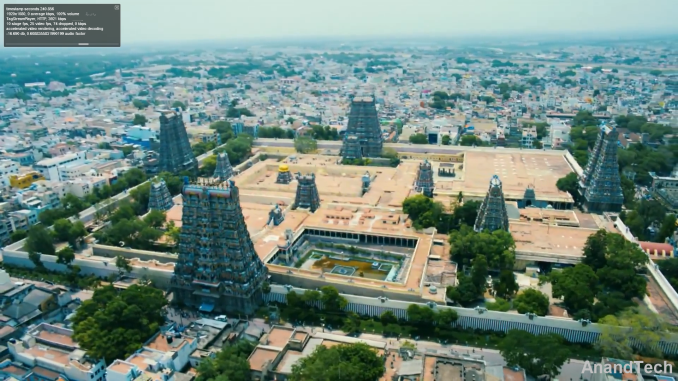 Despite Windows 8 having plenty of YouTube apps, the browser interface is pretty much functional and free of external intrusive ads. The graph below shows the power consumption and GPU loading when playing a YouTube video in full screen using the Adobe Flash plugin on Mozilla Firefox.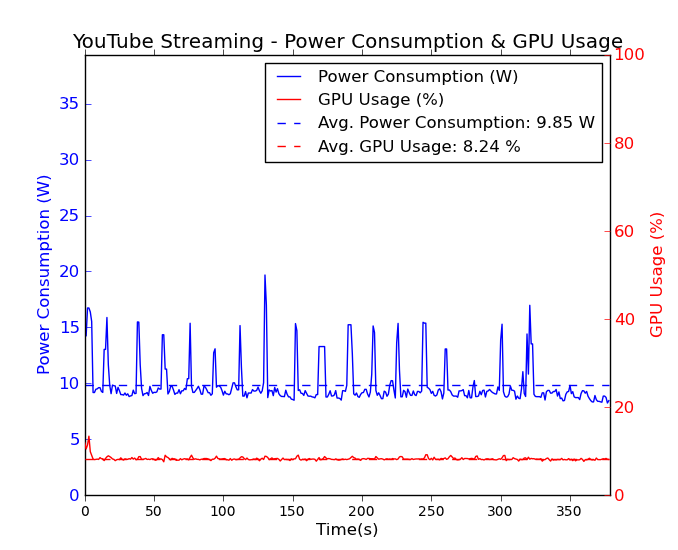 The average GPU load is pretty constant around 8%, but power consumption at the wall has spikes corresponding to bursts of network activity. These bursts die down towards the end, after the full video gets buffered.
We saw that Haswell provided great power benefits for such network streaming activities in our HTPC piece at launch time. The Intel NUC takes this power benefit one step further by using a ULV processor. With a power consumption of less than 10 W for these activities, we are approaching dedicated media streamers' territory with the added flexibility of a full-blown PC at one's disposal.