Cellular
The Nexus 4 was lambasted for not including LTE, even though it shipped with Band 4 LTE inadvertently enabled before an update disabled it. What it did have was DC-HSPA+ and receive diversity that its predecessor didn't. With Nexus 5, Google has added LTE and done nearly the same two-device USA and rest of world LTE band combination split it did with the new Nexus 7.
LG-D820
(North America)
LG-D821
(Rest of World)
Baseband
MSM8974 (Category 4 LTE - 150 Mbps DL/50 Mbps UL)
Transceiver
WTR1605L
GSM
850/900/1800/1900 MHz
CDMA2000
BC: 0/1/10
-
WCDMA
1/2/4/5/6/8/19
1/2/4/5/6/8
LTE
1/2/4/5/17/19/25/26/41
1/3/5/7/8/20
The USA Nexus 5 is LG-D820 and includes the necessary LTE bands for AT&T, T-Mobile, and Sprint (yes it's a tri-band Sprint Spark device), in addition to DC-HSPA+, and CDMA2000. The "rest of world" Nexus 5 is LG-D821 and trades the North America specific LTE bands 4, 17, 19, 25, 26, and 41 for 3, 7, 8 and 20 which make a lot more sense for Europe and EMEA, and of course lacks CDMA2000. I've put a table together with the two variants and their band combinations.
The Nexus 5 uses MSM8974 which includes the third generation of Qualcomm's multimode LTE modem. It's a Category 4 LTE part, capable of 150 Mbps on the downstream and 50 Mbps on the upstream. That means if you're lucky enough to be using an operator who has 20 MHz of contiguous spectrum and is running 20 MHz LTE channels, you can realize that full 150 Mbps of downstream. Transceiver is still WTR1605L which obviously is still quite competent, with enough ports for the two LTE configurations Google went with. Nexus 5 goes with the typical pragmatic antenna placement of primary Rx/Tx at the bottom, secondary Rx at the top. There's actually a total of 5 antennas, if we look at the back of the device with the cover off it's easy to pick them out.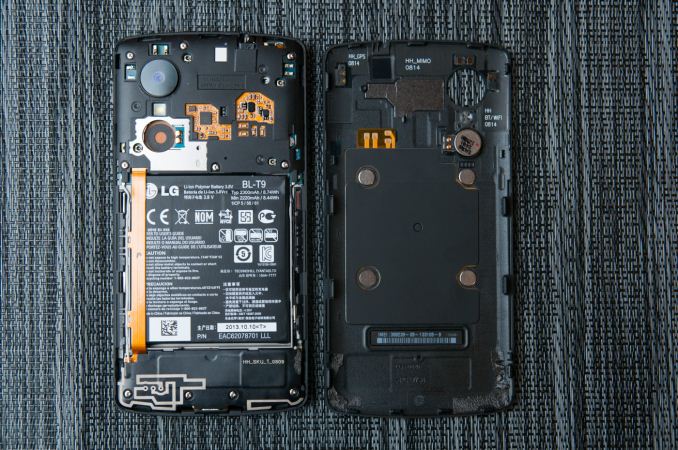 What's interesting about the Nexus 5 is that it's the second device on the market with one of Qualcomm's RF360 suite of RF front end components. In this case, that's the QFE1100 envelope tracker which the Note 3 also included, although interestingly enough the LG G2 includes a QFE1101 APT (average power tracker), a simplified version of the same component.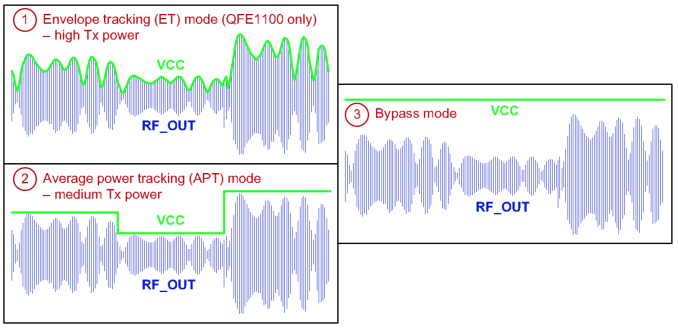 After display, power amplifiers are probably the second or third largest consumers of power in a mobile device attached to a cellular network. The envelope tracker's purpose is to increase DC to RF efficiency and correspondingly decrease current consumption and heat generation. The envelope tracker is essentially a DC to DC power supply that creates a supply voltage that tracks the envelope of the transmit signal, providing the correct amount of supply voltage to match instantaneous demand of the power amplifier. It's impressive that Nexus 5 includes an envelope tracker considering its economical price point.
An interesting consequence of the LG-D820 being a Sprint Spark device is that the Nexus 5 also includes some field test menus. Previous Nexus devices didn't afford any interesting details beyond what was exposed through the RIL, the Nexus 5 is the first that appeases me with some additional details. You can get to these either by making an activity to it, or there's also an awesome app with shortcuts already on the market.
Under mobile networks there's now the ability to change between 2G, 3G, and LTE for the preferred network mode. Up a level there's a new "mobile plan" shortcut which ostensibly takes you to the provisioning page for whatever operator you're attached to. Oddly enough this does nothing on T-Mobile, it'd make sense to have this go to T-Mobile's account status page.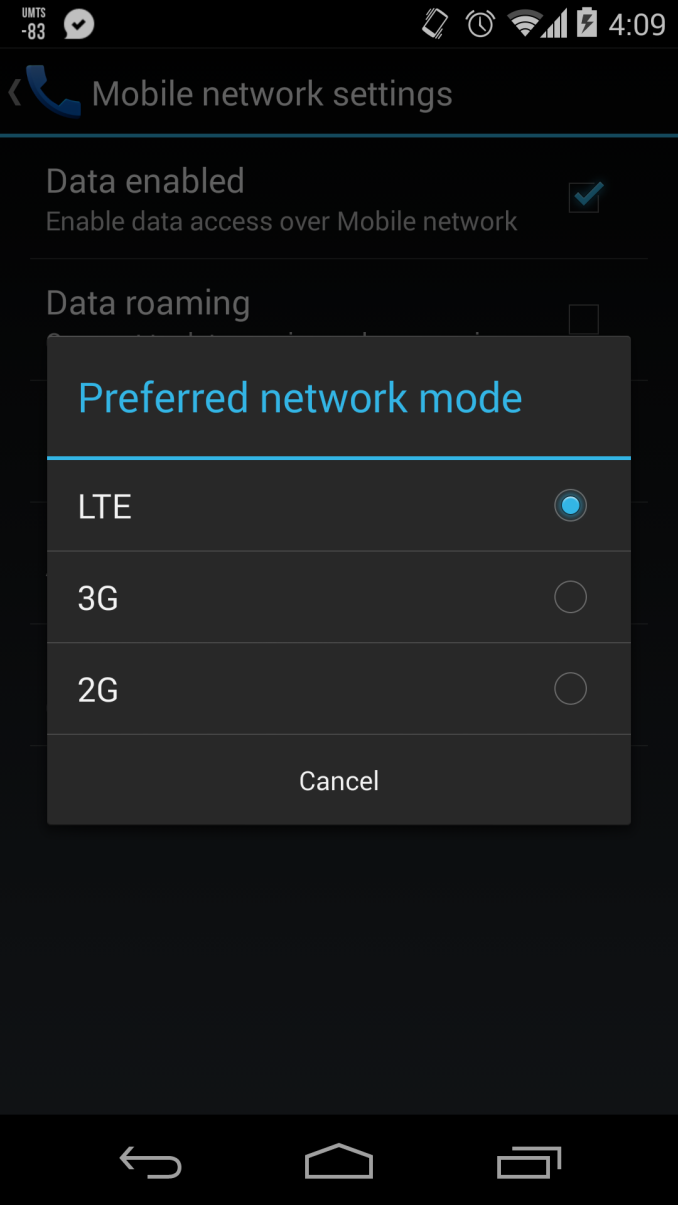 I have no issues with cellular connectivity on the Nexus 5, which I used on AT&T before switching to T-Mobile LTE just fine.
WiFi
Mobile handsets have steadily increased WLAN throughput rates and PHY capabilities each year. It seems that not a generation goes by that we don't get something more than the generation before it, and the latest handsets include 802.11ac, the new 5 GHz WLAN specification that includes support for 80 MHz wide channels and higher order modulation (256QAM) among other things. Nexus 4 included dual band WiFi (2.4 and 5 GHz) based on Qualcomm's WCN3660 WLAN combo chip, Nexus 5 adds 802.11ac with the latest Broadcom silicon, BCM4339, the evolution of BCM4335, their first 802.11ac combo. It's still single stream, which isn't surprising or a negative, giving it a maximum PHY rate of 433.3 Mbps.
BCM4339 we've already seen once in the Note 3, which is an easier to implement derivative of BCM4335 which includes on-chip 2.4 and 5 GHz transmit power amplifiers and receive low noise amplifiers. External front ends are still supported of course if an OEM wants to, though I can't see why they wouldn't just opt for a 4335 instead if they're going that route.
In any case the Nexus 5 has leading edge WLAN/BT with the same feature support as BCM4335, including Bluetooth 4.0 Smart Ready. To test I turned to iPerf to test throughput, same as always.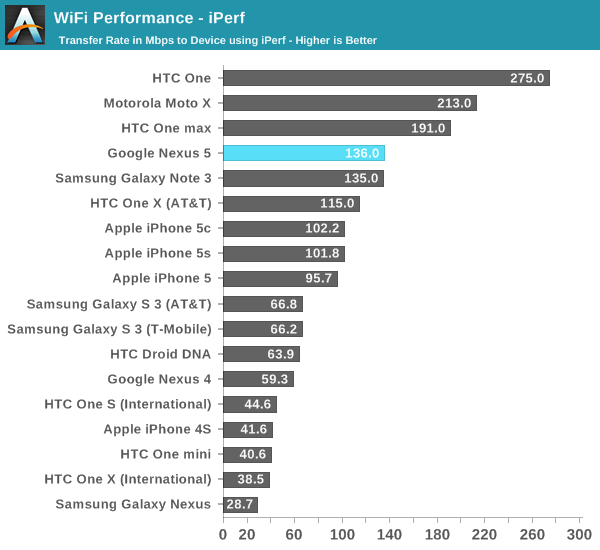 It's interesting to me that both the Note 3 and Nexus 5 pack the same combo, and end up having just about the same throughput, an average of 135 Mbps when attached with the best MCS, with very brief spikes to just below 300 Mbps. Oddly enough one thing I noticed is that touch input seems to be blocked entirely on the Nexus 5 until iPerf is quit. I'm not sure what's going on here when the WiFi link is completely saturated, but it seems that touch response becomes very slow. I have no issues with range or connection stability on the Nexus 5, and I'll also note that the device doesn't antenna share, but rather has a discrete antenna for WLAN/BT.
GNSS
GNSS (Global Navigation Satellite System) on the Nexus 5 uses the engines and support on MSM8974, in this case GNSS Gen 8B, which is capable of locking and using all three modern constellations in play right now – GPS (USA Navstar), GLONASS (Russian), and Beidou (China). I've always been impressed with how quickly Qualcomm's GNSS obtains a 3D fix from cold start (even though there's really no such thing as cold start anymore), and it's obvious that sharing clocks and rough position from the modem dramatically helps. I had no issues with GNSS on the Nexus 5. GNSS also has its own discrete antenna in the top right of the Nexus 5, there's no antenna sharing going on.
The location services menu in KitKat is changed around considerably as well, with a new icon and menus that now give some breakdown of per-app energy consumption based on how long they hold onto location services. Rather than a complicated menu with discrete checkboxes, the new configuration panel moves to a high accuracy, battery saving, and device only breakdown.
Sound
It's no secret that the audio subsystem on Android has been the subject of scrutiny and lots of OEM and partner tweaks for a while now. With KitKat, Google adds platform support for audio tunneling to the DSP in the device chipset. Specifically, this means tasks like audio decode (for common codecs like MP3, AAC, and so forth) and output effects (room simulation, spatializer) can be done on the much lower power DSP rather than run on the CPU.
In the case of the Nexus 5, this feature is explicitly used for lower power audio decode, and Google claims it results in 50 percent more audio playback time. I always assumed that the stock Android ports had this ability, but it turns out this was one of those things silicon vendors would add in atop the base platform.
Nexus 5 also implements the latest codec from Qualcomm, WCD9320, the successor to WCD9310 from the previous generation. A lot of people have asked for better line out audio quality comparisons, our Chris Heinonen is working on some awesome audio quality testing with a suite of devices. Of course the reality of audio quality on line out is that it's contingent on how well the OEM has implemented things, not just what hardware codec is used.
Nexus 5 has two speaker grilles at the bottom, but unsurprisingly only one speaker. The other grille just hides the primary microphone. The secondary microphone is up top on the Nexus 5 which is used for noise cancelation.
I measured speaker sound pressure level on the Nexus 5 the same way I always do for a voice call. Unfortunately my subjective impressions were confirmed – Nexus 5 is quite quiet on speakerphone calls, slightly louder than the LG G2. There's an odd bimodal behavior on the Nexus 5 as well, with some apps seeming louder than others by a fair margin. I suspect the gains for some of the DSP tunneled audio paths aren't quite matched to the software decode paths or something, another thing which hopefully will be fixed soon.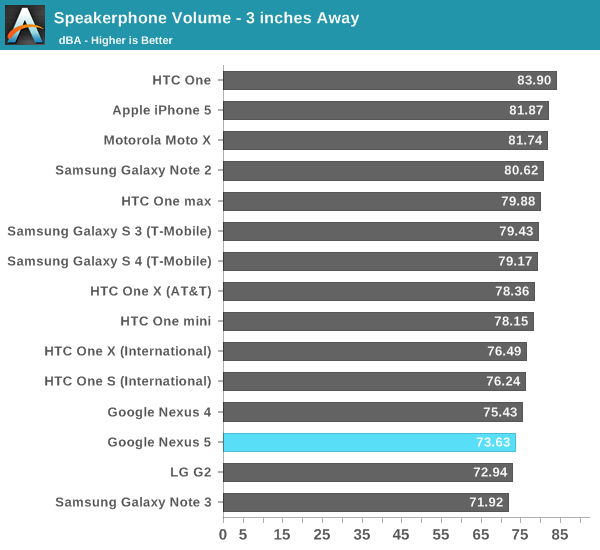 Noise cancelation is something I've been measuring or trying to get a subjective grasp on for a while now, and I tested the Nexus 5 the same way I have other devices, by placing a call in front of some speakers and increasing the volume while recording the far end of the call. In the case of the Nexus 5, Qualcomm's Fluence is doing the noise rejection heavy lifting between the primary microphone at bottom and secondary up top
I'm actually very impressed with how well the Nexus 5 performed at rejecting noise using the normal babble distractor track I use. In addition this was a T-Mobile AMR-WB "HD Voice" call between two Nexus 5s, illustrating that the Nexus 5 is indeed in the T-Mobile whitelist for HD Voice.

As an aside, the Nexus 4 oddly enough still hasn't been green lit for HD Voice on T-Mobile, and given its age probably never will at this point, although the hardware is entirely capable.