Performance
Obviously the highlight from NVIDIA's perspective is the Tegra 4 SoC inside Tegra Tab, which in this case is clocked at a maximum single-core CPU frequency of 1.8 GHz. This is just short of the 1.9 GHz max single CPU clock in Shield. Of course Tegra Tab lacks the benefit of the active cooling system Shield has and has an accordingly lower TDP.
After reviewing and investigating Shield I discovered a bit more about the different tiers or bins of Tegra 4 SoCs available to OEMs, which are binned into a few SKUs and capped with different maximum currents. I did a bit of digging, and the SoC inside Tegra Tab is T40S (as opposed to the T40X inside Shield, although the real name is T114).
The specific breakdown is that the SoC is a SKU 5 part, and has the 6 A current cap in place, or 8 watts. In addition to the CPU clock frequency differences I touched on, the GPU inside also sees its clocks go down a bit from the 672 MHz in Shield, to 600 MHz inside Tegra Tab, for a roughly 12 percent theoretical performance difference in GPU compute power.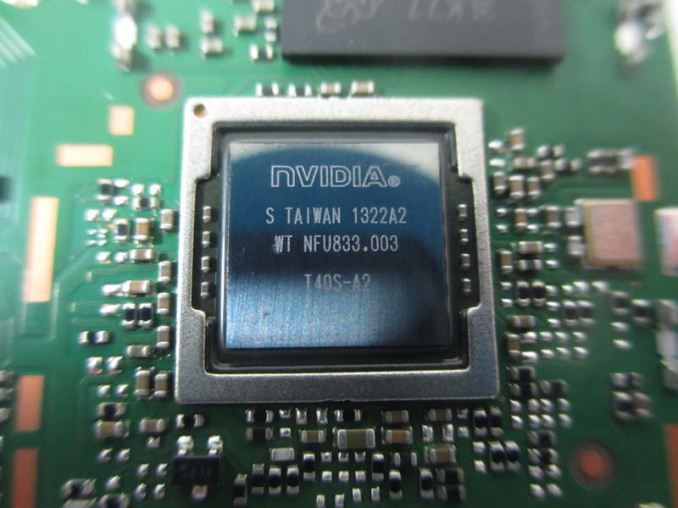 We covered most of the performance breakdown with Tegra 4 in the NVIDIA Shield review, and at this point Tegra 4 is pretty well understood. That said I still ran the tablet through our usual set of tablet benchmarks to see how the device fares given the theoretical performance offset from Shield.
CPU Performance
We start with our CPU related benchmarks which consist of a mix of JS benchmarks and a few others.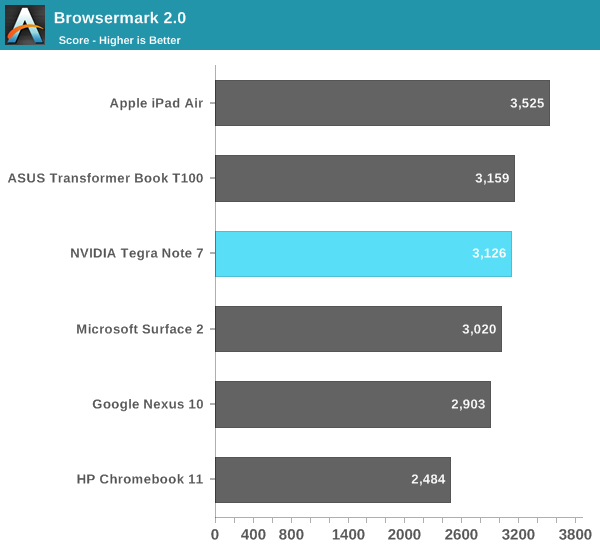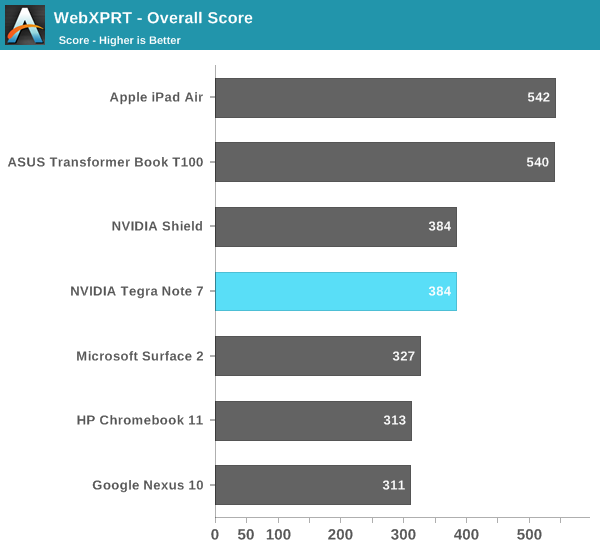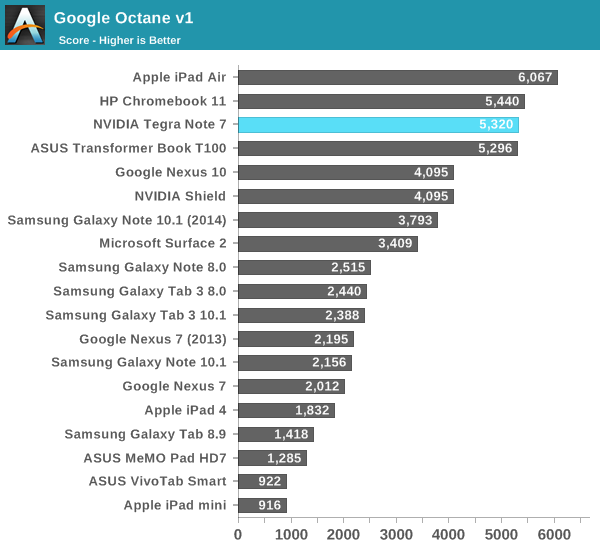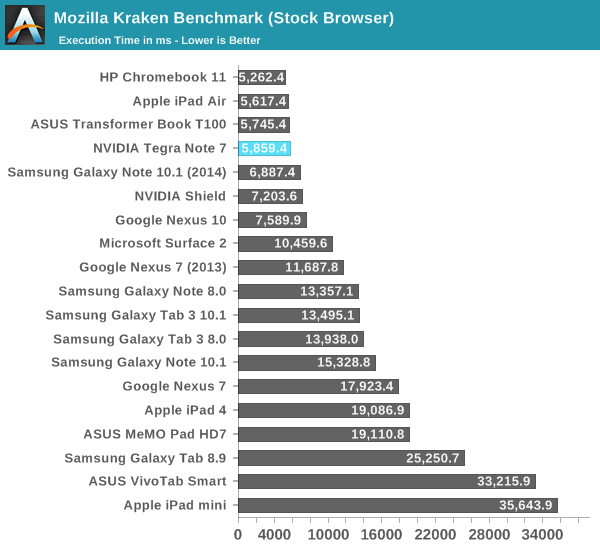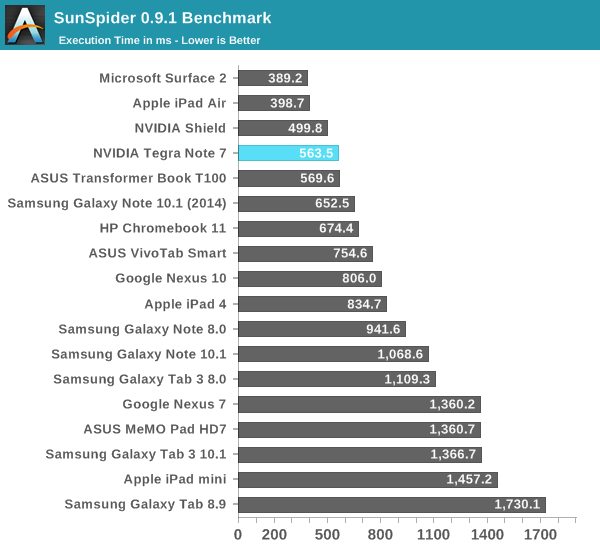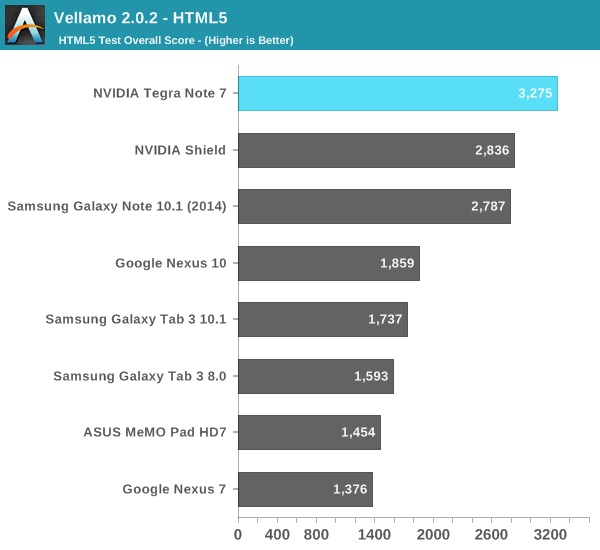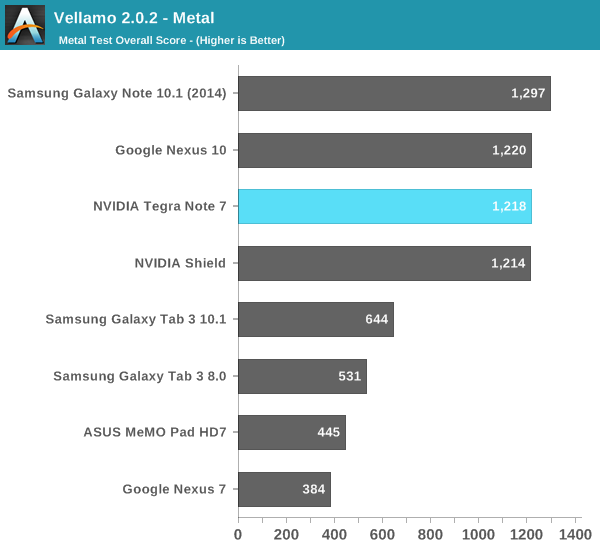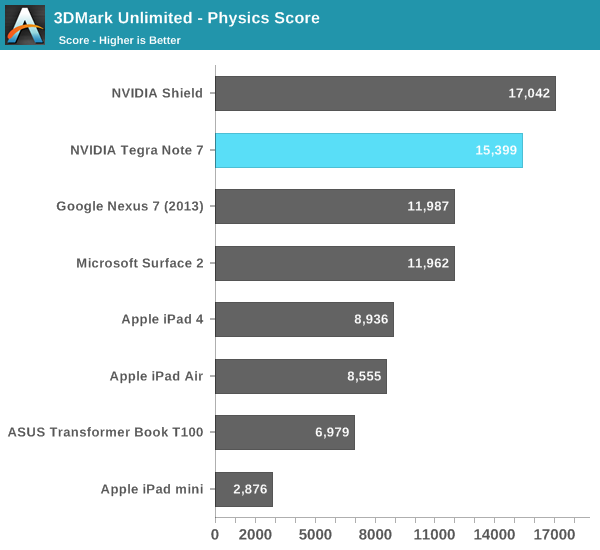 I only included sunspider 0.9.1 since oddly enough the Tegra Note gives not a number (NAN) results for a few subtests when running sunspider 1.0 both in Chrome and the stock browser. I recollect seeing this intermittently on a few devices in the past, but couldn't get a score to generate despite repeated runs and reboots. The rest of the web benchmarks actually have crept up since we looked at Shield, which is my comparison point. There's no doubt that 4 Cortex A15s with a 1.8 GHz maximum makes for a very speedy device, and the Tegra Note performs very well in essentially all the CPU bound tests.
GPU Performance
On the graphics side we turn to the usual assortment of 3Dmark, Basemark X, and GFXBench (formerly GLBenchmark 2.7) for comparing performance. Just to reiterate from the Shield review, the GPU performance story in Tegra 4 really changed versus Tegra 3, with enough die area dedicated to GPU to make it competitive with the best in the space. We turn to a mix of onscreen (remember that Tegra Note's display is 1280x800) and offscreen (1080p) tests. 3DMark Unlimited is a new mode in that benchmark which we don't have many scores from, but it allows for better resolution-independent testing thanks to a better offscreen mode. We have a smattering of scores from the normal and Extreme modes, but not everything because 3DMark now shows "Maxed Out" for these results that are at vsync.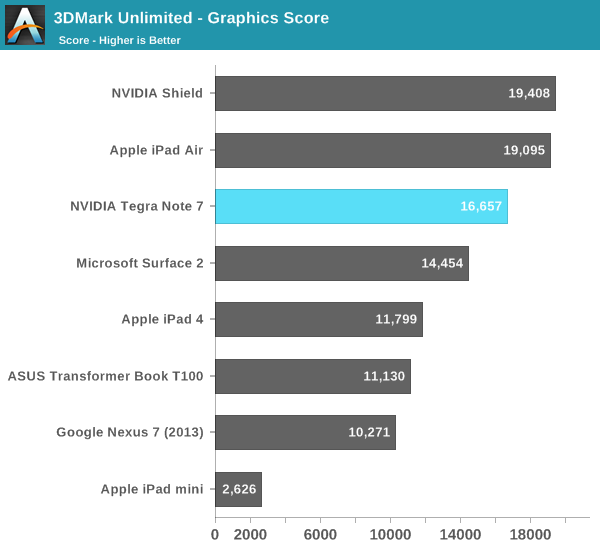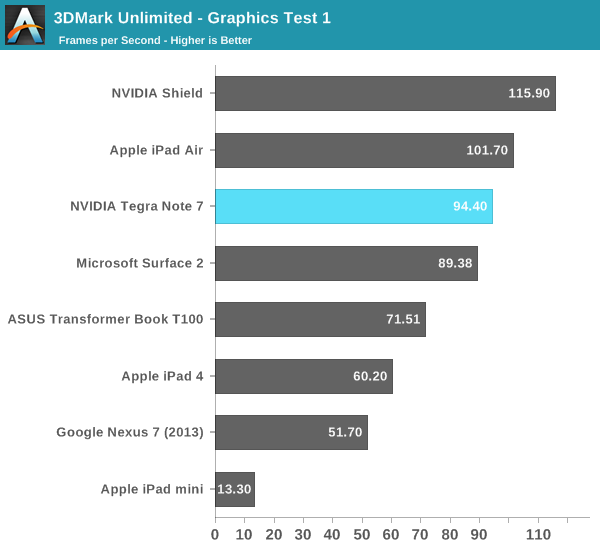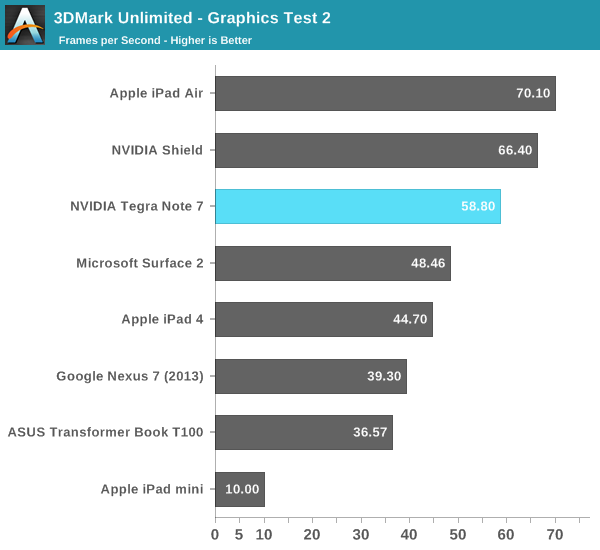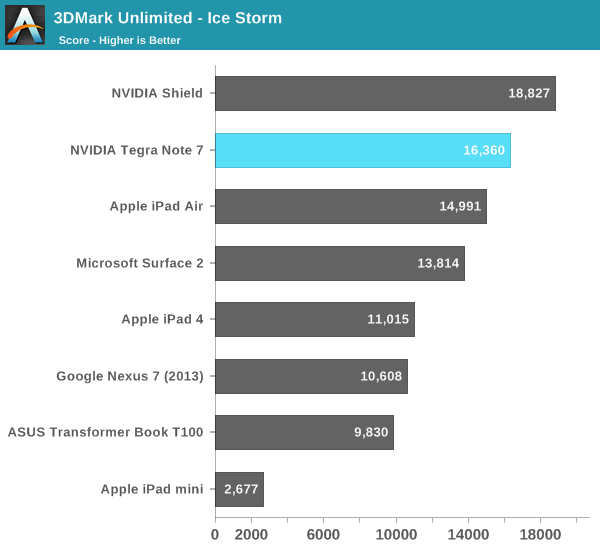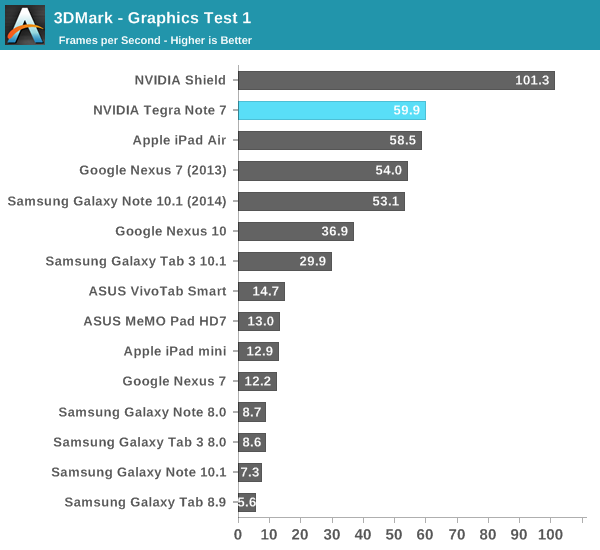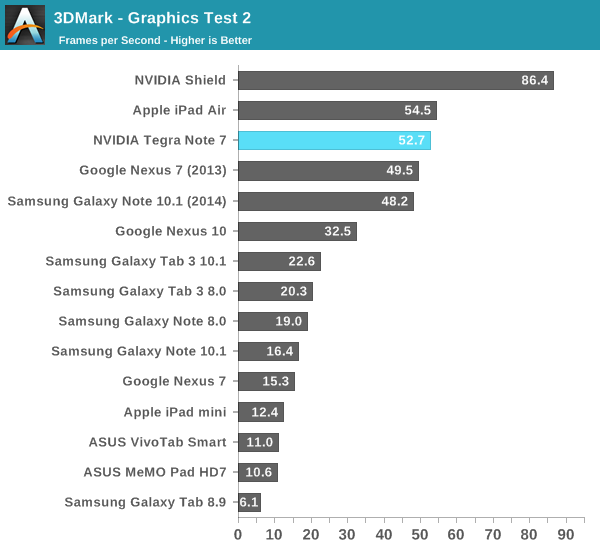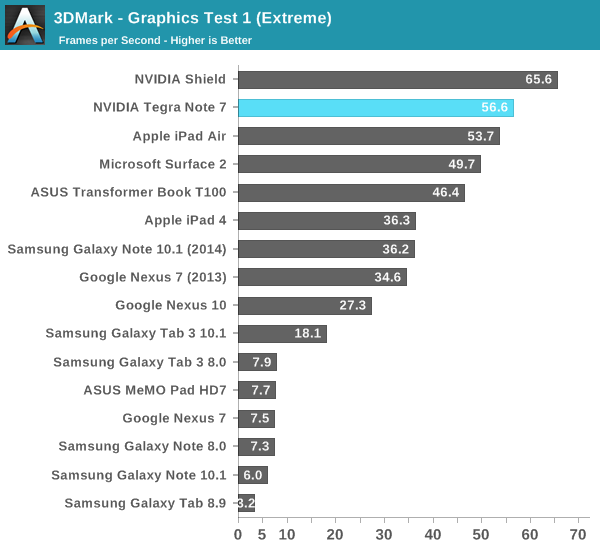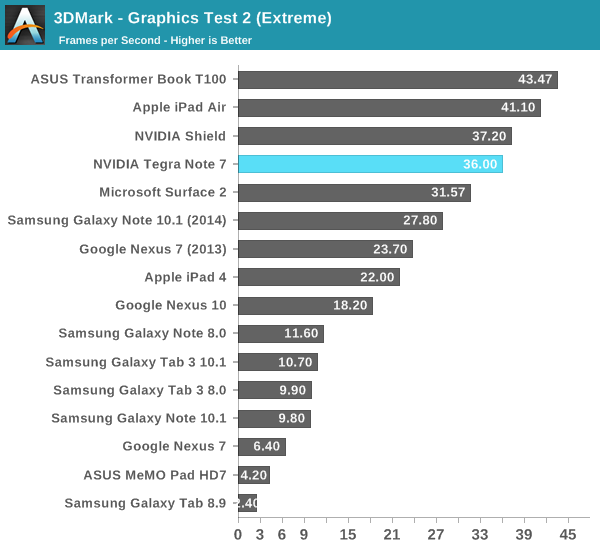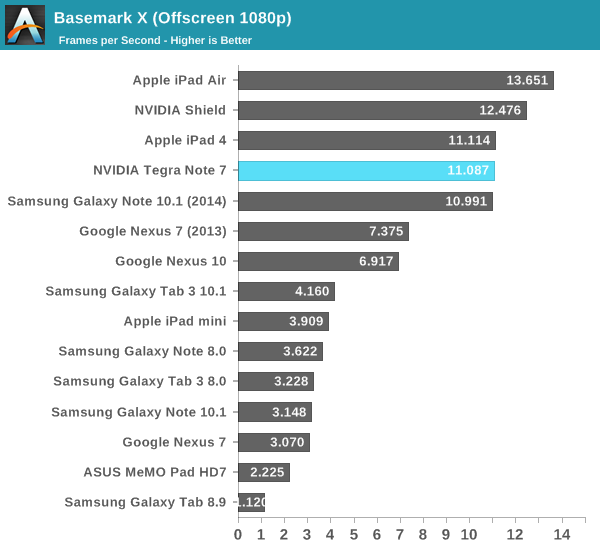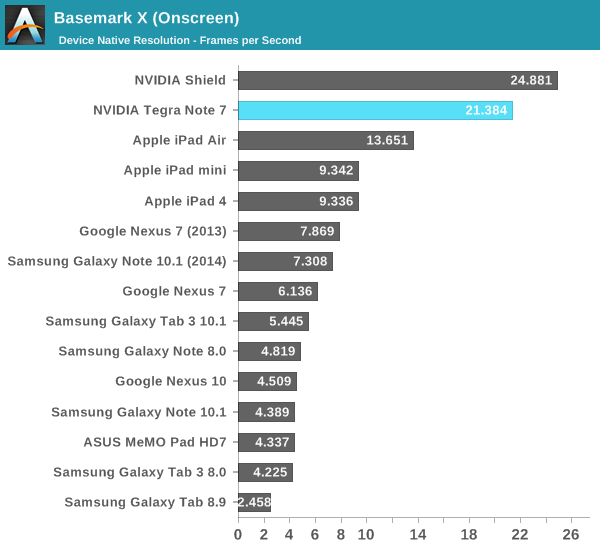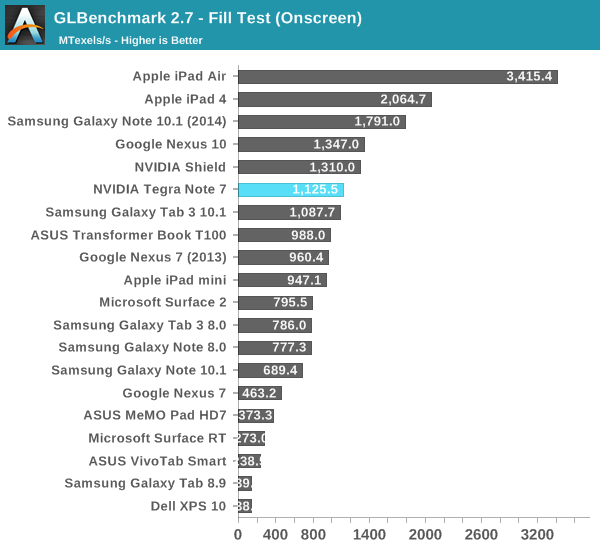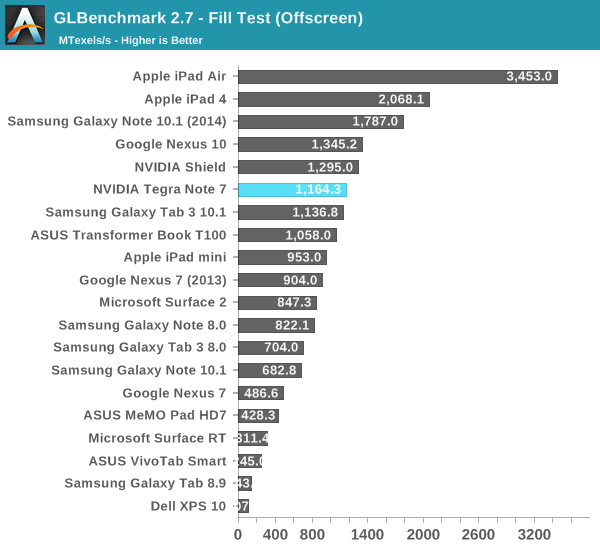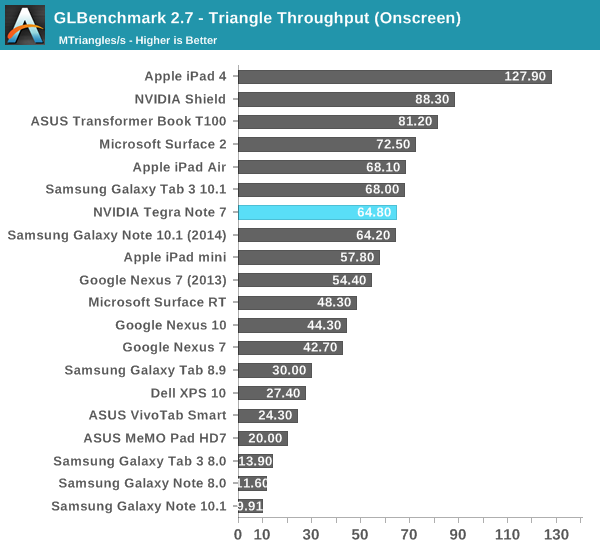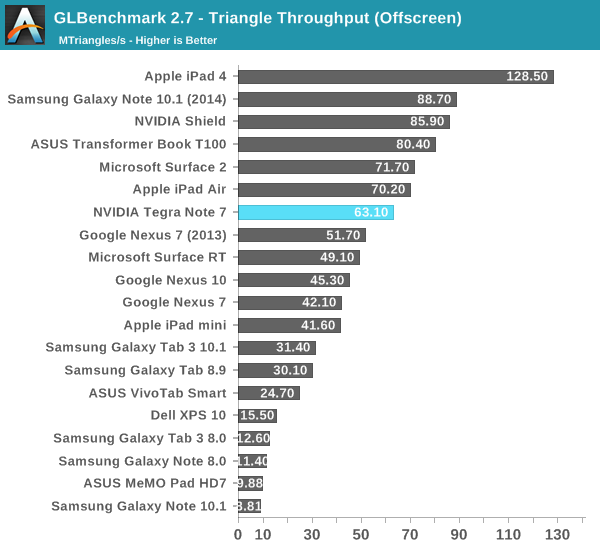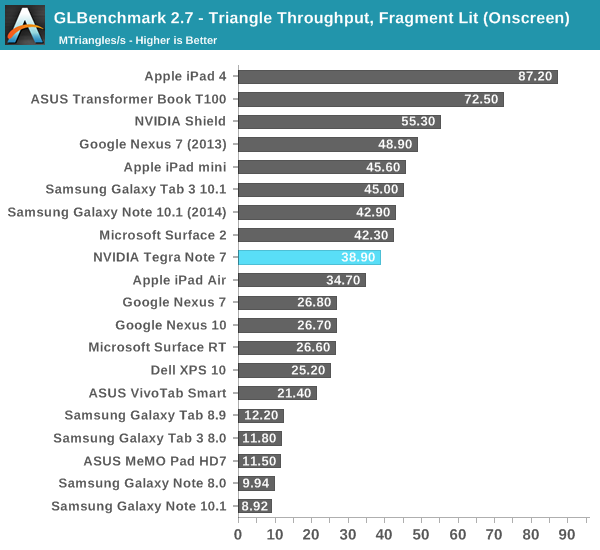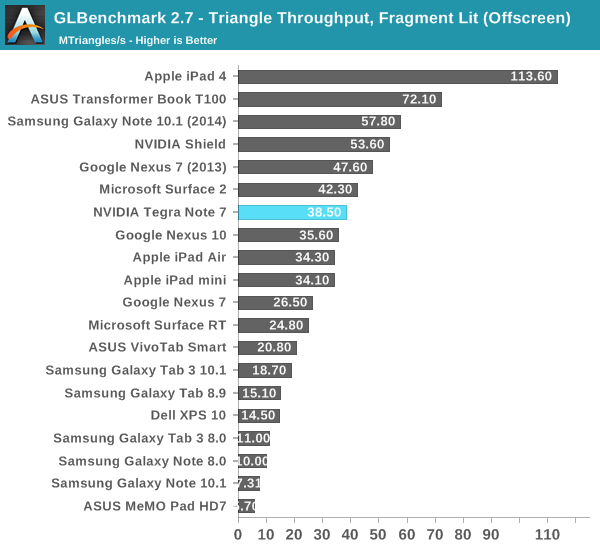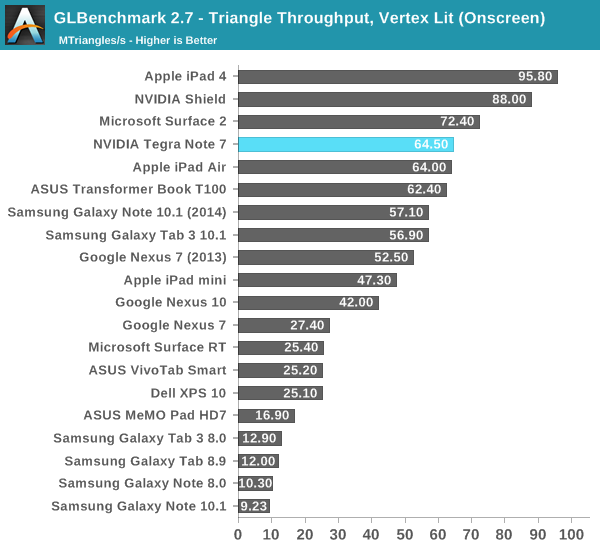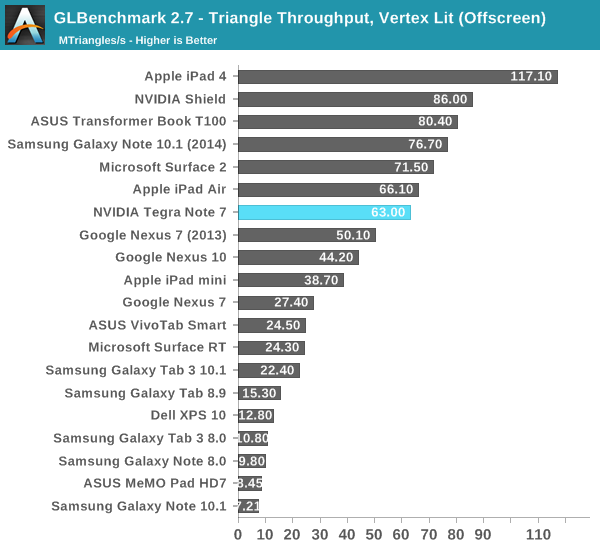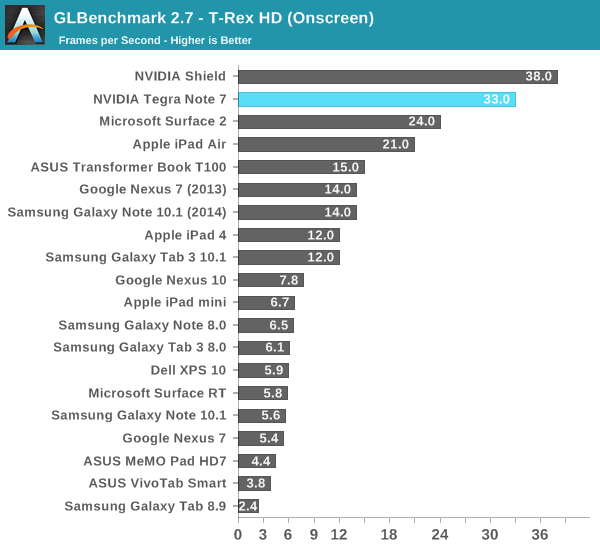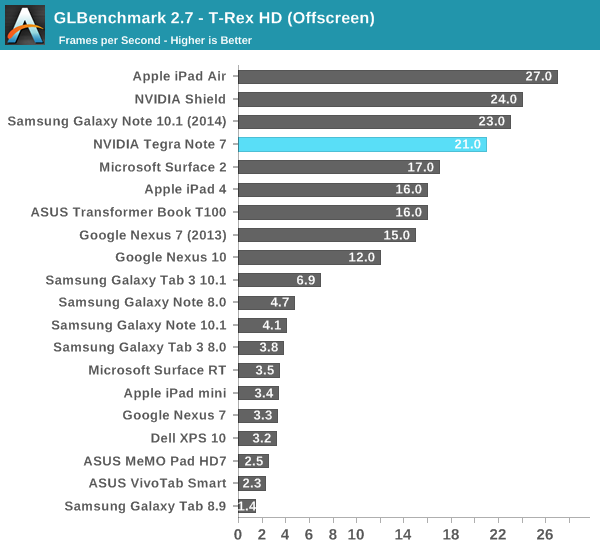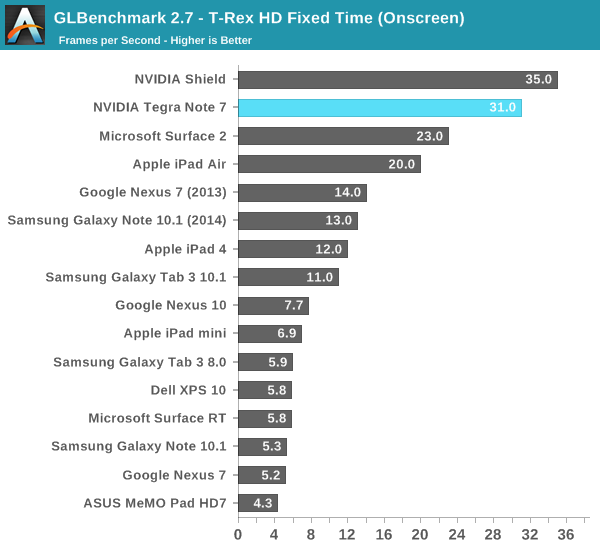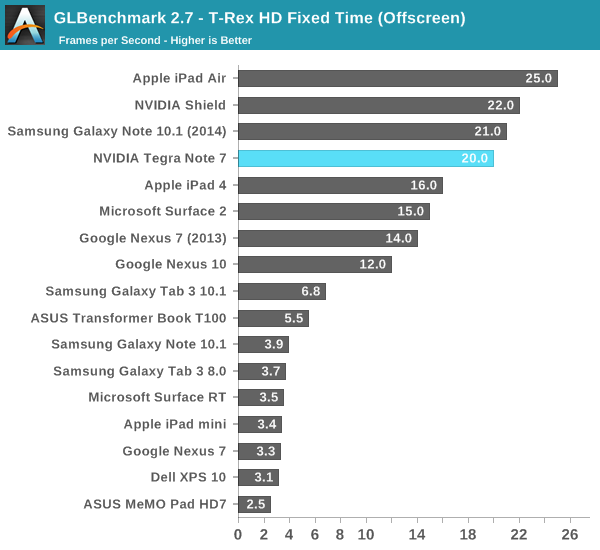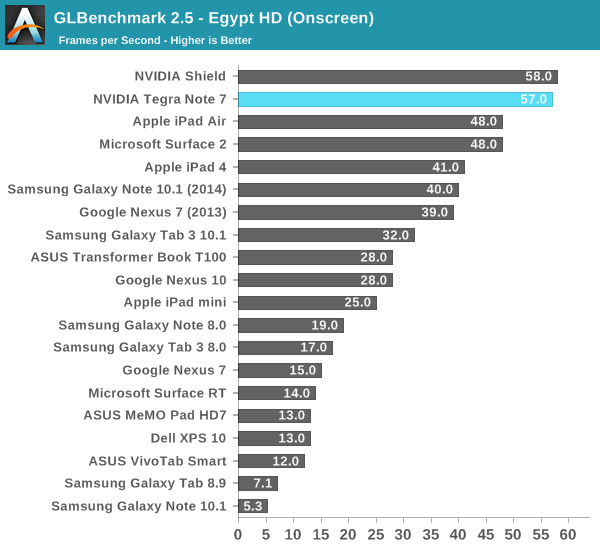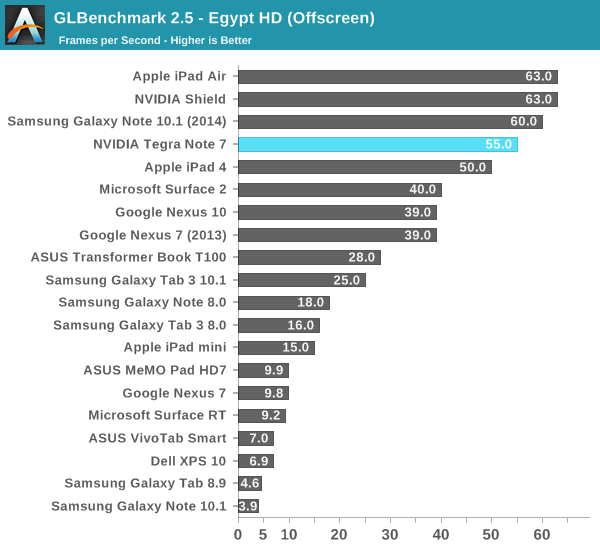 Mostly we see the roughly 10 percent GPU performance delta fleshed out in the compute bound tests. There are a few outliers however, like the 3DMark on-screen tests which can go over 60 FPS on Shield but can't on Tegra Tab, even in "maximize performance" mode which purports to rescind the app FPS limitation. In the offscreen tests however we see essentially what we'd expect. Tegra 40S obviously does very well compared compared to the Adreno 320 inside APQ8064 in the Nexus 7 (2013) as well. Coupled with a 1280x800 display resolution, I don't think Tegra Tab is want for more GPU performance at all, it might even be overkill at that resolution for the current suite of games.
NAND Performance
Last up is NAND and storage performance. We've been tracking storage performance on these devices for a little while now and have noticed forward progress over the generations.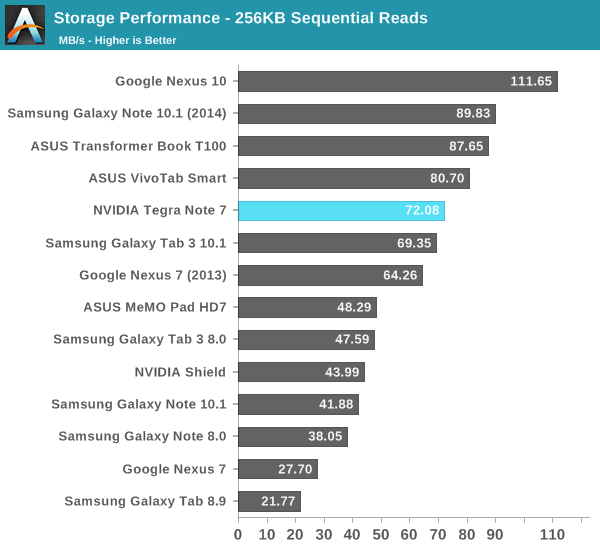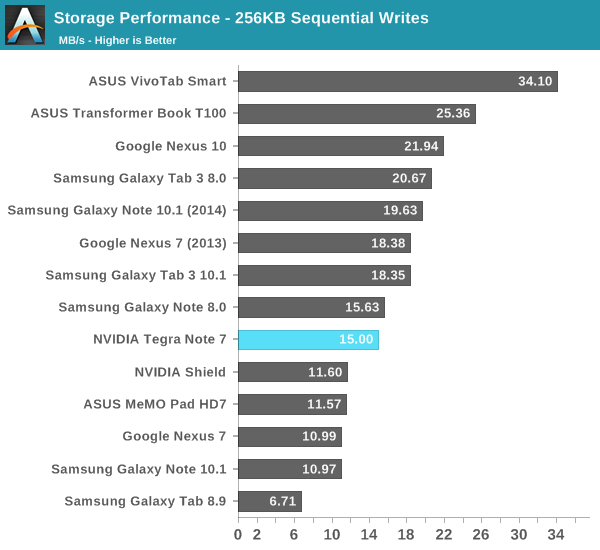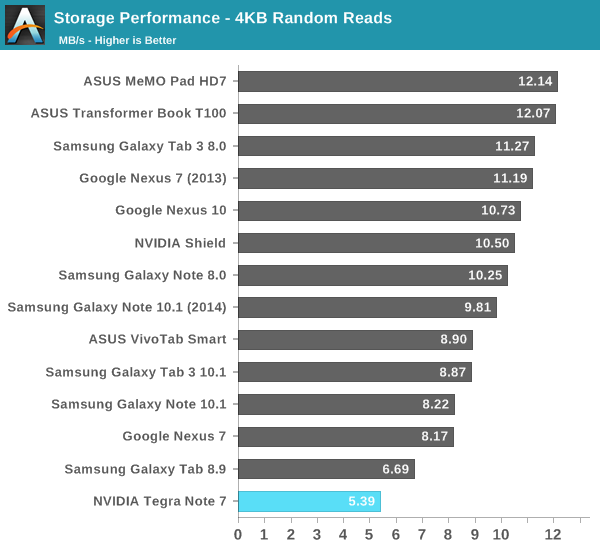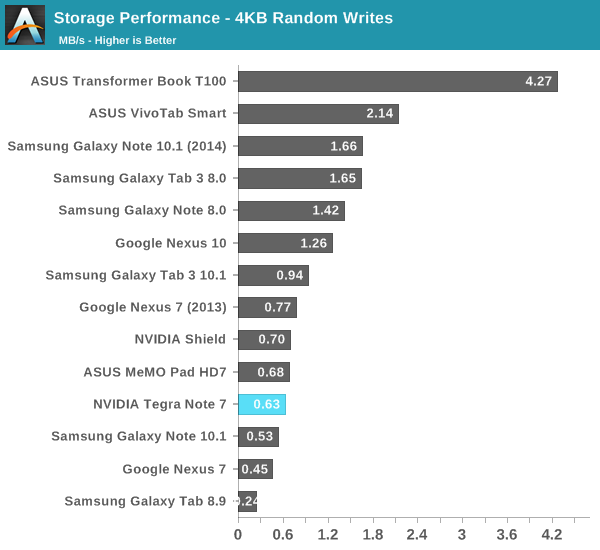 The Tegra Tab starts out strong with relatively fast sequential reads, but then starts falling behind. It's ahead of the old Nexus 7 in sequential writes, but its random performance suffers. It's clear that storage performance is one of the areas that took a hit on the Tegra Note. The upside however is that there's a microSD card in Tegra Note, although SD isn't exactly going to give an uplift on random read or write speed versus internal storage.