Crysis 3
Still one of our most punishing benchmarks, Crysis 3 needs no introduction. With Crysis 3, Crytek has gone back to trying to kill computers and still holds "most punishing shooter" title in our benchmark suite. Only in a handful of setups can we even run Crysis 3 at its highest (Very High) settings, and that's still without AA. Crysis 1 was an excellent template for the kind of performance required to drive games for the next few years, and Crysis 3 looks to be much the same for 2013.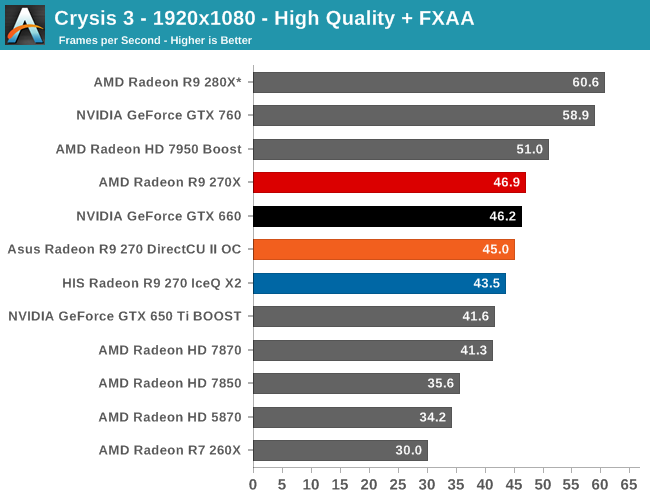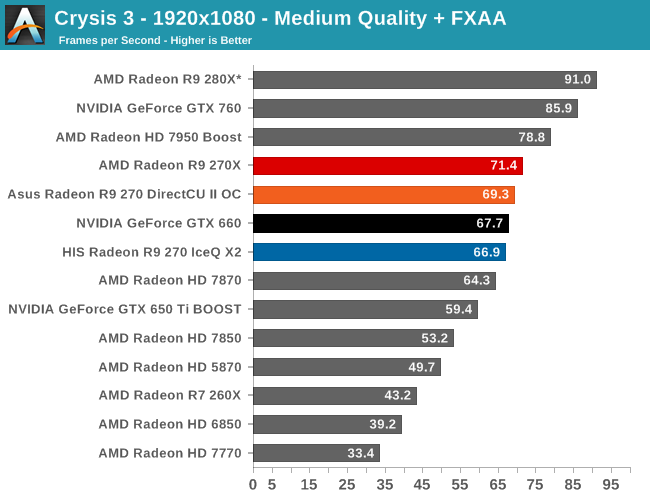 Crysis 3 is another game that NVIDIA and AMD regularly go back and forth on, with NVIDIA in this case holding the edge at 1080p at high quality. The 270X maintains a slight lead, but this means the 270 falls behind, once again trailing the GTX 660 by about 6%. Asus's overclock will cut into the gap some here, but not enough to catch up.
Meanwhile compared to AMD's 7800 series cards, this ends up being the biggest gains we've seen for the 270 series. The difference between the 270X and 7870 is 13%, owing primarily to the memory bandwidth increase for the 270 series cards, and showing just how memory bandwidth limited Pitcairn can be at times. Even 270 is 5% faster, despite the lower GPU clockspeeds.