Bioshock Infinite
Bioshock Infinite is Irrational Games' latest entry in the Bioshock franchise. Though it's based on Unreal Engine 3 – making it our obligatory UE3 game – Irrational had added a number of effects that make the game rather GPU-intensive on its highest settings. As an added bonus it includes a built-in benchmark composed of several scenes, a rarity for UE3 engine games, so we can easily get a good representation of what Bioshock's performance is like.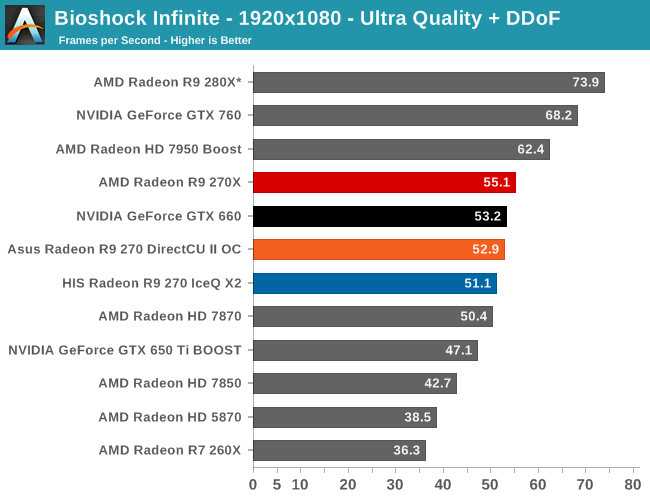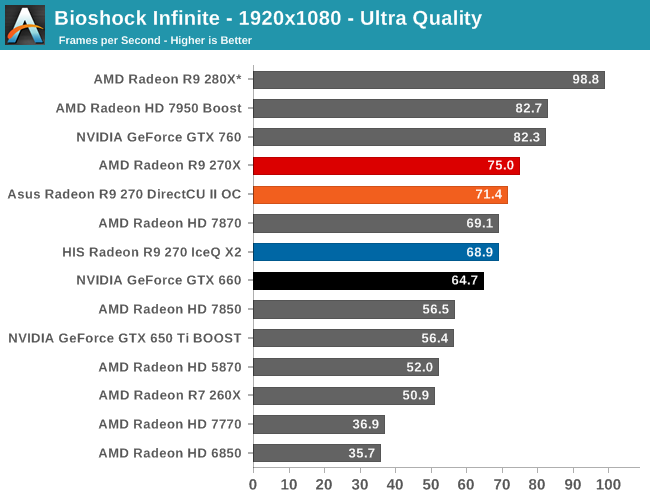 Bioshock tends to be a close matchup between similar AMD and NVIDIA cards, and this review is no exception. The 270X holds a small but distinct lead over the GTX 660, but the 270 vanilla trails the GeForce card by roughly the same amount. With the 270 and GTX 660 priced equivalently, this is essentially a slight loss for the 270.
On a side note, taking a moment to stop and look at the 270 in the frame of reference as a 150W card, we can see just how much AMD has improved their performance within the 150W envelope. Compared to their outgoing 7850, their last 150W card, the 270 is 20% faster. As we'll see in a bit, real world power usage will be higher – there isn't a free lunch on the same node – but for systems constrained by a 150W limit this is a clear improvement over previous options.