Company of Heroes 2
Our second benchmark in our benchmark suite is Relic Games' Company of Heroes 2, the developer's World War II Eastern Front themed RTS. For Company of Heroes 2 Relic was kind enough to put together a very strenuous built-in benchmark that was captured from one of the most demanding, snow-bound maps in the game, giving us a great look at CoH2's performance at its worst. Consequently if a card can do well here then it should have no trouble throughout the rest of the game.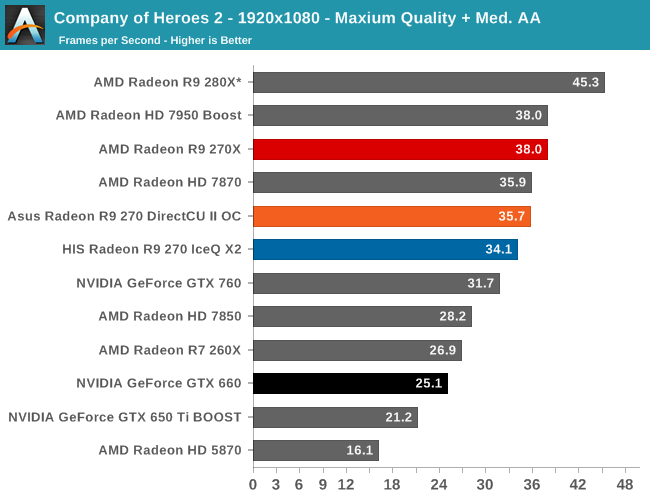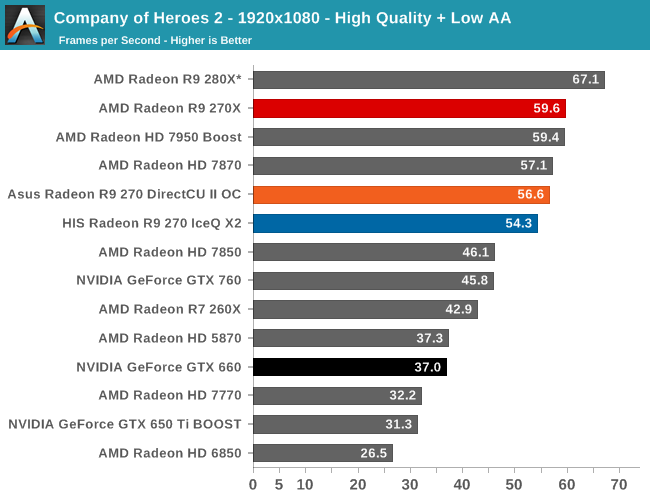 Company of Heroes 2 is a game that has regularly been favoring AMD cards as of late, so this game is an open and shut scenario for the 270X and 270. All of the 270 cards can do better than 30fps here even at maximum quality with medium AA (which uses a degree of SSAA), with even the 270 beating the GTX 760 in the process by over 10%. Never mind the GTX 660, where the margin of victory is 35%.
Meanwhile among our duo of 270 cards, the Asus card holds the usual edge of 5%. Though it doesn't quite split the gap between the 270X and 270 in this case.