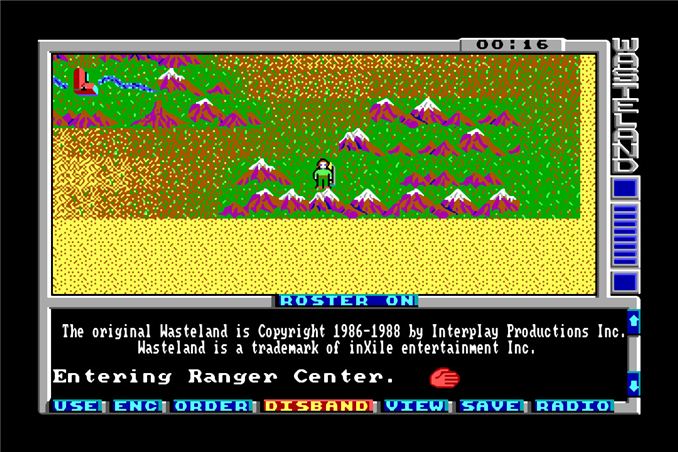 I've been covering some gaming stuff more of late, branching out from my laptop reviews to look at the various Humble Bundle offerings and a few other titles. I've also got several new releases on my plate, like Batman: Arkham Origins (a prequel to the earlier games) and Call of Duty: Ghosts (which I haven't even launched). Instead, I just started playing something else (again). Consider this a short fanboy letter for one of my all-time favorite games, Wasteland.
I mentioned in the latest Humble Weekly how I started playing computer games back in the halcyon days of yore, when Sierra Online and Origin Systems were a couple of the biggest names in the business. Electronic Arts (with its square-circle-triangle logo) was around as well, and there was another company called Interplay Productions (then a developer as opposed to a publisher). Interplay created the Bard's Tale series (which I'll be honest hasn't aged very well), and then in 1988 they released the granddaddy of post-apocalyptic RPGs, Wasteland (published by EA).
I first played Wasteland on a Commodore 64, swapping floppies and dealing with level load times measured in minutes. Ah yes, the good old days of LOAD "*",8,1 how I miss them…. I finished the game, then I went back and played it again, and again. Then I got an IBM compatible computer (thanks, dad!) and played the game again (more than once). I yearned for a sequel for a very long time, and when the Fallout games came out I was thrilled and enjoyed those as much as Wasteland, though they weren't quite the same. Later we got Fallout 3 and New Vegas, which while excellent games in their own right continue to be quite different from the original. Eventually Wasteland was even given away for free, on a magazine CD if memory serves, and I think I've gone back and played it at least a couple more times over the past 25 years. So it's perhaps only fitting that as we pass its 25th anniversary, Wasteland is getting a new release.
No, I'm not talking about Wasteland 2 – well, not entirely, though I backed that Kickstarter, and I'm really excited to return to the wastes. What I'm talking about is Wasteland 1 – The Original Classic, which is an updated version of the original Wasteland with some improved graphics, integrated journal entries (no more spiral bound book containing descriptions of areas!), new music, and even some voiceover work for good measure, plus there's the ability to have multiple save games. The game is free to all backers of Wasteland 2 as well as Torment: Tides of Numenera, and if for some reason you missed both of those but still want in on the action, you can go hit up the Wasteland 2 Late Backer Store. I'd assume it will eventually show up as a game you can buy on Steam or GOG as well. I just received my Steam code in the mail today, and I've downloaded the 300MB (!) game and fired it up.
As for the gameplay, it's definitely from a different era, but it's still a fun way to see the precursor to the Fallout series, not to mention a good way to get you ready for the eventual release of Wasteland 2. So if you don't have anything else going on this weekend, why not revisit the wastes and brush up on your toaster repair skill – you never know when you're going to need it!