Battlefield 3
Our major multiplayer action game of our benchmark suite is Battlefield 3, DICE's 2011 multiplayer military shooter. Its ability to pose a significant challenge to GPUs has been dulled some by time and drivers, but it's still a challenge if you want to hit the highest settings at the highest resolutions at the highest anti-aliasing levels. Furthermore while we can crack 60fps in single player mode, our rule of thumb here is that multiplayer framerates will dip to half our single player framerates, so hitting high framerates here may not be high enough.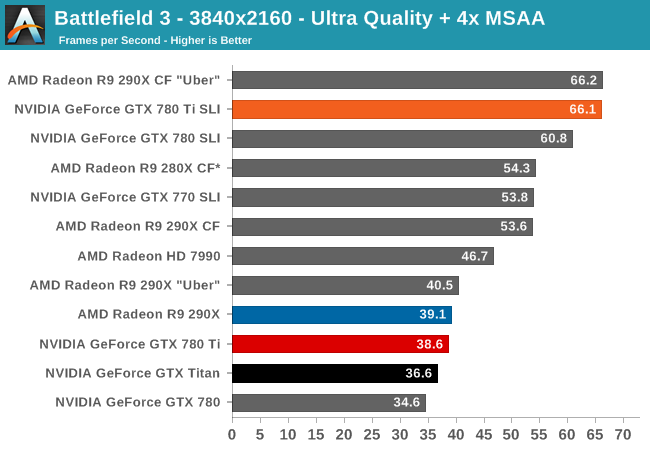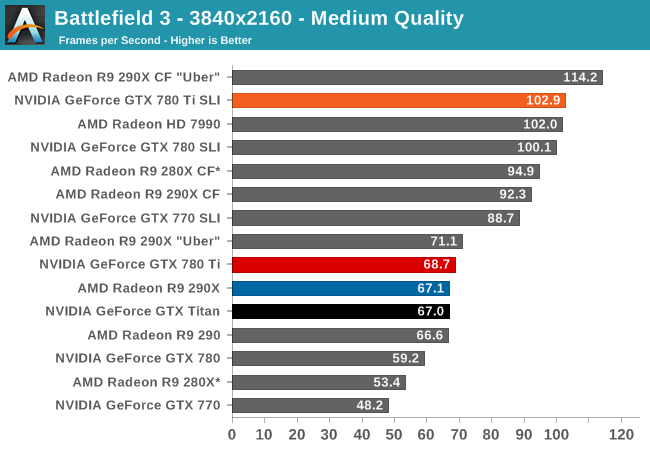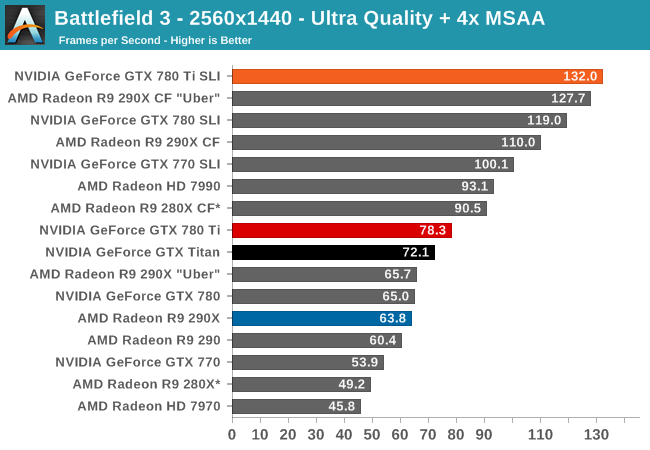 BF3 is another strong title for NVIDIA and the GTX 780 Ti. The performance advantage for the GTX 780 Ti over its GK110 siblings stands at a rather typical 9% for GTX Titan and 20% for GTX 780, with an absolute framerate well above 60fps and ultimately approaching 80fps. Otherwise against the 290X this is consistently one of the best games for NVIDIA, so it comes as no surprise that the GTX 780 Ti does very well against the 290X here, beating it by a substantial 23%.
Moving on to SLI performance, the GTX 780 SLI is once again a chart topper. Even 3840x2160 and with Ultra quality, the GTX 780 Ti still more than enough to deliver more than 60fps, making this a fully playable resolution with minimum framerates that should easily be over 30fps.