Bioshock Infinite
Bioshock Infinite is Irrational Games' latest entry in the Bioshock franchise. Though it's based on Unreal Engine 3 – making it our obligatory UE3 game – Irrational had added a number of effects that make the game rather GPU-intensive on its highest settings. As an added bonus it includes a built-in benchmark composed of several scenes, a rarity for UE3 engine games, so we can easily get a good representation of what Bioshock's performance is like.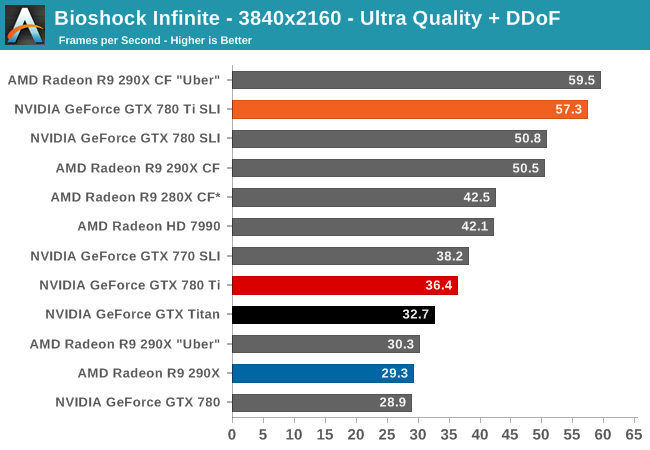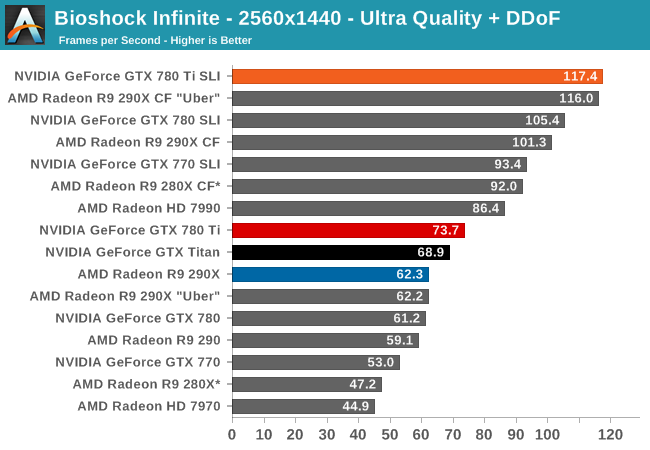 As opposed to our previous game, with Bioshock the GTX 780 Ti comes out at a very strong contender, easily surpassing everything AMD and NVIDIA. Here we see it best AMD's best by 18%, and against GTX Titan and GTX 780 it's 7% and 20% ahead respectively. Though admittedly everything here is averaging better than 60fps at this point.
Meanwhile for the AFR matchup, with a pair of GTX 780 Ti's we're either looking framerates that will make a 120Hz gamer happy, or enough horsepower to take on 4K at our highest settings and still come out well ahead. At 57.3fps the GTX 780 Ti is several frames per second ahead of the 290X CF, coming up just short of averaging 60fps even at this very high resolution.