Metro: Last Light
As always, kicking off our look at performance is 4A Games' latest entry in their Metro series of subterranean shooters, Metro: Last Light. The original Metro: 2033 was a graphically punishing game for its time and Metro: Last Light is in its own right too. On the other hand it scales well with resolution and quality settings, so it's still playable on lower end hardware.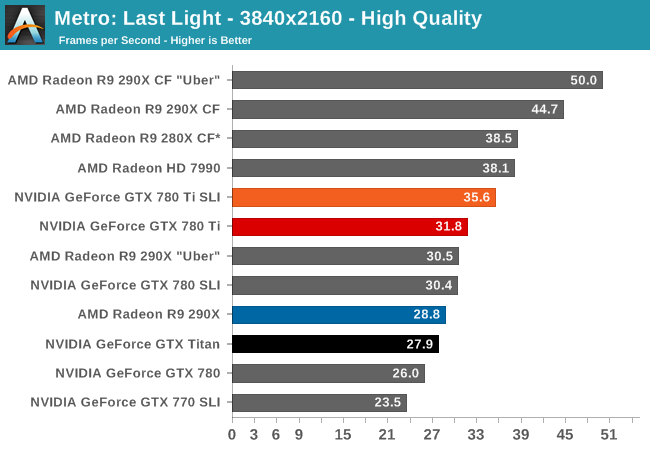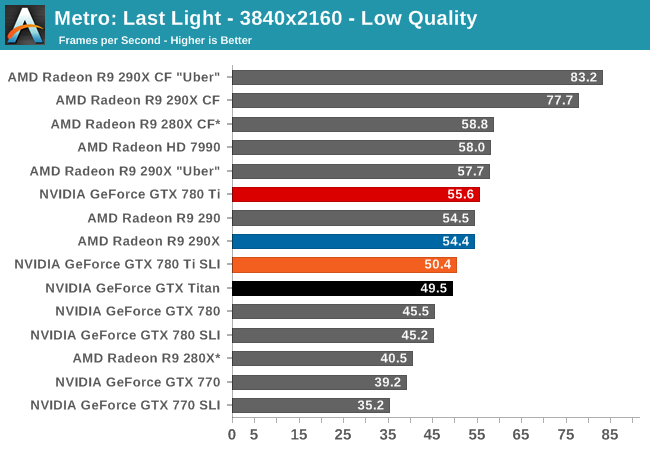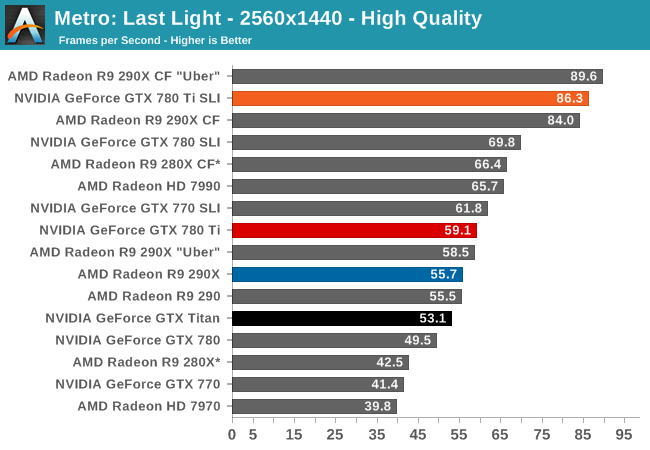 For the bulk of our analysis we're going to be focusing on our 2560x1440 results, as monitors at this resolution will be what we expect a single GTX 780 Ti to be primarily used with. A single card does have the necessary horsepower to drive a 4K monitor on its own, but only at lower quality settings. Even as powerful as GTX 780 Ti is, a pair of them will be needed to get good framerates out of most games if using 4K at high quality settings.
Looking at our Metro: Last Light results then, it's the start of what's going to be a fairly consistent streak for the GTX 780 Ti. Though it doesn't improve on GTX Titan or GTX 780's gaming performance by leaps and bounds, the additional SMX and increased clockspeeds means that it has little trouble pulling away from those cards and from AMD's 290 series. As a result the GTX 780 Ti beats the GTX Titan by 11%, GTX 780 by 19%, and though it's closer than normal, the lead over the 290X stands at 6%.
To that end in Metro it leads the pack of single-GPU cards, though it does come up just short of being able to average 60 frames per second at 2560. Anything over 60fps will require multiple GPUs; and even then GTX 780 Ti is fast enough that sometimes even a pair of GPUs (GTX 770 SLI) isn't going to be appreciably faster.
Meanwhile looking at GTX 780 Ti SLI performance, the SLI setup tops the charts at 2560 for everything short of the 290X in uber mode, though in this case (like most cases) two high-end GPUs is on the verge of being overkill even at 2560. Otherwise looking at 4K, NVIDIA's poor 4K scaling on Metro once again makes itself present here, with NVIDIA's performance only minimally benefitting from the second card. In the case of Metro at 4K, the 290X CF is going to be by far the faster option.