GRID 2
The final game in our benchmark suite is also our racing entry, Codemasters' GRID 2. Codemasters continues to set the bar for graphical fidelity in racing games, and with GRID 2 they've gone back to racing on the pavement, bringing to life cities and highways alike. Based on their in-house EGO engine, GRID 2 includes a DirectCompute based advanced lighting system in its highest quality settings, which incurs a significant performance penalty but does a good job of emulating more realistic lighting within the game world.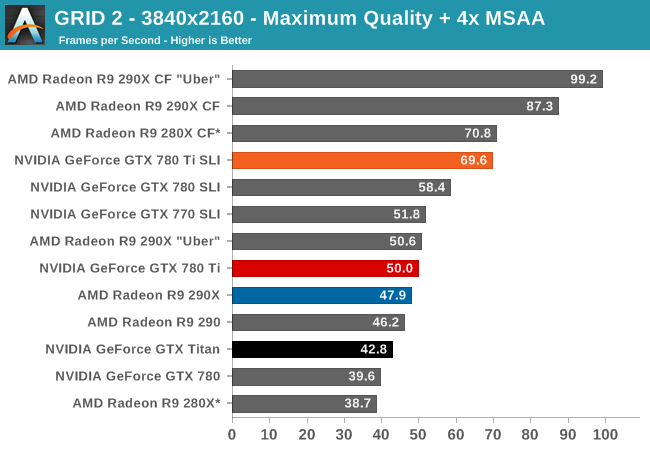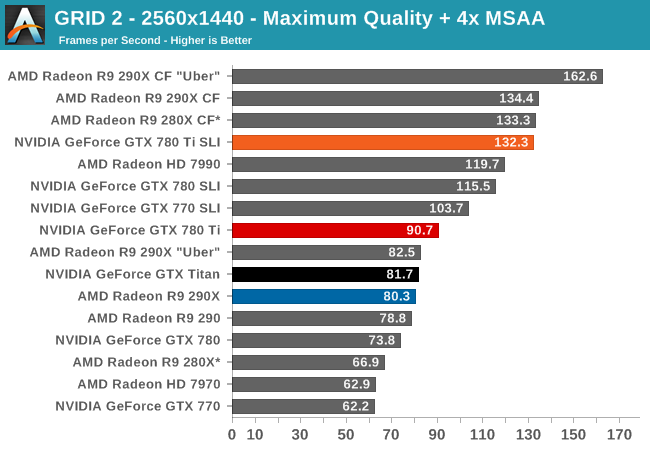 When it comes to GRID even cranking up the game's quality settings to maximum hardly does anything to slow down our cards. At 90fps the GTX 780 Ti once again takes the top spot while delivering an extremely high framerate. This ultimately puts the GTX 780 Ti ahead of the 290X by 13%, while also beating the other GK110 cards by a bit more than average at 11% for GTX Titan and 23% for GTX 780.
Otherwise, moving on to 4K and multi-GPU setups, NVIDIA's limited scaling once more becomes an issue. At 50fps for a single GTX 780 Ti NVIDIA starts off well enough, but we still need a second GPU to get above 60fps. And though GTX 780 Ti SLI will get us there, 290X CF and AMD's superior scaling will get AMD there with room to spare.