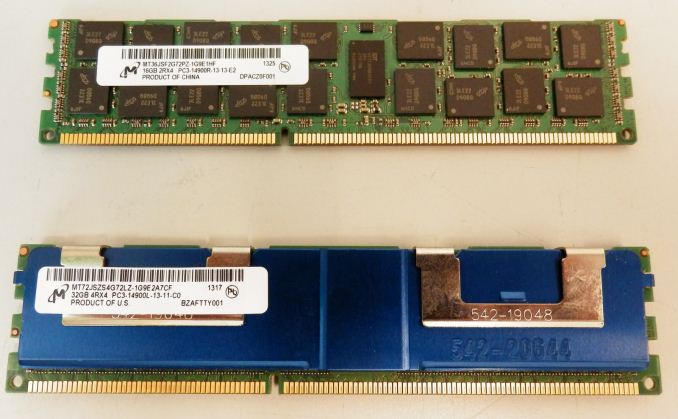 We reviewed several types of server memory back in August 2012. You still have the same three choices—LRDIMMs, RDIMMs, and UDIMMs—but the situation has significantly changed now. The introduction of the Ivy Bridge EP is one of those changes. The latest Intel Xeon has better support for LR-DIMMs and supports higher memory speeds (up to 1866 MHz).
But the biggest change is that the pricing difference between LRDIMMs and RDIMMs has shrunk a lot. Just a year ago, a 32GB LRDIMM cost $2000 and more, while a more "sensible" 16GB RDIMM costs around $300-$400. You paid about three times more per GB to get the highest capacity DIMMs in your servers. Many servers could benefit from more memory, but that kind of pricing made LRDIMMs only an option for IT projects where hardware costs were dwarfed by other costs like consulting and software licenses. Fifteen months in IT is like half a decade in other industries; just look at the table below.
Memory type:
Low
voltage
Ranks
Price ($)
Q4 2013
Price ($)
perGB
8GB RDIMM—1600
yes
Dual
153
19
16GB RDIMM—1600
yes
Dual
243
15
8GB RDIMM—1866
no
Dual
169
21
16GB RDIMM—1866
no
Dual
257
16
32GB RDIMM—1333
yes
Quad
808
25
32GB LRDIMM—1333
yes
dual*
822
26
32GB LRDIMM—1866
no
dual*
822
26
(*) Quad, but load of dual
If you need a refesher on UDIMMs, RDIMMs and LRDIMMs, check out our technical overview here. The price per GB of LRDIMMs is only 60% higher than that of the best RDIMMs. Quadrank 32GB RDIMMs used to be a lot cheaper than their load reduced competition and that difference is now negligible.