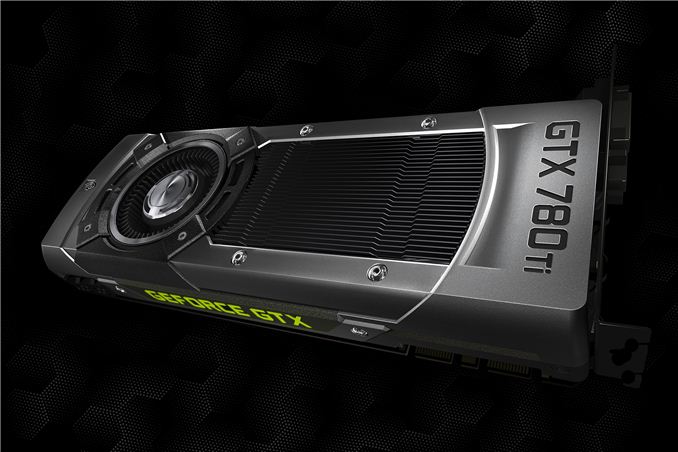 With the launch of AMD's new flagship Radeon R9 290X only a couple of days behind us, NVIDIA has wasted surprisingly little time in responding the latest salvo in the unending GPU wars. Intended to coincide with the launch of NVIDIA's holiday GeForce game bundle, the launch of ShadowPlay (more on that later today), and the final (non-beta) release of GameStream, NVIDIA has rounded out their Monday by announcing a pair of price cuts for their high-end consumer video cards, and set a launch date and a launch price for their recently announced GTX 780 Ti.
First and foremost, both GeForce GTX 780 and GeForce GTX 770 are getting price cuts, effective tomorrow (October 29th). GTX 780 will be reduced by $150 to $499, and meanwhile GTX 770 will be getting smaller $70 trim, bringing the price of that card down to $329.
For the GTX 770 this is something of a delayed price cut – AMD launched their competitive Radeon R9 280X just shy of 3 weeks ago – but as the saying goes it's never too late. Between the two GTX 770 is about 5% faster while 280X has the 3GB memory advantage, so $329 won't significantly threaten the 280X but it is where we would have expected NVIDIA to place it given their performance advantage.
For the GTX 780 on the other hand, this is a rapid response for NVIDIA, coming just days after the launch of the Radeon R9 290X. The 290X, its $550 price tag, and its superior performance unquestionably left NVIDIA with little choice but to cut prices. But we had not been expecting NVIDA to drop the GTX 780 below $500, even with 290X's performance advantage. The end result is that now 290X is the more expensive part by 10% (or $50), which coincidentally is also the 290X's performance advantage. This puts the two cards on equal footing on the price/performance continuum with NVIDIA's kicker – their superior build quality and cooling performance – remaining. Furthermore we were also able to confirm with NVIDIA that the metal reference cooler will still be available even after the price cut, so alongside the collection of custom designs we've seen the high performance reference blower will still be an option for buyers seeking a quiet blower.
Meanwhile, as previously mentioned today's announcement also coincides with the launch of NVIDIA's "The Way It's Meant to Be Played Holiday Bundle with SHIELD" promotion, which for both the GTX 780 and GTX 770 will consist of Assassins' Creed IV, Batman: Arkham Origins, Splinter Cell: Blacklist, and the $100 SHIELD discount. So on top of NVIDIA's price cuts they will also be offering an unusually strong bundle in direct opposition to AMD's price premium 290X Battlefield 4 bundle. The true value/meaningfulness of a bundle will as always ultimately depend on the buyer, but it's very unusual to see such a significant bundle attached to what's already a competitively priced card. So come tomorrow when these price cuts hit, NVIDIA is going to be in a very good position to counter 280X and 290X.
NVIDIA Holiday Game Bundles
Video Card
Bundle
Shield Discount
GeForce GTX 770/780/Titan
Assassin's Creed IV, Batman: Arkham Origins, Splinter Cell: Blacklist
$100
GeForce GTX 660/660Ti/670/680/760
Assassin's Creed IV, Splinter Cell: Blacklist
$50
GeForce GTX 650 Series
$75 Free-To-Play (Continuing)
None
GeForce GT 640 (& Below)
None
None
Finally, along with the announcement of tomorrow's price cuts NVIDIA has also announced the launch date for the previously announced GeForce GTX 780 Ti: November 7th (next Thursday). Furthermore NVIDIA has also announced that it will be priced at $699, placing it $200 above the GTX 780 and $150 above the 290X. We still don't have the specs for the GTX 780 Ti, but the fact that NVIDIA is pricing it so far above the 290X indicates that they have a lot of confidence that they will be able to beat 290X's performance, and will do so by enough of a margin to justify the price. This isn't wholly unexpected – after all, GTX 780 wasn't a fully enabled GK110 consumer part – so it should be interesting to see just what NVIDIA has prepared to carry on as their new gamer flagship card.