WiFi
The iPad Air moves to a 2-stream dual-band 802.11n solution, a sort of compromise between where the iPad was with its previous single-stream implementation and some of the newer devices shipping with 802.11ac. Moving to two spatial streams obviously helps improve performance tremendously. Peak performance on 5GHz 802.11n, assuming an equally capable AP, went as high as 180Mbps in my tests. I was able to average 168Mbps during our standard UDP WiFi test on 5GHz.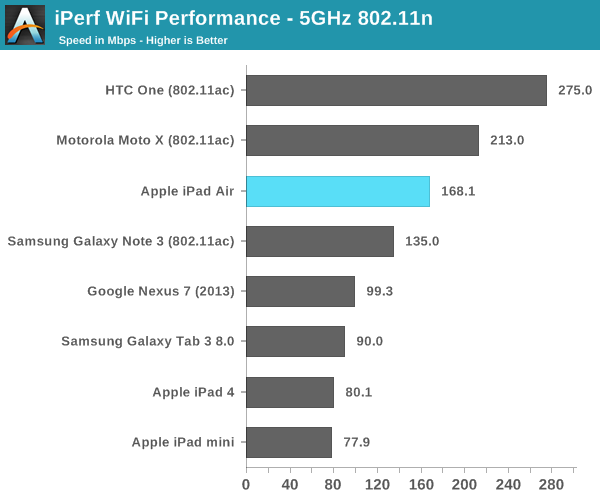 Cellular
Apple continues to use Qualcomm's MDM9615 modem in the iPad Air, the big difference this round is there's only a single SKU (A1475) for the cellular model covering a total of 34 countries across the Americas and EMEA. The LTE iPad Air supports a total of 14 LTE bands (1,2,3,4,5,7,8,13,17,18,19,20,25 and 26). In his usual awesome fashion, Brian speculated that the increased number of supported LTE bands was partially a function of moving to Qualcomm's WTR1605L transceiver.
iPad Cellular Speeds
Property
iPhone 3G/3GS/iPad 1 3G
iPhone 4 / iPad 2 (GSM/UMTS)
iPhone 4 / iPad 2 (CDMA)
iPad 3
iPad 4/iPad Mini
iPad Air/iPad Mini w/Retina
Baseband
Infineon X-Gold 608
Infineon X-Gold 618
Qualcomm MDM6600
Qualcomm MDM9600
Qualcomm MDM9615 w/RTR8600
Qualcomm MDM9615
w/WTR1605L
Max 3GPP Release Feature
Release 5
Release 6
Release 7
Release 9
Release 9
Release 9
HSDPA Category
Cat.8 - 7.2 Mbps
Cat.8 - 7.2 Mbps
N/A
Cat. 24 - 42 Mbps
Cat. 24 - 42 Mbps
Cat. 24 - 42 Mbps
HSUPA Category
None - 384 Kbps WCDMA only
Cat.6 - 5.76 Mbps
N/A
Cat.6 - 5.76 Mbps
Cat.6 - 5.76 Mbps
Cat.6 - 5.76 Mbps
EVDO
N/A
N/A
1x/EVDO Rev.A
1x/EVDO Rev.A
1x/EVDO Rev.A
1x/EVDO Rev.A
LTE
N/A
N/A
N/A
100/50 UE Cat. 3
100/50 UE Cat. 3
100/50 UE Cat. 3
From a spec and performance standpoint, the LTE modem in the iPad Air is no different than what was in the 4th generation iPad. Consistent cellular connectivity options remains one of the staples of the iPad lineup. Although WiFi tablets still tend to be the more popular, it's hard to argue with the productivity benefit to having LTE on a tablet. Being able to just reach for the iPad Air and know it'll have connectivity regardless of where I am, without having to search for and log in to a WiFi network, is tremendously convenient.
Just as before, there's no contract commitment necessary to buy an LTE iPad Air. You can manage your account directly on the device itself. Furthermore, at least in the US, the LTE iPad Air isn't locked to any one network operator. You specify what provider you'd like to go with at the time of purchase, but afterwards you're able to swap in any other activated nano SIM from a supported network operator. You could feasibly start out with a Sprint iPad Air and later switch to a Verizon, T-Mobile or AT&T SIM and continue using the device. The flexibility offered by a single SKU with support for a ton of bands is pretty awesome.