Final Words
Surface Pro 2 is a good improvement over its predecessor. The platform is quicker, quieter and boasts longer battery life as well. The new kickstand is awesome, as are the new touch/type covers, and the new display is a big step in the right direction. If you were tempted by the original Surface Pro, its successor is a solid evolution and that much more tempting.
I really like using Surface Pro 2 and Windows 8.1 in general as a productivity focused tablet OS. The screenshot below really helps illustrate what I would love to do on most tablets, but what I can only do (well) on a Surface: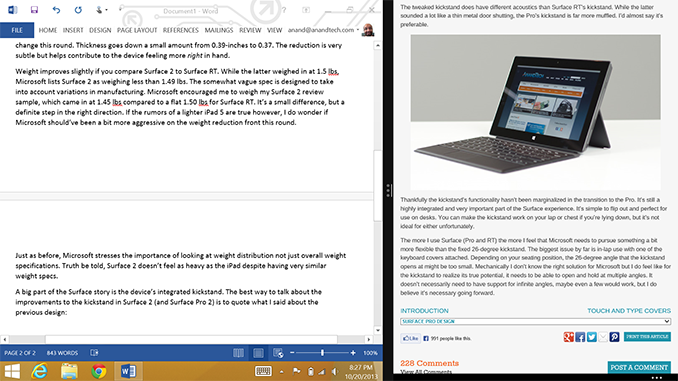 Writing an article on the left, touch enabled web browsing on the right. Switching between both applications is seamless, and I'm just as fast (if not faster) from a productivity standpoint on Surface Pro 2 than on a traditional notebook/desktop – at least for this usage model. There's really something very compelling about having the best of both worlds in one system. I literally can't do this well on any other tablet, and ultimately that's what Microsoft was trying to achieve with Surface. You can do it with Surface 2, you can just do it a lot better with Surface Pro 2.
When Surface Pro first launched, it wasn't just a good device, it was arguably the best Ultrabook on the market. Surface Pro 2 launches into a much more competitive marketplace. I don't know if I can make the same statement about it vs. Ultrabooks today. That's not a bad thing as it is still a very different type of device, but it does make for a more difficult buying decision.
Surface Pro 2 isn't the perfect notebook and it isn't the perfect tablet. It's a compromise in between. Each generation, that compromise becomes smaller.
What I was hoping for this round was an even thinner/lighter chassis, but it looks like we'll have to wait another year for that. Battery life is still not up to snuff with traditional ARM based tablets, and Surface Pro 2 seems to pay more of a penalty there than other Haswell ULT based designs – I'm not entirely sure why. Parts of the rest of the world have moved on to things like 802.11ac and PCIe based SSDs. Microsoft appears to be on a slightly strange update cadence with its Surface lineup, and for the brand's sake I hope we see that rectified next round. It's not enough to just put out a good product, you have to take advantage of all technologies available, when they are available. Just like last year, my recommendation comes with a caution – Surface Pro 2 is good, I'm happier using it than I was with last year's model, but the Broadwell version will be even better. What's likely coming down the pipe are improvements in the chassis and in battery life. You'll have to wait around a year for those things, if you can't, then this year's model is still pretty good.