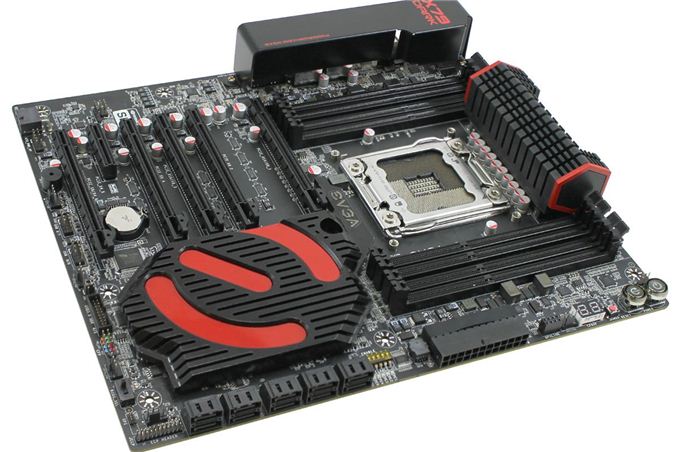 Investing into the high performance Intel arena can be expensive. Alongside that $330/$580/$1050 CPU (or more for Xeons) there has to be a motherboard up to the task. X79 motherboards run from ~$200 to ~$400, with a couple of models above that, potentially doubling the price of the setup before a case/memory/storage or GPUs are considered. Today we are looking at the EVGA X79 Dark which sits near the top of this price range at $400.
EVGA X79 Dark Overview
In the world of the motherboard review, aside from the hardware present on the board itself, the main differentiator is the BIOS. The BIOS dictates everything, from performance to idle states and how much the CPU decides to Turbo. A nice BIOS can be a pleasure to work with – the user experience of the BIOS can make it easy to overclock or show simple features (like fan speeds or Load Line Calibration) to enhance functionality. A bad BIOS can be a nightmare, when features are not programmed properly or disabling one component causes another to malfunction. A BIOS is always just ones and zeroes, and it is up to the company who manufacturer the motherboard to get the BIOS to work first time, even on the simple stuff.
As most motherboard manufacturers are prone to BIOS updates, motherboard reviews are often easier to consider as a 'snapshot' in time as to where the product performs. If a week after review a BIOS is released that improves performance, then that arguably could discount that review's benchmarks. However the ecosystem is such that most motherboard BIOSes (from the big four) are mature enough by the time reviewers get their hands on them – most updates are to push weaker spots into more regular territory.
So here is where EVGA come in. Being one of the few manufacturers still on the old black/blue/white BIOS systems, the X79 Dark ushers in their new graphical BIOS. The size of EVGA means that they have fewer BIOS engineers than other manufacturers, hence the limited number of motherboards and delays in bringing a graphical UEFI to market. The BIOS is a lot more thought-out that previous EVGA iterations, but my everlasting memory of the X79 Dark will be BIOS issues.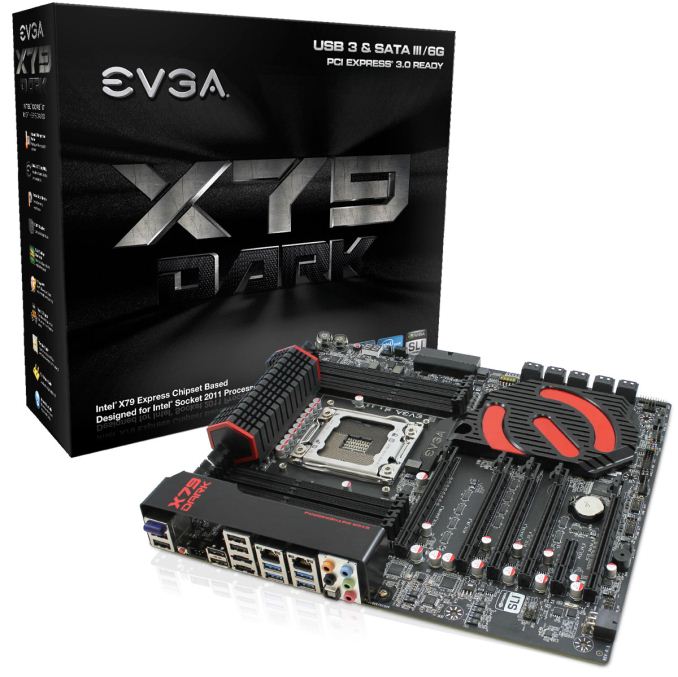 Over the course of this review, we tested five (maybe even six) different BIOSes. The initial problem with the motherboard was that it was not implementing Intel's turbo mode. The i7-4960X processor we were using for review was 'stuck' at its lowest turbo bin: 3.7 GHz. The BIOS does offer an option to set in the per-core turbo multipliers, but this did not work either. EVGA sent us BIOS version 2.04, 2.04 beta and 2.05 over the course of a couple of weeks, all of which did not fix the issue. In fact BIOS 2.05 was a slight regression – XMP no longer seemed to function as it decided to push the normal 10-12-12 timings to 9-11-11. Manually adjusting them allowed the system to boot, but was unstable. The latest BIOS delivered to us, 2.05beta, did implement Intel's turbo properly (after requiring a BIOS reset and going into the BIOS to implement the defaults by the selecting the option rather than the one-button F5/F7 which I commonly use). But XMP was still broken, and to cap it all off, the system refused to implement any sort of overclock on the CPU. Overclocking on 2.03/2.04 was working fine, but 2.05beta was a dud.
Arguably BIOS 2.04 was fine for anyone wanting to overclock. Our out-of-the box testing (and allowances to EVGA to fix the issue) is a pledge to get the basic standards of QA and QC up for those who buy a motherboard but do not touch the BIOS. But on this 2.04 BIOS, in our snapshot of a review, the stock performance is down on other X79 motherboards. Using 2.05beta for the proper turbo is a little devious as XMP was unstable for any sustained load such as gaming. Then there is MultiCore Turbo, which other motherboards are using to put the top turbo bin at any load through the CPU. For the sake of this review, we have three sets of numbers for our CPU tests:
- BIOS 2.03, where the BIOS has the CPU at 3.7 GHz and XMP enabled
- BIOS 2.03 @ 4.0 GHz, to show where an MCT motherboard would lie
- BIOS 2.05 @ Intel defined turbo modes, XMP enabled but unstable for 3D
The GPU tests are shown as a result of BIOS 2.03 at 3.7 GHz.
Aside from the BIOS issues encountered, EVGA have gone in at the high end for the X79 Dark. In true EVGA style, all the extras in the box are individually wrapped, and the board itself has a PCIe layout conducive to two, three and four way GPU layouts (also five single slot cards, if you want compute). Alongside the 8 DIMM slots there are two Intel NICs (82579 + 82574), six USB 3.0 ports (ASMedia ASM1042) and four additional SATA 6 Gbps ports (Marvell 9230) giving ten SATA ports in total. EVGA offer a tri-BIOS solution, mainly for overclockers who have preferred BIOSes, and one of these BIOSes is removable from the motherboard. In another nod to overclocking, we have PCIe disable switches and EVGA peripheral connectors. On the software side of the equation, EVGA have two to speak of – the wallpapers and ELEET which offers an attempt at overclocking combined with a CPU recognition software.
The issue for the EVGA X79 Dark is the ASUS Rampage IV Extreme. Priced in the same bracket ($400-430), we awarded the RIVE our second highest award and offers a lot of bang-for-buck, despite being over $400, with a long stream of software and BIOS utilities that work out of the box. While the X79 Dark, when overclocked, seems a more than capable product, there are other motherboards out there in this price range that have a lot more reach and without the BIOS issues just getting the CPU to run at stock followed by XMP being broken. Other websites have praised the X79 Dark, but I find a lack of quality control in BIOS updates being a potentially fatal flaw. Frustratingly enough, it is not the first time we have had this issue with an EVGA motherboard.
Visual Inspection
The EVGA X79 Dark comes in at the E-ATX standard, meaning an extra inch in width overall. As EVGA tends to use a right-angled 24-pin ATX power connector on the motherboard, this means that the X79 Dark is more suited to users with big cases. To go along with the Dark name, EVGA have gone into an all-black mode on the livery, with red accents and a big red E from EVGA on the chipset heatsink.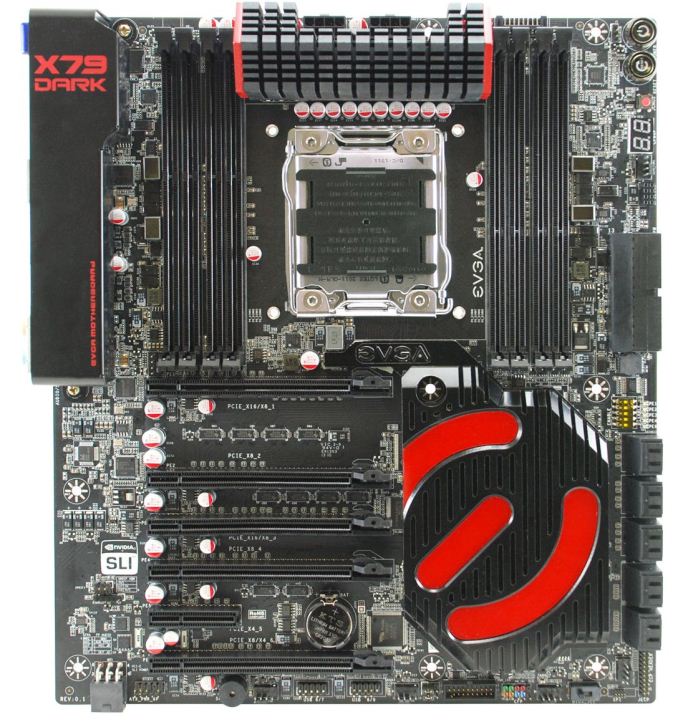 The power delivery is limited to above the socket where we get two 8-pin CPU power connectors hidden in the back. The eight DRAM slots surrounding the CPU socket use the single latch system, a common feature on high end boards that have the first PCIe slot at the top of the arrangement. It is worth noting that the CPU socket area is relatively clean of extra components – one of the purposes of the X79 Dark is for extreme overclockers that insulate the socket area from moisture. To that effect, the X79 Dark has a couple of high ranking benchmark scores [1, 2].
The motherboard has six fan headers, but only two of which are within reach of the socket. The CPU 4-pin fan header is in an odd place on the right hand side of the board (below the two-digit debug) and another header is to the left of the socket near the first PCIe slot. The other four headers are along the bottom of the board, and are all four-pin.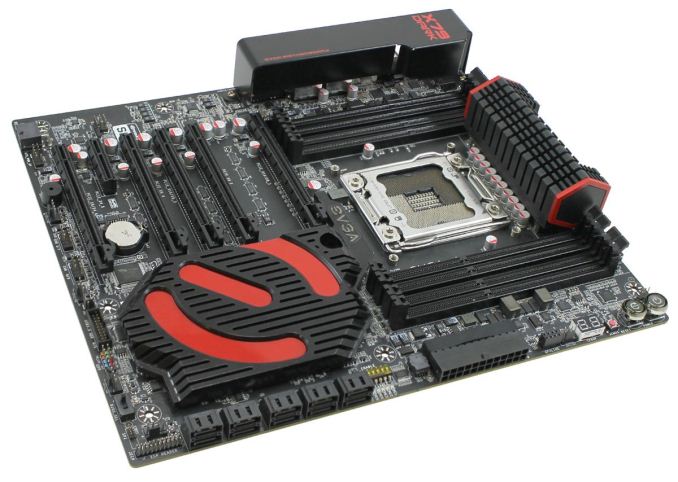 Along the right hand side of the motherboard we get the power/reset switches along with a smaller ClearCMOS switch (I always prefer the latter to be different so they are not pressed accidentally) and the two-digit debug LED. Following the 4-pin CPU fan header and a GPULINK header, the 24-pin ATX connector is found at right angles to the board. EVGA do this such that cables are not in the way of the large EVGA GPUs that come to market – it does mean however that users typically have to invest in a slightly longer case to accommodate. Given that this motherboard is already E-ATX, this further compounds the requirement. Beneath this is a removable BIOS chip and the PCIe disable switches.
While the X79 chipset comes with two SATA 6 Gbps and four SATA 3 Gbps, technically there are a further six SATA/SAS ports with the chipset that Intel request are not used due to compatibility issues at launch (despite at least one board using them). Fast forward onto the refresh and there are no silicon updates, meaning those six ports are still 'disabled at request by Intel', and motherboard manufacturers have to use SATA controllers instead. On the EVGA X79 we get a Marvell 9230 controller giving four SATA 6 Gbps ports. Due to the 'X79 Dark' naming all the SATA ports are colored black, whereas I typically prefer color indicators as to which ports are which. Next to the SATA ports is the large chipset heatsink, covering the chipset as well as a couple of controllers. The heatsink uses a red 'E' motif from EVGA, but this does not light up (which would look pretty cool).
On the bottom of the board are the USB 2.0 and USB 3.0 headers, the latter coming from an ASMedia ASM1042 controller. EVGA equips their boards with a built in speaker (makes noises on POST), and we also get four fan headers, a triple BIOS selector switch and our front panel headers. Thankfully EVGA use a 6-pin power connector for additional VGA power, although this connector at right angles does require a longer case than 7 slots to operate.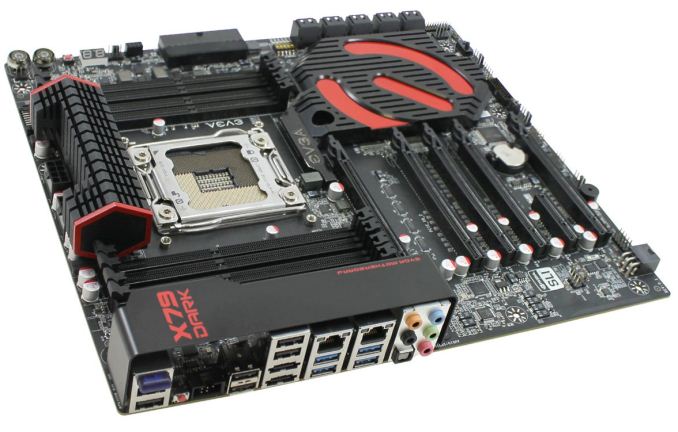 The PCIe layout is a little odd compared to most X79 boards. Typically we see PCIe slots share lanes with the slot underneath, but EVGA have turned it a bit upside down in order to accommodate tri-slot cards or three-way setups. Thus:
| | | | | | | |
| --- | --- | --- | --- | --- | --- | --- |
| | PCIe 1 | PCIe 2 | PCIe 3 | PCIe 4 | PCIe 5 | PCIe 6 |
| 1 GPU | X16 | | | | | |
| 2 GPU | X16 | | X16 | | | |
| 3 GPU | X16 | | X16 | | | X8 |
| 4 GPU | X8 | X8 | | X8 | | X8 |
| 5 Cards | X8 | X8 | X8 | X8 | | X8 |
| 6 Cards | X8 | X8 | X8 | X8 | X4 | X4 |
Actually this makes the EVGA board one of a only a handful that supports three-way triple slot GPUs. Unfortunately I did not have a full set to test, however we do get three-way dual slot for the gaming tests later in the review.
The rear IO panel has the optional protector guard as seen in the image above, and is there to remove the shiny silver from the rear IO in a case. The rear IO itself has an amount of wasted space, due to EVGA deciding to place the ClearCMOS button, EV-bot header and two USB 2.0 ports with nothing above them. We also get another four USB 2.0 ports, a BT 4.0 module, two eSATA, four USB 3.0, two Intel NICs and audio jacks from the ALC898.
Board Features
EVGA X79 Dark
Price
Link
Size
E-ATX
CPU Interface
LGA-2011
Chipset
Intel X79
Memory Slots
Eight DDR3 DIMM slots supporting up to 64 GB
Up to Dual Channel, 1333-2400+ MHz
Video Outputs
None
Onboard LAN
Intel 82579
Intel 82574
Onboard Audio
Realtek ALC898
Expansion Slots
5 x PCIe 3.0 x16
- x16,
- x16/x16,
- x16/x16/x8,
- x8/x8/x8/x8
- x8/x8/x8/x8/x8
1 x PCIe 2.0 x4 (from PCH)
Onboard SATA/RAID
4 x SATA 3 Gbps (PCH), RAID 0, 1, 5, 10
2 x SATA 6 Gbps (PCH), RAID 0, 1, 5, 10
4 x SATA 6 Gbps (Marvell 9230), RAID 0, 1
2 x eSATA 3 Gbps (Marvell 9172), RAID 0, 1
USB 3.0
6 x USB 3.0 (ASMedia ASM1042) [1 header, 4 back panel]
10 x USB 2.0 (PCH) [6 back panel, 2 header]
Onboard
6 x SATA 6 Gbps
4 x SATA 3 Gbps
1 x USB 3.0 Header
2 x USB 2.0 Headers
Three-way BIOS Switch
Power/Reset/Clear CMOS buttons
6 x Fan Headers
PCIe Disable Switches
Front Audio Header
SPDIF Header
EV-Gauge Header
Front Panel Header
Power Connectors
1 x 24-pin ATX Power Connector (at 90º)
2 x 8-pin CPU Power Connectors
1 x 6-pin PCIe Power Connector
Fan Headers
1 x CPU (4-pin)
4 x SYS (4-pin)
1 x CHA (4-pin)
IO Panel
6 x USB 2.0
4 x USB 3.0 (ASMedia ASM1042)
2 x eSATA 3 Gbps
Clear CMOS Button
EVBot Header
Intel 82579
Intel 82574
Audio Jacks
Warranty Period
3 Years direct with EVGA
Product Page
Link
Users shelling out $400 on an X79 gaming motherboard might expect a bit more than a Realtek ALC898 onboard, perhaps something from Creative or the run of ALC1150 codecs in the Z87 space might have been interesting.
Personally I would prefer more fan headers around the CPU socket rather than at the bottom of the motherboard, but EVGA have filled out the USB and SATA ports to sufficient numbers for this price bracket. All arrows point towards the comparison with the ASUS Rampage IV Extreme, which offers more overclocking tools out of the box.