OpenGL Performance - Quake III Arena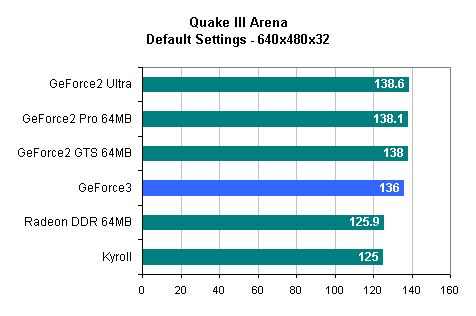 No video card review could possibly start off without Quake III Arena benchmarks.  Using the latest 1.27g patch and the new, more intensive, demo127 benchmark we kick off the GeForce3 tests. 
The GeForce3 is consistently a couple of frames slower than the older GeForce2 cards, quite possibly because its T&L unit is now programmable and does not offer the same benefit as the GeForce2 cards with their hard-wired T&L in games that supported it.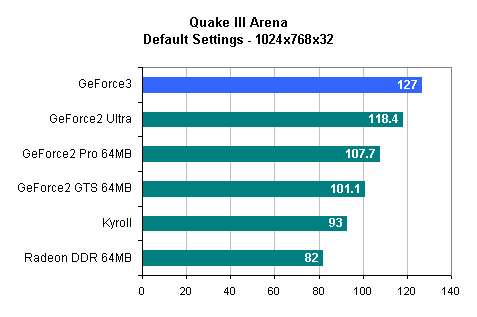 It doesn't take too long for the GeForce3 to climb to the top.  At 1024 x 768 x 32, the GeForce3 already begins to distance itself from the Ultra by about 7%.  Remember, the GeForce3 has exactly the same amount of peak theoretical memory bandwidth as the GeForce2 Ultra.  The only difference being that the GeForce3's Lightspeed Memory Architecture makes it more efficient in its use of that memory bandwidth.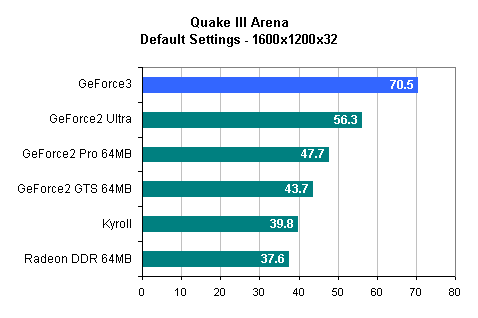 The gap widens yet again, as the GeForce3 is able to provide 70.5fps at 1600 x 1200 x 32 under Quake III Arena, a feat once thought impossible.  It is quite possible, and the GeForce3 makes it so, at a very steep price too.