The Drivers, The Test & Our New Testbed
With the product introductions and specifications out of the way, let's dive into the test.
The launch drivers for the 200 series sampled to the press are Catalyst 13.11 Beta 1, with a version number of 13.200.16, making them a newer build on the same branch as the current 13.10 Beta 2 drivers. As such there are no known functional differences between the current drivers for the 7000 series and the launch drivers for the 200 series. With that said we did encounter one specific bug in these drivers, which resulted in flickering lighting in Crysis 3 on high quality settings.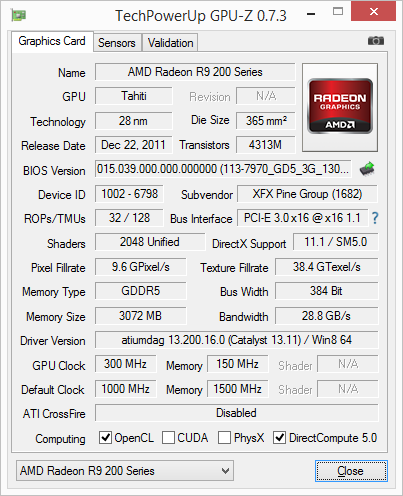 Note that this also means that these drivers also only contain Phase 1 of AMD's Crossfire frame pacing fixes. This means frame pacing for Crossfire for single monitor displays is fully implemented, however frame pacing for multi monitor displays and 4K displays is not. Based on AMD's most recent comments a fix is not expected until November, and while we don't seriously see owners settling down to run Eyefinity or 4K displays off of 280X in CF – at least not until 290X arrives for evaluation – it's unfortunate AMD wasn't able to get this problem fixed in time for the 200 series launch.
Catalyst 13.11B1 Frame Pacing
Single Display
Eyefinity / 4K Tiled
D3D11
Y
N
D3D10
Y
N
D3D9
N
N
OpenGL
N
N
Moving on, this article will mark the debut of our new testbed and benchmark suite. Both were due for a refresh so we're doing so in conjunction with the launch of the 200 series.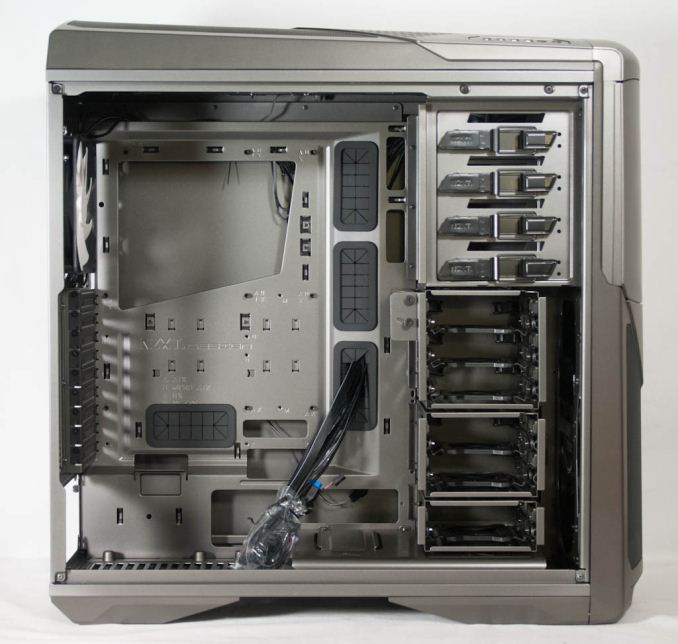 For our testbed we have done a complete overhaul, the first one in 4 years. The trusty Thermaltake Spedo case that has been the skeleton of our testbed has been replaced with an NZXT Phantom 630. Similarly we've gone and replaced all of the internal components too; an IVB-E based 4960X operating at 4.2GHz for 40 lanes of validated PCIe 3.0 functionality, an ASRock Fatal1ty X79 Professional motherboard to operate our cards on, and 32GB of G.Skill's lowest latency (CAS 9) DDR3-1866 RAM. Meanwhile storage is being backed by a Samsung 840 EVO 750GB, and power via a Corsair AX1200i PSU. Finally cooling is handled by a Corsair H110 closed loop cooler, and meanwhile the Phantom 630 leaves an open fan mount for us to tinker with closed loop GPU coolers (such as the Asus ARES II) in the future.
As for the new benchmark suite, we've gone through and appropriately updated our games list. New to the GPU 14 test suite are Company of Heroes 2, Total War: Rome 2, GRID 2, and Metro: Last Light (ed: Metro 2). With the holiday games season upon us, we expect to add at least one more game, along with swapping out Battlefield 3 for Battlefield 4 shortly after that is released.
Finally, though we won't make use of its 4K capabilities in this review given the limited performance of R9 280X, Asus sent over one of their new PQ321 monitors for our testing needs. While still very much bleeding edge, we'll be taking a look at 4K performance in the near future as appropriate cards arrive.
CPU:
Intel Core i7-4960X @ 4.2GHz
Motherboard:
ASRock Fatal1ty X79 Professional
Power Supply:
Corsair AX1200i
Hard Disk:
Samsung SSD 840 EVO (750GB)
Memory:
G.Skill RipjawZ DDR3-1866 4 x 8GB (9-10-9-26)
Case:
NZXT Phantom 630
Monitor:
Asus PQ321 + Samsung 305T
Video Cards:
XFX Radeon R9 280X Double Dissipation
Asus Radeon R9 280X DirectCU II TOP
AMD Radeon HD 7970 GHz Edition
AMD Radeon HD 7970
AMD Radeon HD 7950 Boost
NVIDIA GeForce GTX 780
NVIDIA GeForce GTX 770
NVIDIA GeForce GTX 760
Video Drivers:
NVIDIA 331.40 Beta
AMD Catalyst 13.11 Beta 1
OS:
Windows 8.1 Pro