Overclocking
With our look at the stock performance of our 280X cards complete, let's take a brief look at overclocking.
When it comes to overclocking this is going to be a somewhat unfair competition for the two cards. The Asus card has by the very necessity of its existence already been binned. Furthermore while the Asus card supports voltage adjustments the XFX card does not (MSI Afterburner says it does, but adjusting the value has no effect). As such we get to drive what's already a better GPU harder and with more voltage than the other. Still, this will give us the chance to see where everything will top out at.
Radeon R9 280X Overclocking
XFX Radeon R9 280X DD
Asus Radeon R9 280X DCU II TOP
Shipping Core Clock
850MHz
970MHz
Shipping Boost Clock
1000MHz
1070Mhz
Shipping Memory Clock
6GHz
6.4GHz
Shipping Boost Voltage
1.2v
1.2v
Overclock Core Clock
880MHz
1010MHz
Overclock Boost Clock
1030MHz
1110MHz
Overclock Memory Clock
6.6GHz
6.8GHz
Overclock Max Boost Voltage
1.2v
1.263v
As it turns out, neither card overclocked by very much. The XFX card, lacking additional voltage, could only do 30MHz more, for a 4% base/3% boost overclock. Better luck was found on the memory with a 600MHz (10%) overclock there. The Asus card meanwhile was good for 40MHz more, for a 4% base/4% boost overclock, while its memory could do an additional 800MHz (13%). But at the same time this required dialing the voltage up to 1.263v – as high as we're willing to go for this card. The power cost of doing that will be extreme.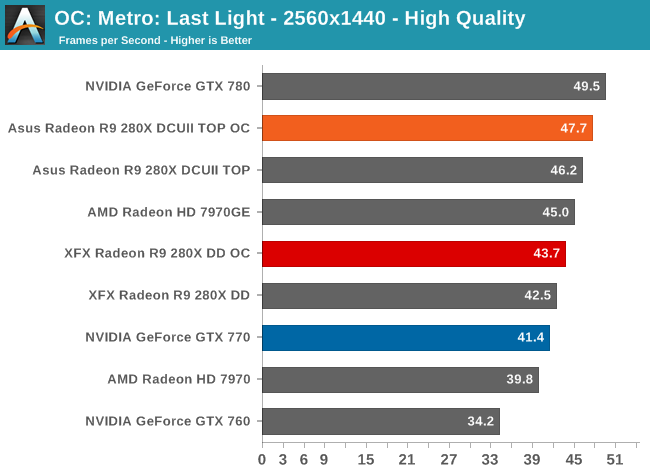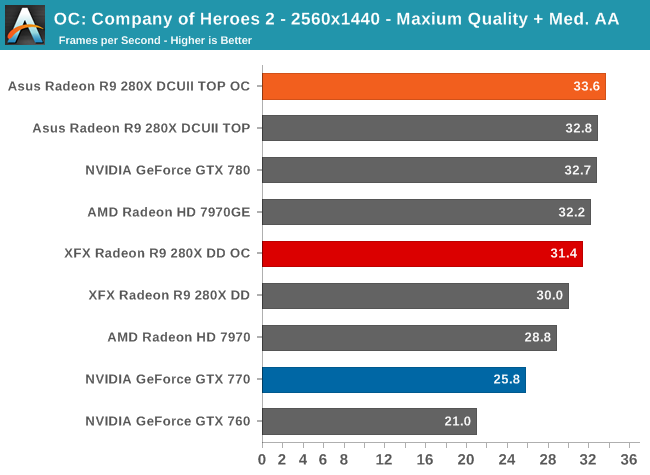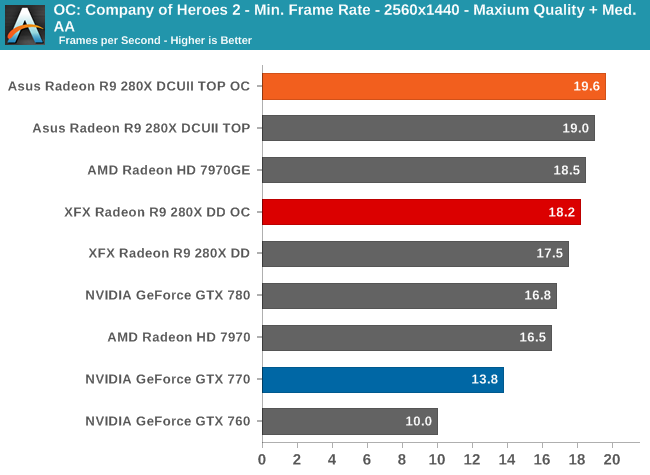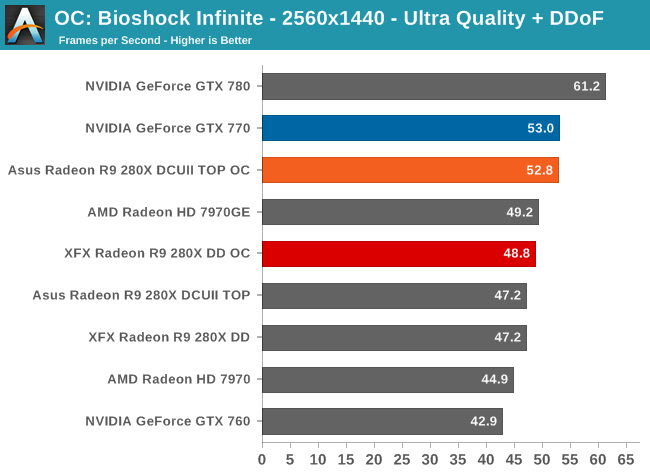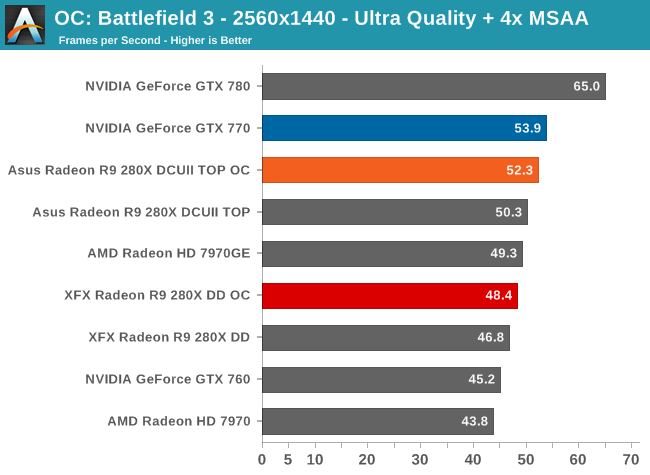 With our 280X cards primarily bottlenecked by GPU performance as opposed to memory performance, the performance gains from our overclocking adventure is limited. 3% on average for both cards is 3% for free, but it's barely a useful overclock. We typically need 5% before overclocks start becoming interesting and significant enough to improve playability or make higher graphical settings practical.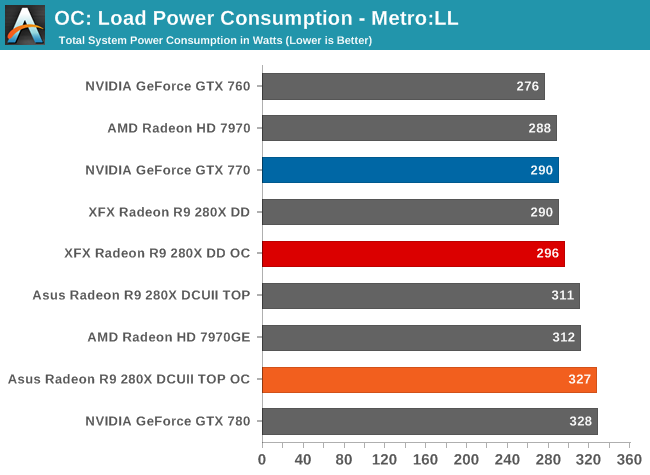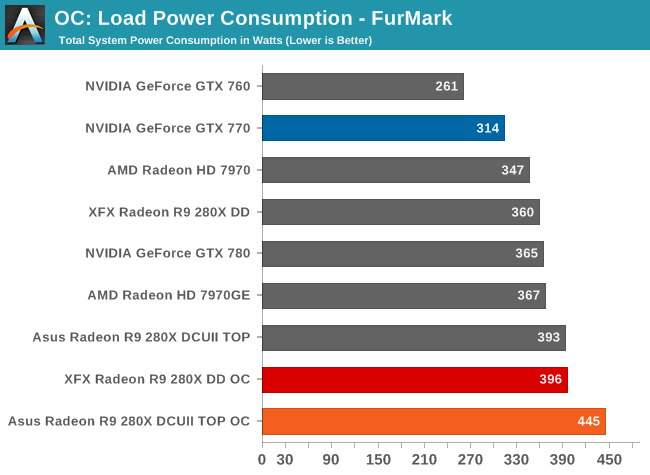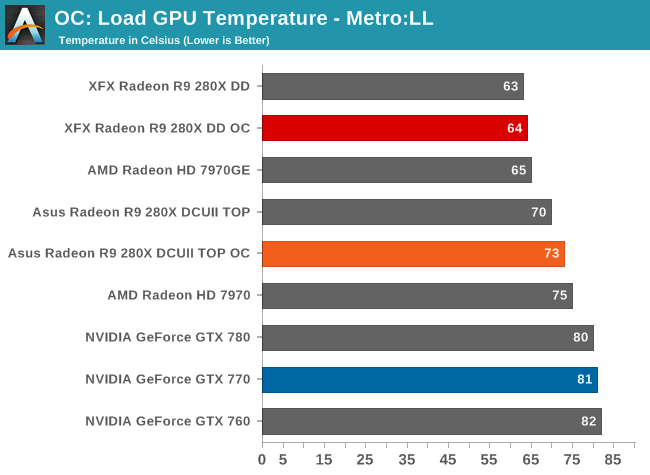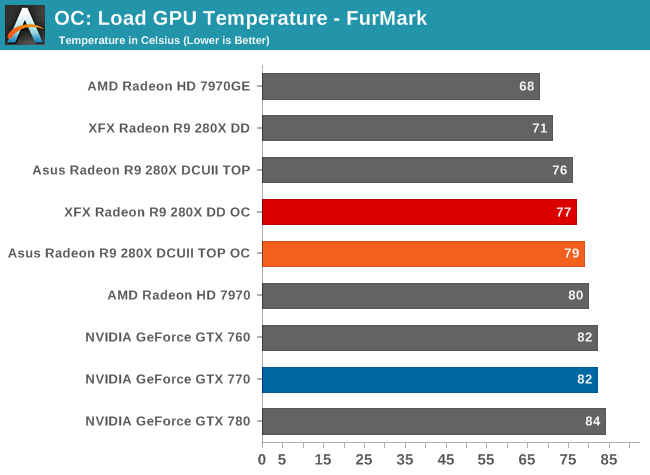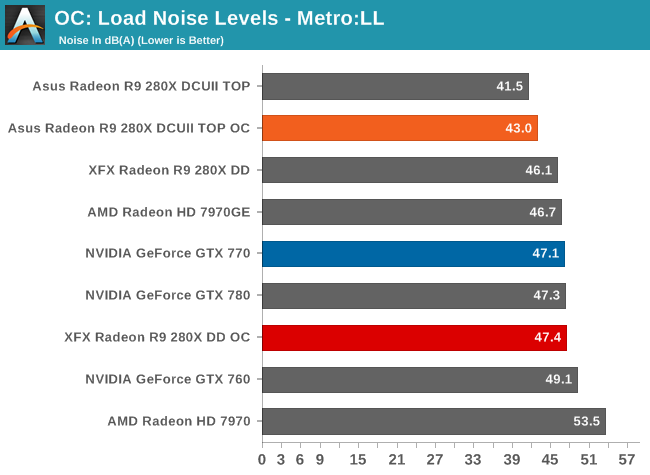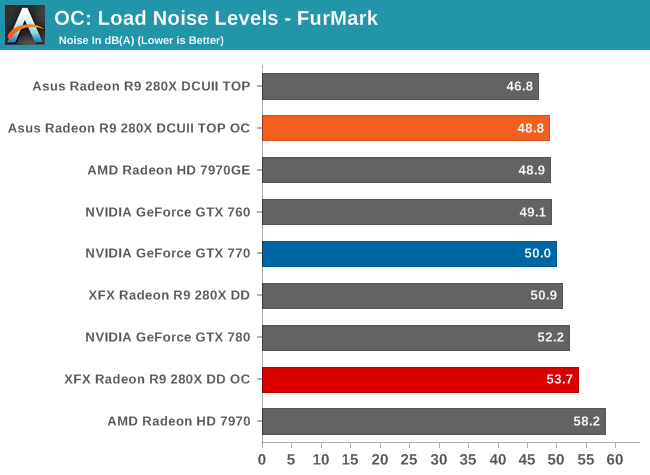 To the credit of the Asus card and its cooler, despite the increased clockspeeds, voltage, and power consumption, it's able to keep GPU temperatures and load noise to reasonable levels given the circumstances. Still, with the increase in power required to achieve this overclock (particularly in the worst case scenario of FurMark) it's hard to argue that the additional overclocking was worth the performance gains. With such an extensive factory overclock this is a card that may be better off left at factory clocks.
The XFX card meanwhile suffers much less of a power ramp up due to the lack of voltage control, but we're still looking at something of a wash on the power/performance front.