Shogun, Hitman, Far Cry 3, & Battlefield 3
Having taken a look at the specifications and construction of EVGA, Gigabyte, and MSI's cards, let's dive into the matter of their performance.
As a reminder the MSI GTX 770 Lightning has the highest factory overclock and the greatest power headroom (TDP 260W). However none of these cards has a memory overclock, and therefore performance gains will not always track the GPU overclock.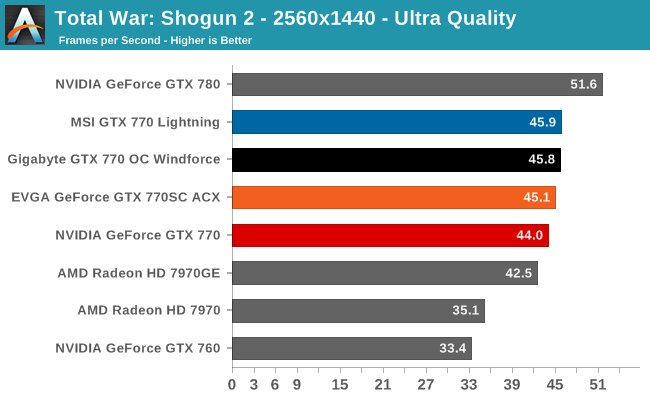 The fastest card here ends up being the MSI card, but not by much. The 4% gain over the stock GTX 770 is enough to be measurable and repeatable, however it doesn't come close to MSI's GPU overclock. Consequently at less than 1fps difference between the MSI, EVGA, and Gigabyte cards, it doesn't really stand out. We're likely facing a memory bandwidth limited scenario in our very first benchmark.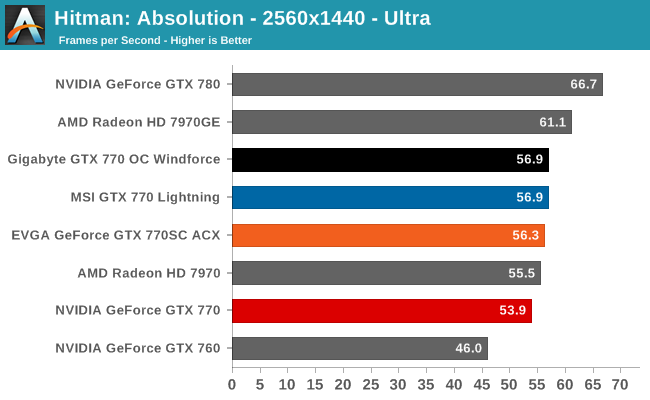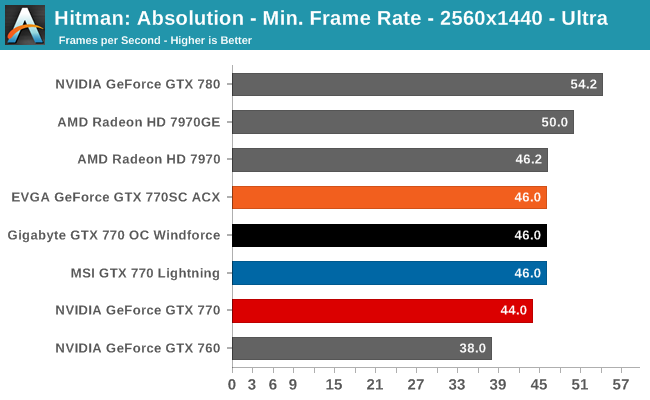 Hitman is much the same story as Shogun. The fastest cards are the MSI and Gigabyte cards, which tie for a 5% gain over a stock GTX 770, but they lack the performance gains to match their GPU overclocks. Furthermore with the EVGA card only behind by less than a frame per second despite it being the lowest of the factory overclocks, they're really no better than tied. So once more we're looking at some degree of a memory bandwidth bottleneck. Which just goes to show why it was so important that NVIDIA paired GK104 with 7GHz GDDR5 for this card, as extra memory bandwidth is clearly crucial.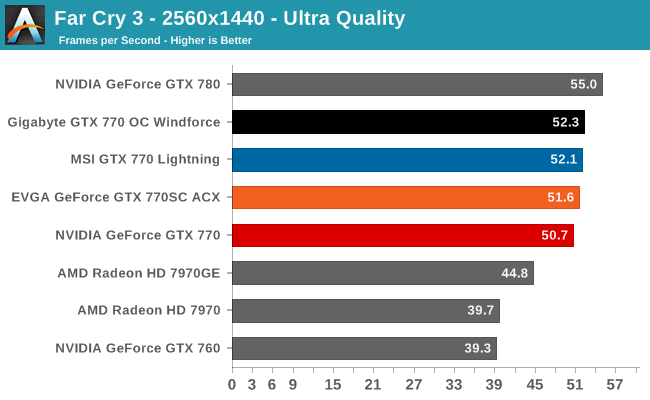 Interestingly the Gigabyte card technically takes the lead here despite the fact that it has a slightly lower GPU clock than the MSI card, but at .2fps it's little more than experimental variation. A 3% performance gain from the factory overclock once again points to a memory bandwidth bottleneck, which prevents these factory overclocks from shining.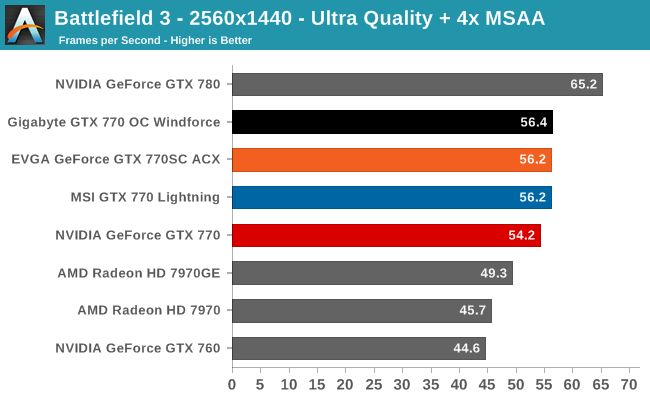 Battlefield 3 is generally a repeat of Far Cry 3. Gigabyte once again has ever the slightest lead due to the variation in our test results, while no one is improving on the stock GTX 770 by more than 4%. In the case of the Gigabyte and EVGA cards this is essentially free performance, but it's not much to talk about.