Pricing and the Effect of the Hynix Fire
When I started testing for this overview, I naturally headed over to Newegg in order to see the prices for memory kits using each of the timings we used. A 2x4 GB memory kit covers most of the major user scenarios, and a 2x8 GB of each is often available for near-double the pricing. As it stood at the beginning of August, we had the following pricing: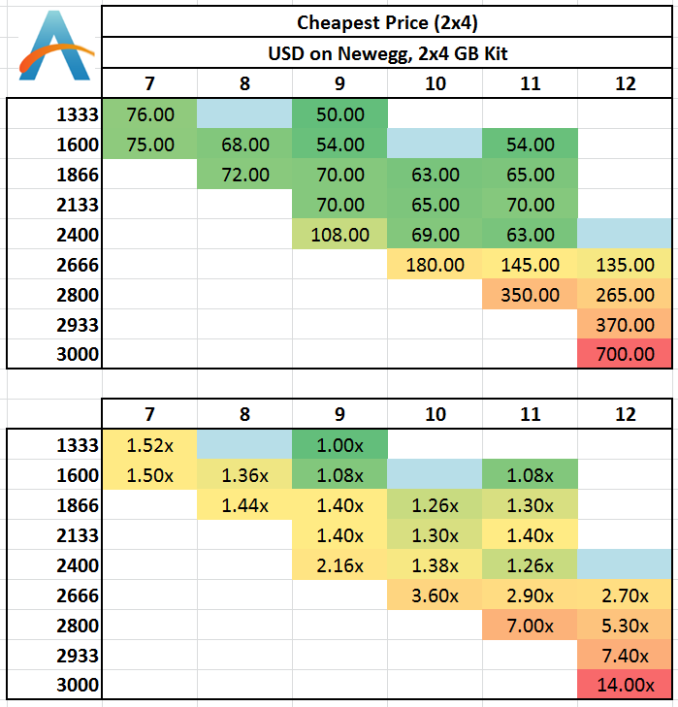 At the time, a 1333 C9 was the cheapest at $50, moving up through to $700 for our extreme DDR3-3000 C12 kit. Anything 2666 MHz and above requires a larger bump in price, however the movement from 1333 C9 to 2400 C11 in the grand scheme of things was relatively small ($13) but jumping to 2400 C9 is a 2.16x increase.
However, on September 4th, fire struck Fab 1 and Fab 2 of SK Hynix's operation in Wuxi, China.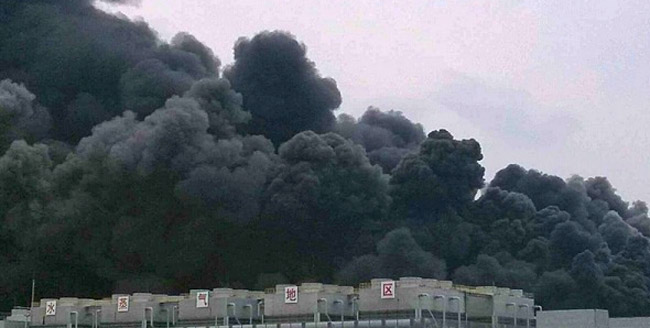 Source: Kitguru
Reports vary, with some suggesting that these Fabs were used for production of NVIDIA GDDR5, and others stating they were part of a general plant manufacturing DRAM. In a statement, SK Hynix has stated that 'there was no material damage to the fab equipment in the clean room, and thus we expect to resume operations in a short time period so that overall production and supply volume would not be materially affected'.
To put this into context, these Fabs combined produce 12-15% of the world's supply of DRAM silicon: Hynix themselves command 30% of the memory chip market and Reuters reports that this plant produces around 40-50 percent of Hynix's total output.
Of course the initial reaction to the incident was directed at pricing. Any suspension of manufactured goods can cause other companies to raise their base line, or the reduction of supply will cause other companies to react and make the most of their production. Memory kits have been rising in price per Gigabyte over the past year anyway, and the prediction of a 10-20% bump in price is not welcome. Using price tracking website camelcamelcamel.com, we chose a few 2x4 GB kits to see how prices have spiked: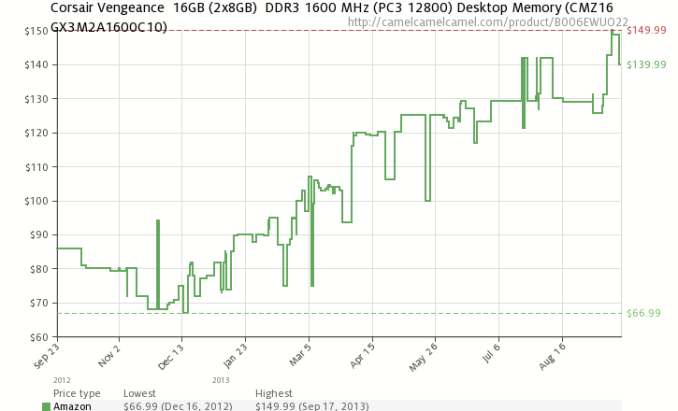 A few memory kits show a bump around the Sep 4-10th timeframe, such as the Corsair 1866 C9 kit, the Kingston DDR3-2400 C11 kit and the Patriot 2133 C11 kit. However the majority of kits did not in our small sample. Going back to the original list of prices I obtained from Newegg, I got a fresh set of numbers: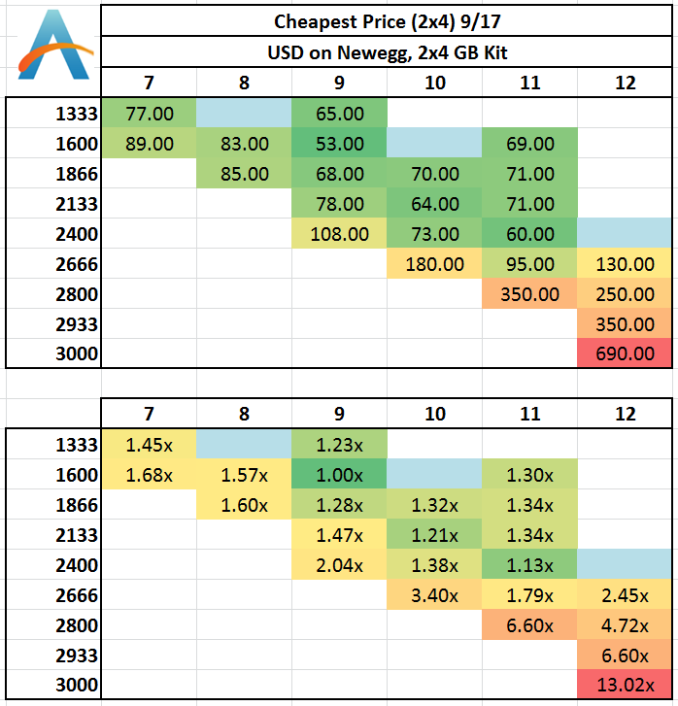 Some pricing has obviously moved – 1333 C9 is now $15 more expensive, and the budget kits are clearly 1600 C9 and 2400 C11. Most of the high end has not moved, although 2666 C11 is now under $100 for a 2x4 GB kit. 1866 C9 is $2 cheaper over the timeframe, but 2133 C9 is $8 more expensive than before. The ultra-high end kits have not adjusted much.