One of the touted benefits of Haswell is the compute capability afforded by the IGP. For anyone using DirectCompute or C++ AMP, the compute units of the HD 4600 can be exploited as easily as any discrete GPU, although efficiency might come into question. Shown in some of the benchmarks below, it is faster for some of our computational software to run on the IGP than the CPU (particularly the highly multithreaded scenarios).
Grid Solvers - Explicit Finite Difference on IGP
As before, we test both 2D and 3D explicit finite difference simulations with 2n nodes in each dimension, using OpenMP as the threading operator in single precision. The grid is isotropic and the boundary conditions are sinks. We iterate through a series of grid sizes, and results are shown in terms of 'million nodes per second' where the peak value is given in the results – higher is better.
Two Dimensional: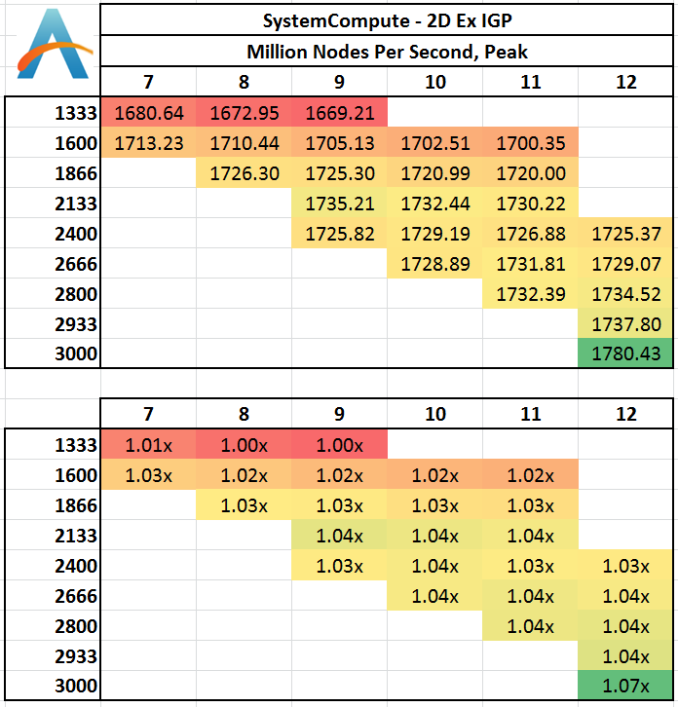 The results on the IGP are 50% higher than those on the CPU, and it would seem that memory can make a difference as well. As long as 1333 MHz is not chosen, there is at least a 2% gain to be had. Otherwise, the next jump up is at 2666 MHz for another 2%, which might not be cost effective.
Three Dimensional: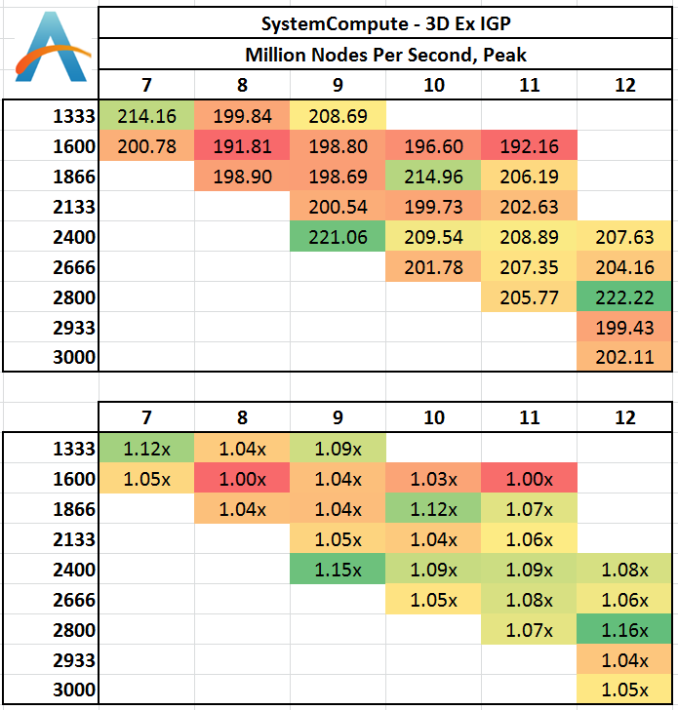 The 3D results seem to be a little haphazard, with 1333 C7 and 2400 C9 both performing well. 1600 C11 definitely is out of the running, although anything 2400 MHz or above affords almost a 10%+ benefit.
N-Body Simulation on IGP
As with the CPU compute, we run a simulation of 10240 particles of equal mass - the output for this code is in terms of GFLOPs, and the result recorded was the peak GFLOPs value.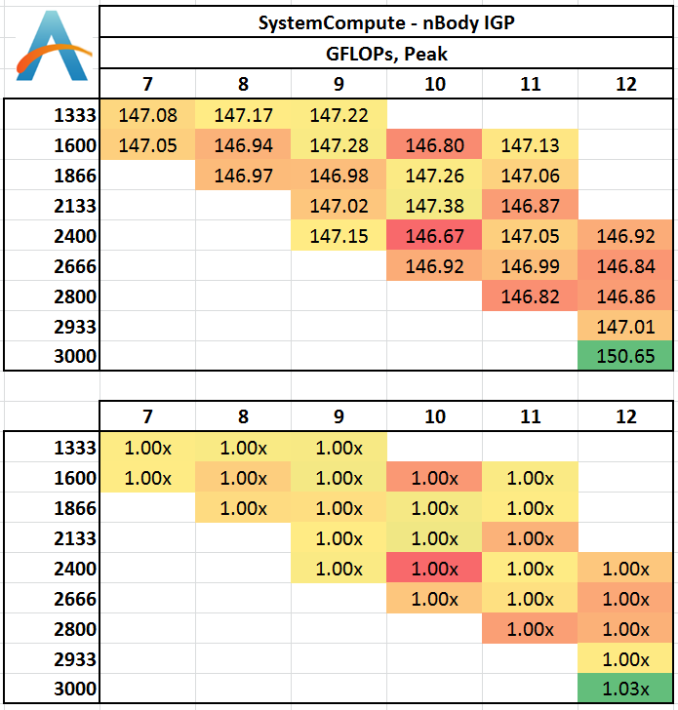 In terms of a workload that calculates FLOPs, the operational workload does not seem to be affected by memory.
3D Particle Movement on IGP
Similar to our CPU Compute algorithm, we calculate the random motion in 3D of free particles involving random number generation and trigonometric functions. For this application we take the fastest true-3D motion algorithm and test a variety of particle densities to find the peak movement speed. Results are given in 'million particle movements calculated per second', and a higher number is better.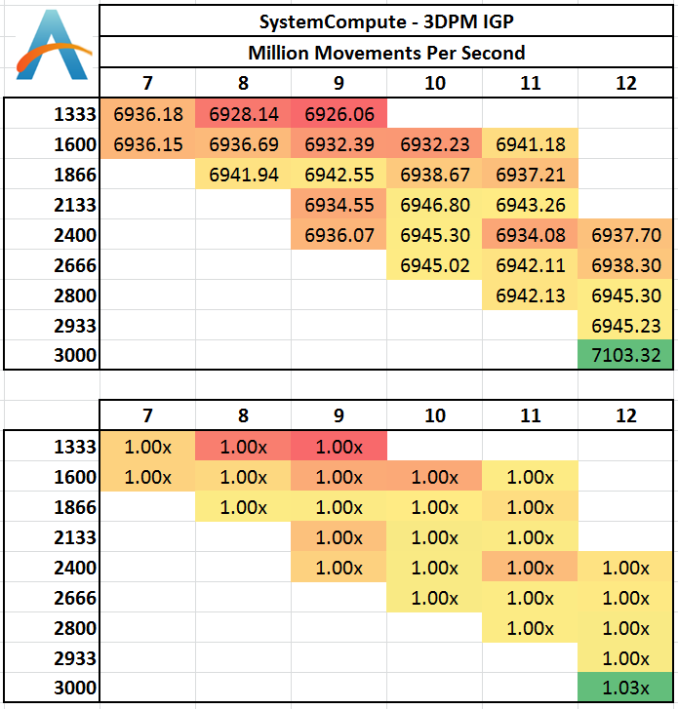 Despite this result being over 35x the equivalent calculation on a fully multithreaded 4770K CPU (200 vs. 7000), again there seems little difference between memory speeds. 3000 C12 gets a small peak over the rest, similar to the n-Body test.
Matrix Multiplication on IGP
Matrix Multiplication occurs in a number of mathematical models, and is typically designed to avoid memory accesses where possible and optimize for a number of reads and writes depending on the registers available to each thread or batch of dispatched threads. He we have a crude MatMul implementation, and iterate through a variety of matrix sizes to find the peak speed. Results are given in terms of 'million nodes per second' and a higher number is better.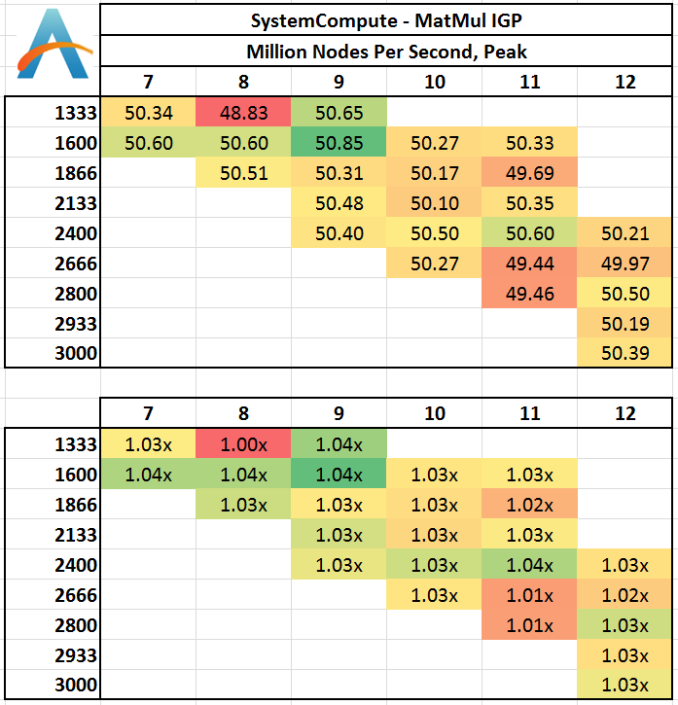 Matrix Multiplication on this scale seems to vary little between memory settings, although a shift towards the lower CL timings gives a marginally (though statistically minor) better result.
3D Particle Movement on IGP
Similar to our 3DPM Multithreaded test, except we run the fastest of our six movement algorithms with several million threads, each moving a particle in a random direction for a fixed number of steps. Final results are given in million movements per second, and a higher number is better.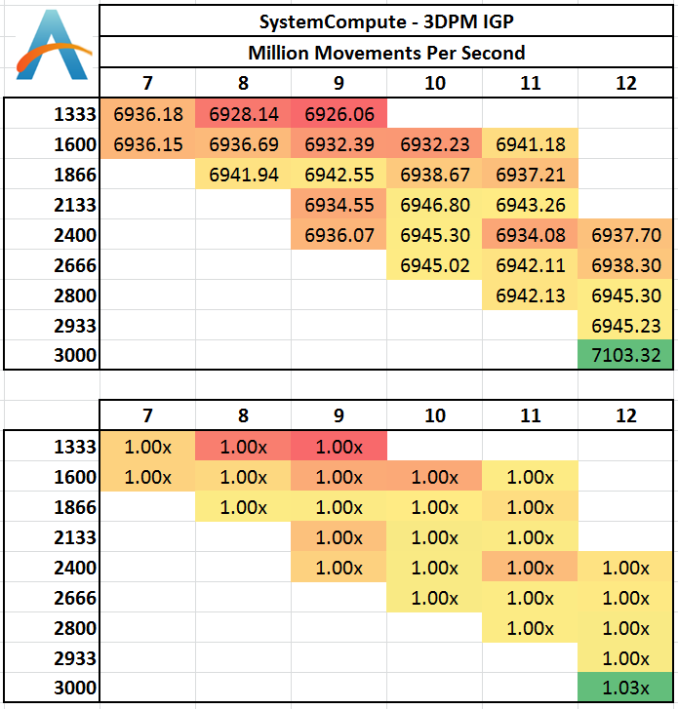 While there is a slight dip using 1333 C9, in general almost all of our memory timing settings perform roughly the same. The peak shown using our memory kit at its XMP rated timings are presumably more due to the adjustments in BCLK which need to be made in order to hit this memory frequency.