Like any major design change, iOS 7 definitely takes getting used to. My initial reaction to a lot of iOS 7 was honestly more surprise and aversion than I thought it would be, but over time the changes have grown on me. I like to think that we're pretty open to change, especially as enthusiasts, but it's a natural human response to want things to be familiar and closer to what came before. Considerable time spent running the beta and watching parts of the platform change over time in response to feedback from developers and other third parties makes me optimistic that the new iOS 7 UI will continue to change and evolve the same way previous versions did.
The flip side is that I can't shake the feeling that some of the iOS 7 design is reactionary. Pundits lambasted Apple with iOS 6 and the iPhone 5 release for being pretty much the same OS with minor tweaks and very few stylistic changes. Those vocal members wanted dramatic change in visual appearance just for the sake of having it, and like the idiom goes, be careful what you wish for because sometimes it actually does come true. No matter how you sugar coat it, iOS 7 is a dramatic departure from the visual style that came before.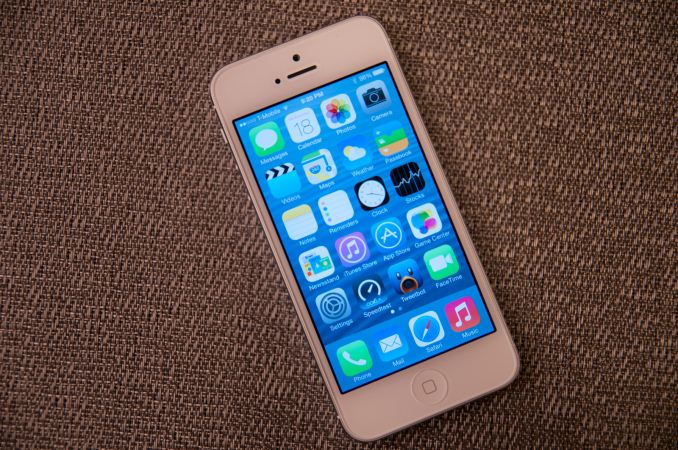 I like the use of translucency and transparency, and the new eye candy and visual effects in iOS 7 did initially solicit a bit of the same "wow" reaction that I had the first time looking at iOS on the original iPhone. The use of parallax and the translucency really does convey a sense of depth and order without being as garish as drop shadows or the shiny faux-3d buttons of yesterday's iOS.
The downside is that after a few weeks of it, some animations are really just a lot more gratuitous than they need to be – after the thousandth time watching the tiles fly in or application zoom out into the multitasking interface you want it to just happen instantly. I have no doubt that iOS will go the route of OS X and Windows Phone and gradually increase the speed of these animations to make the platform feel faster. They're also bound to have a power penalty at some point.
I guess that's the ironic part – the flagship devices don't drop frames during the transitions, they just feel long. I can speak to iOS 7 performance which is good on the iPhone 4S and above and newest generation of iPads, performance however on the iPhone 4 and iPad 3 leaves a lot to be desired. The iPhone 4 stutters through all of its animations, has sparse use of transparency, and generally feels like it's on its last legs. The iPad 3 unfortunately is much of the same – sparse transparency, occasional stuttery parts throughout, although a lot more usable than the iPhone 4. I guess I'm just surprised to see the iPad 3 get to that point of feeling slow so fast.
Although a lot of iOS 7 is visual, the functional changes and new features that are standouts really do make a difference. Control center is a long overdue functional improvement that makes controlling a subset of commonly used settings very fast. There's still more Apple could do here to smooth over a few more friction points, but it's a welcome addition. Notification center also feels a lot more well thought out, with logical separation of information that's useful and notifications themselves, even if there's still no "clear all" button.
Multitasking changes are something which will benefit iOS users immensely, even if it will take time for applications to update and make use of them. The IM pain point in iOS has been one of the things pushing me more and more toward other platforms, so being able to have a client that has push-notification triggered fetch will be a welcome improvement. Likewise batching up background updates will help with platform power by keeping iDevices in sleep longer. AirDrop we haven't tested as much, partly because it only works with the latest generation of devices, but this looks to be an awesome functional addition for sharing data and files between iDevices as well. The addition of dynamic type through Text Kit also goes a long way to making iOS easier to read for users with less than perfect eyesight, something I think is similarly aligned with the perceived iPhone display size problem.
Of course there are big under the hood changes like 64-bit ARMv8 support (all the native apps have been recompiled for ARMv8, as Anand noted on the 5s there's not a single 32 bit process at boot), and OpenGL ES 3.0 support on the 5s' Rogue graphics.
When iOS first launched it did so without even so much as a name, much less a real competitor. Today iOS 7 ushers in a new era for Apple's mobile platform. The new visual style is very nice and I can see it quickly making the outgoing UI feel very dated in very short form. Along with the visual reset for the platform comes with a reset of the way things are done, for better or worse. There are some rough edges in iOS 7 that we simply haven't seen with iOS before as previous versions have largely been evolutions of the same basic starting point in 2007. The real test is how quickly Apple will address pain points with the new OS. I feel like the old Apple would've waited until the design was perfect before letting it out, while the new Apple is acutely aware of the competition that exists and is fine shipping and updating along the way. In many ways this is more like how OS X has worked in recent years, and I wonder if that's the transition we're seeing happen now. With a new face, comes the beginning of the maturation of iOS.