Since our last Socket A cooler roundup, several new and highly interesting coolers have been introduced. More manufacturers are now using copper for their heatsinks - either for an inlay, for the base plate, or for the entire cooler. The days where overclockers had to chose between only two or three cooler models are long over; today a wide variety of high performance coolers are available. Given the fast pace of the cooling market, it was clearly time for a new Socket cooler roundup.
This cooler roundup is the first cooler test where our new testing methodology is being used; the results are now more accurate and therefore small differences between coolers with similar performance have become more obvious. Details about the methodology can be found in our new Heatsink Guide documenting AnandTech's new Testing Methodology.
We have re-tested the 8 most efficient fan/heatsink combinations from our last cooler roundup with the new testing methodology. For individual articles about these coolers, please see our Socket-A & Socket-370 Cooler Roundup from November of last year.
Additionally, we have also tested the Alpha PAL35 with a 7000rpm Delta fan, at the request of AnandTech readers.
Here are the results of the performance test:
Test With CPU Simulator - Temperature Readings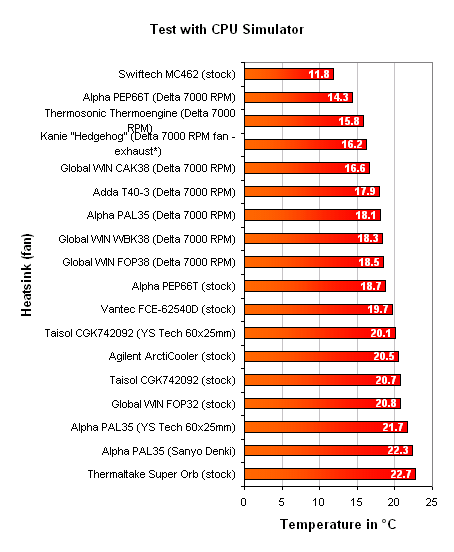 Temperatures measured above are temperature differences between the simulator temperature and the ambient air temperature
(exhaust) means the fan exhausts air from the heatsink
"stock fan" means manufacturer-supplied fan