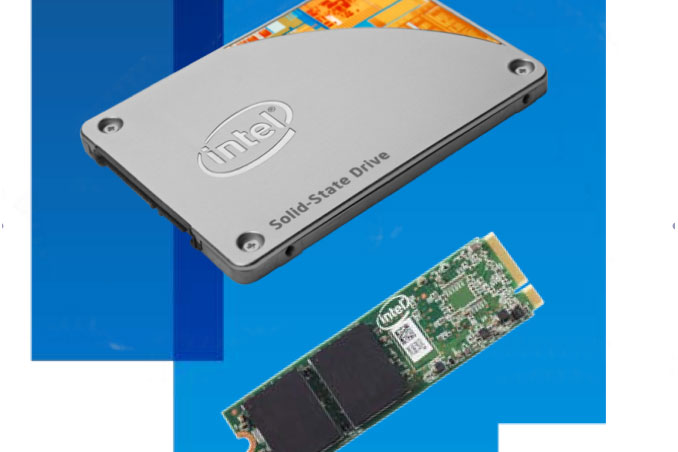 IDF 2013 is almost upon us, and Intel's NSG (NAND Solutions Group) is kicking off the pre-show with a new SSD announcement. The drive in question? Intel's SSD Pro 1500. This is the first non-datacenter drive to use Intel's somewhat new branding, following the format Intel SSD [segment modifier] [model number].
Despite the new name, the internals aren't all that new. At the heart of the Pro 1500 is a 6Gbps SATA SandForce SF-2281 controller, the same controller we've seen used in Intel's SSD 330, 335, 520 and 530. The SandForce controller continues to be paired up with Intel's own validated firmware, which should deliver a better experience than on other SandForce based drives. The SF-2281 controller is paired up with Intel's own 20nm 2bpc MLC NAND. The combination of the two will be available in 80GB, 120GB, 180GB, 240GB, 360GB and 480GB capacities.
Relatively known quantities aside, the Pro 1500 does bring a few new tricks to the table starting with form factor. Other than the 480GB model which is 2.5"/7mm SATA only, all of the other drives are available in both 2.5"/7mm and M.2 form factors. Of the M.2 models, the 80GB version is available in 2242 (22mm wide x 42mm long) and 2280 (22mm x 80mm) versions. The rest of the M.2 drives are all 2280. All of the M.2 flavors are SATA based (I have to make this clarification as the M.2 standard is somewhat ridiculous and can support either PCIe or SATA using the same connector).
The controller used appears to be a newer revision of the SF-2281 which support for lower power operation as well as DevSleep. The result is lower active, idle (HIPM+DIPM and DevSleep) than any of the older SF-2281 based drives. Note that new SSD 530 appears to have similar power characteristics to the Pro 1500.
Intel SSD Spec Comparison
SSD Pro 1500
SSD 530
SSD 520
SSD 335
SSD 330
Controller
LSI SandForce SF-2281
NAND
Intel 20nm MLC
Intel 20nm MLC
Intel 25nm MLC
Intel 20nm MLC
Intel 25nm MLC
Capacities (GB)
80/120/180/240/360/480
80/180/240/360
60/120/180/240/480
180/240
60/120/180/240
Form Factors
2.5" 7mm SATA
M.2 2242 (80GB only)
M.2 2280 (up to 360GB)
2.5" 7mm SATA
M.2 2280 (80/180/360)
2.5" 7mm & 9.5mm SATA
2.5" 9.5mm SATA
2.5" 9.5mm SATA
Max Sequential Read
540 MB/s
540 MB/s
550 MB/s
500 MB/s
500 MB/s
Max Sequential Write
490 MB/s
490 MB/s
520 MB/s
450 MB/s
450 MB/s
Max Random Read
41K IOPS
41K IOPS
50K IOPS
42K IOPS
42K IOPS
Max Random Write
80K IOPS
80K IOPS
80K IOPS
52K IOPS
52K IOPS
AES-256
Y
Y
N
N
N
TCG Opal
Y
N
N
N
N
Intel vPro/SCS
Y
N
N
N
N
Power (Active)
140 mW (M.2)
195 mW (2.5")
140 mW (M.2)
195 mW (2.5")
850 mW
350 mW
350 mW
Power (Idle)
55 mW (M.2)
125 mW (2.5")
55 mW (M.2)
125 mW (2.5")
600 mW
275 mW
275 mW
Power (DevSleep)
200 µW (M.2)
5 mW (2.5")
200 µW (M.2)
5 mW (2.5")
-
-
-
Warranty
5 years
5 years
5 years
3 years
3 years
The Intel SSD Pro 1500 features AES-256 encryption support as well as TCG Opal compliance. There's no mention of IEEE-1667 so I don't believe the 1500 is eDrive compatible. The Pro 1500 also adds vPro and Intel Setup & Configuration Service 9.0 support, allowing for remote management and diagnostics of the drive even if the platform is turned off. Ultimately it's the TCG Opal and Intel vPro/SCS support that separates the Pro from conventional Intel SSDs.
The Pro 1500 will be primarily sold through OEMs and SIs although there will be limited quantities available in the channel. The 1500 carries a 5 year warranty.