Rendering Performance: Cinebench
Cinebench, based on MAXON's CINEMA 4D software, is probably one of the most popular benchmarks around as it is pretty easy to perform this benchmark on your own home machine. The benchmark supports up to 64 threads, more than enough for our 24- and 32-thread test servers. First we test single-threaded performance, to evaluate the performance of each core.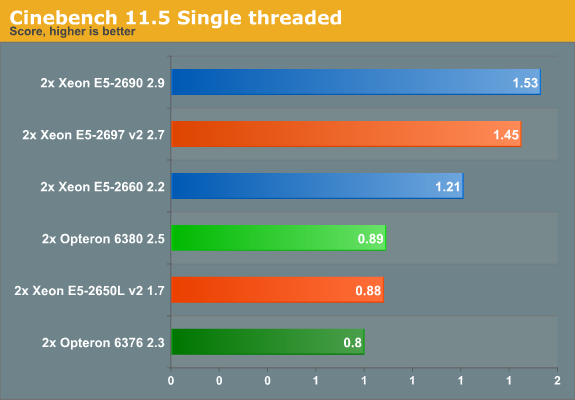 Cinebench achieves an IPC between 1.4 and 1.8 and is mostly dominated by SSE2 code. There is little improvement in that area, and the older 2.9-3.8GHz E5-2690 has the clock speed advantage over the new 2.7-3.5GHz E5-2697 v2. Also of note is that i n this type of code, one Piledriver core again needs 50% higher clock speed to keep up with the Ivy Bridge core.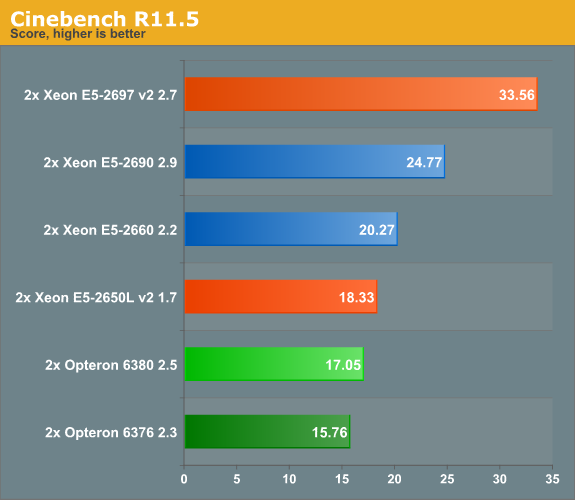 Once we run up to 48 threads, the new Xeon can outperform its predecessor by a wide margin of ~35%. It is interesting to compare this with the Core i7-4960x results , which is the same die as the "budget" Xeon E5s (15MB L3 cache dies). The six-core chip at 3.6GHz scores 12.08. It is clear that chosing cores over clock speed is a good strategy in rendering farms: the dual E5-2650L offers 50% better performance in a power budget that is more or less the same (2x70W vs 130W).