Video Transcoding
With our lightly threaded tests behind us, it's time to move to more CPU intensive pastures.
We migrated to the latest verison of the x264 HD benchmark which features a much newer version of x264 and a much heavier workload. The focus here is on quality rather than speed, thus the benchmark uses a 2-pass encode and reports the average frame rate in each pass.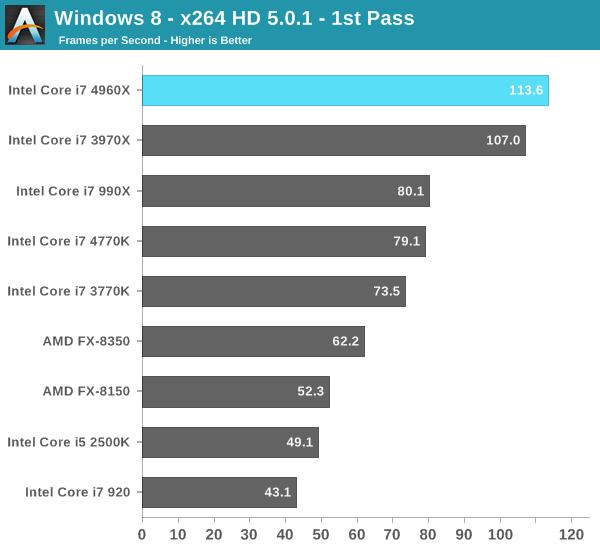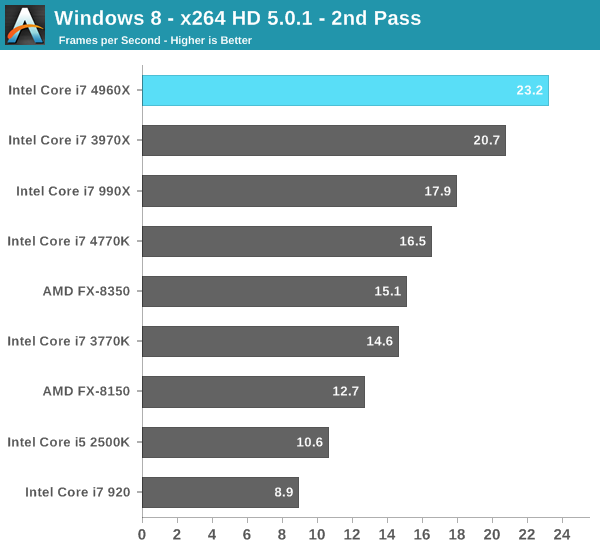 Here we see all of the 6-core parts rise to the top, including Intel's old Gulftown based Core i7-990X. Despite being a few years old at this point, the 990X's 6-core design and relatively high clock speed gives it better performance here than the quad-core Haswell 4770K.
The 4960X manages to be around 30% faster than the old 990X, and is 40% faster than the 4770K. For heavily threaded applications, there's simply no replacement for more cores.
Just like I did earlier, I dusted off one of our really old x264 tests so we'd have comparison data to even older CPUs including the Pentium 4 and Penryn based Extreme Edition parts: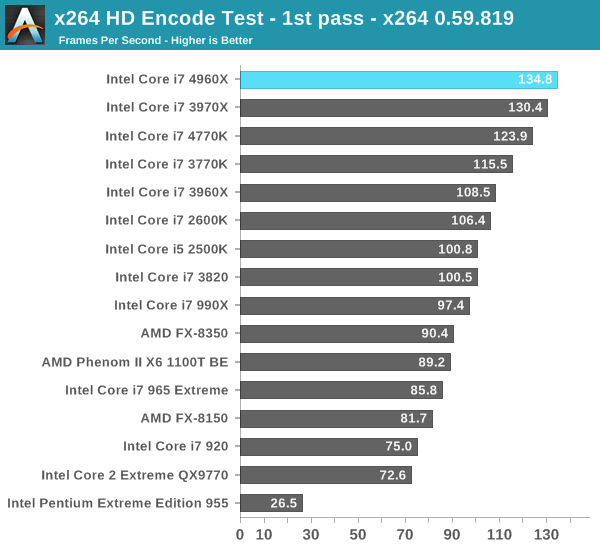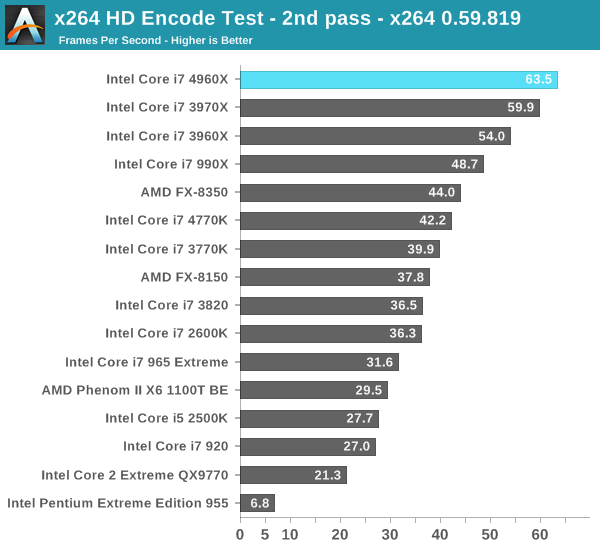 The 4960X manages to deliver nearly 3x the performance of Intel's flagship from 6 years ago. The Pentium EE 955 comparison is even more insane. IVB-E is basically an order of magnitude faster than the last high-end Pentium 4s to come out of Intel back in 2005.
3D Rendering
Our new POV-Ray benchmark uses the latest beta binary (3.7RC6) and runs through both single and multithreaded versions of the popular raytracing benchmark.
Isolating a single core shows us exactly what we're missing by having Ivy Bridge at the heart of the 4960X instead of Haswell. Here the 4770K manages a 16% performance advantage over the 4960X, which costs 3x as much and draws substantially more power. Looking at AMD's FX-8350 however it's clear why Intel can get away with launching a high-end 6-core chip without its latest cores. Piledriver's single threaded performance falls somewhere between Nehalem and Sandy Bridge, giving Intel room to launch another Ivy Bridge based high-end SKU in 2013 and get away with it.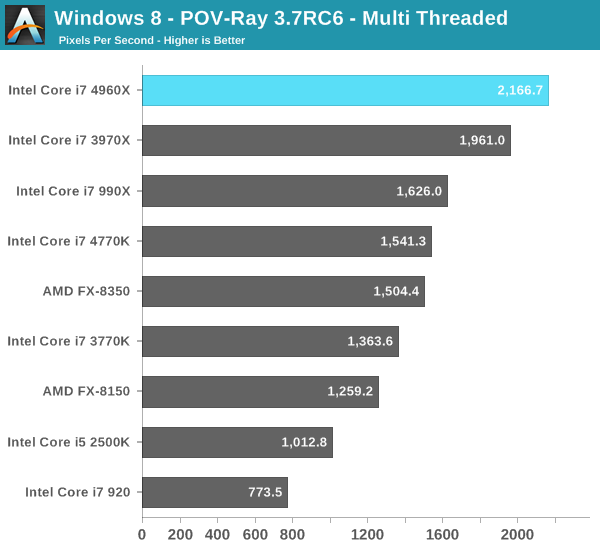 The multithreaded performance story is very different. Here even the Gulftown based 990X is faster than Haswell thanks to its six cores. The 4960X is 40% faster than the Haswell based 4770K. Even AMD's FX-8350 does really well here, basically equalling Haswell's performance.
Created by the Cinema 4D folks we have Cinebench, a popular 3D rendering benchmark that gives us both single and multi-threaded 3D rendering results.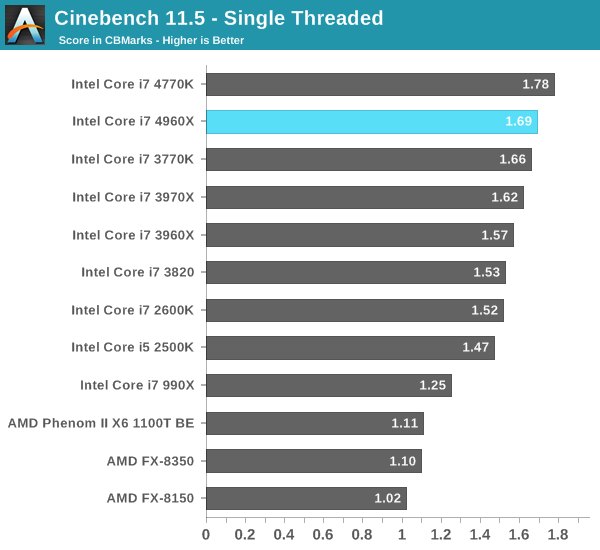 In Cinebench, the single threaded Haswell/IVB-E gap narrows to 5%.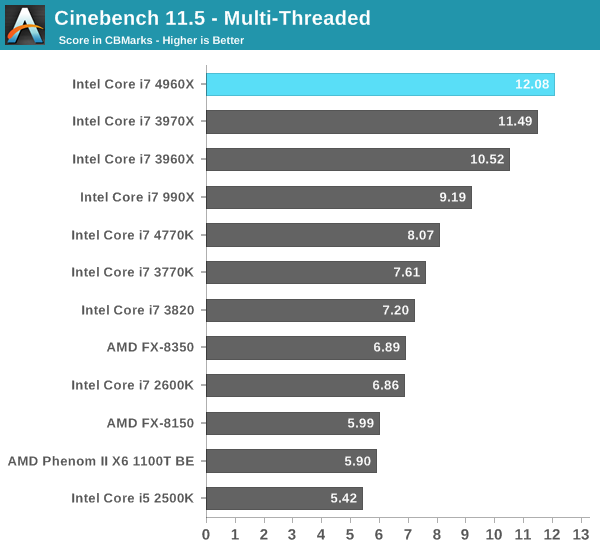 Multithreaded performance continues to be just stellar. Here the 4960X is just under 50% faster than the 4770K. Note the relatively small gap between the 4960X and the SNB-E based 3970X however - the performance gain is only 5%. The bulk of Ivy Bridge's advancements were in GPU performance (not applicable to IVB-E) and power consumption (which we'll get to shortly).
Our final two Cinebench tests use the R10 benchmark to enable a comparison to more/older data points: