GPU Performance
Snapdragon 800 features Qualcomm's Adreno 330 GPU. Qualcomm hasn't stated publicly how Adreno 330 compares to Adreno 320 featured in Snapdragon 600, but it's almost certainly a larger GPU. The 8974 implementation in LG's G2 clocks the Adreno 330 GPU at a maximum of 450MHz, yet we see better performance than the 450MHz Adreno 320 in Snapdragon 600 - lending credibility to the idea of having more execution resources. There's also an 8974AB variant which includes a 100 MHz bump in GPU clocks up to 550 MHz.
3DMark
3DMark for Android features the Ice Storm benchmark and uses OpenGL ES 2.0. Ice Storm is divided into two graphics tests and a physics test. The first graphics test is geometry heavy while the second test is more pixel shader intensive. The physics test, as you might guess, is CPU bound and multithreaded. The overall score takes into account both graphics and physics tests. The benchmark is rendered to an offscreen buffer at 720p/1080p and then scaled up to the native resolution of the device being tested. This is a very similar approach we've seen by game developers to avoid rendering at native resolution on some of the ultra high resolution tablets. The beauty of 3DMark's approach here is the fact that all results are comparable, regardless of a device's native resolution. The downside is we don't get a good idea of how some of the ultra high resolution tablets would behave with these workloads running at their native (> 1080p) resolutions.
For these benchmarks we stuck with the default presets (720p, normal quality).
3DMark performance generally fell very close to Qualcomm's MSM8974 MDP/T, with one exception. The CPU bound physics tests had the G2 far lower down the list than I would've expected. Given that test is mostly a multithreaded CPU benchmark, it's entirely possible that the G2's thermal/frequency governors are set more conservatively there. The performance gains elsewhere over Snapdragon 600/Adreno 320 are huge, but 3DMark can be very influenced by CPU performance so it's not clear how much of this advantage is due to Adreno 330 or Krait 400.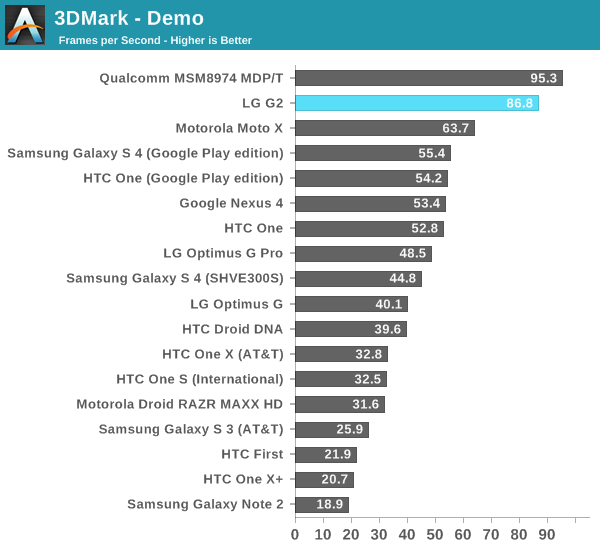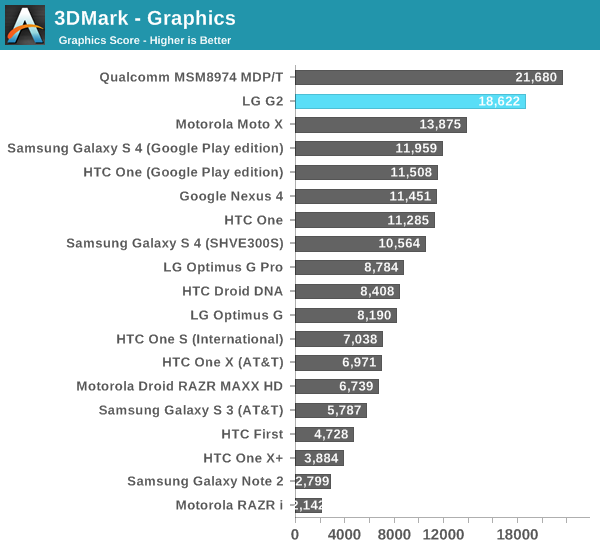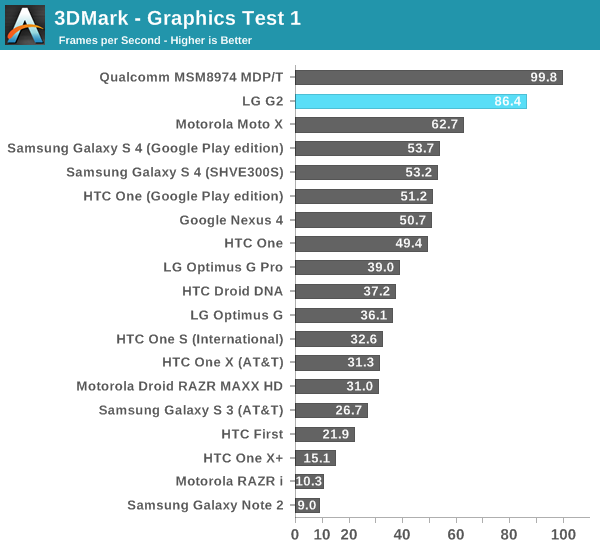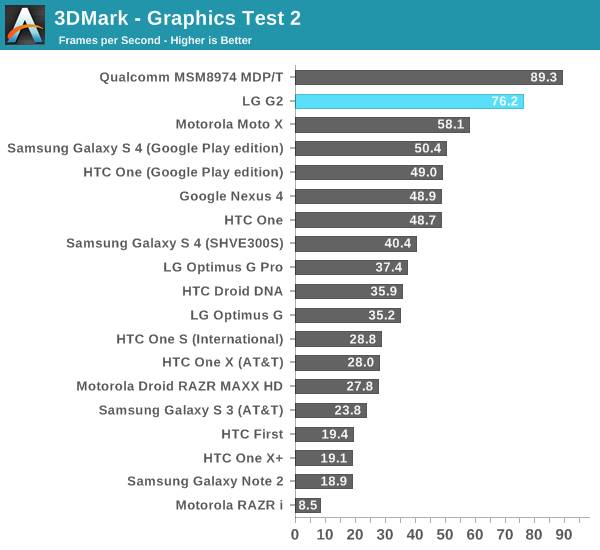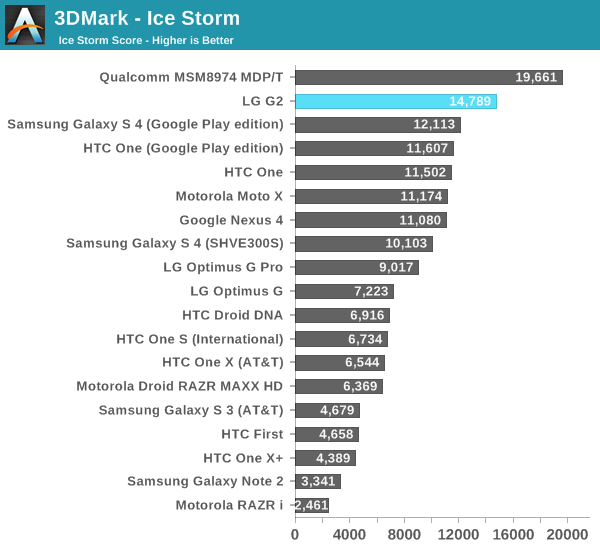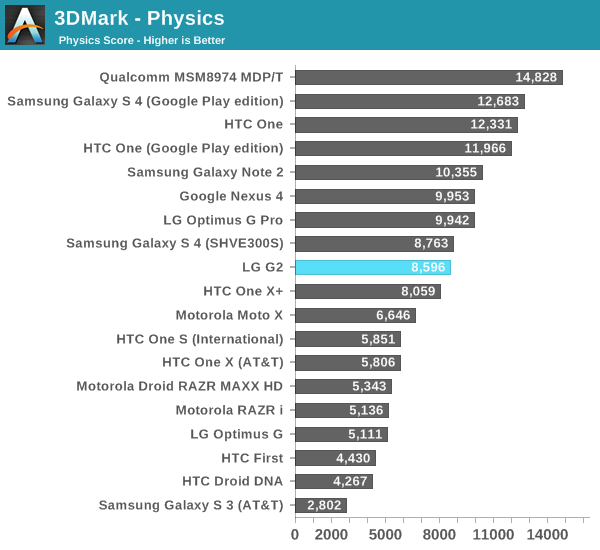 GFXBench 2.7
GFXBench (formerly GLBenchmark) gives us some low level insight into these platforms. As usual, we'll start with the low level tests and move onto the game simulation benchmarks: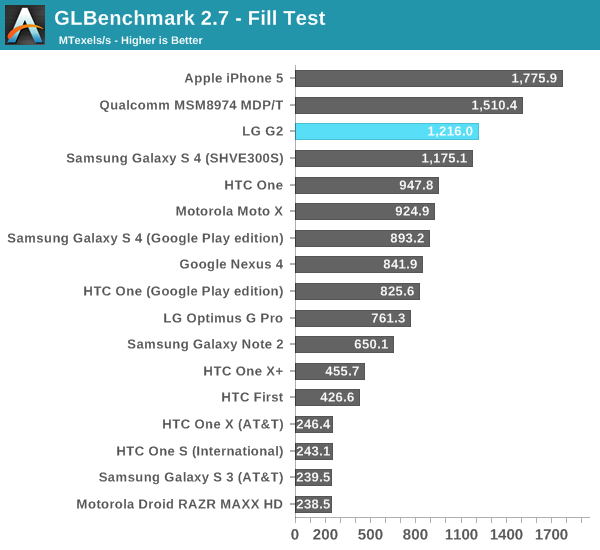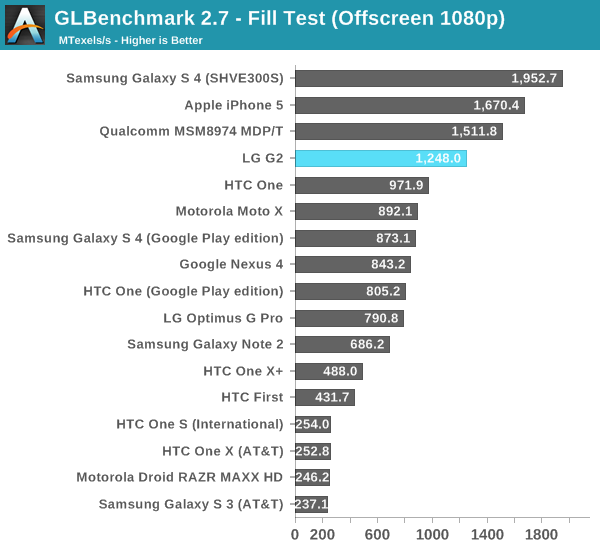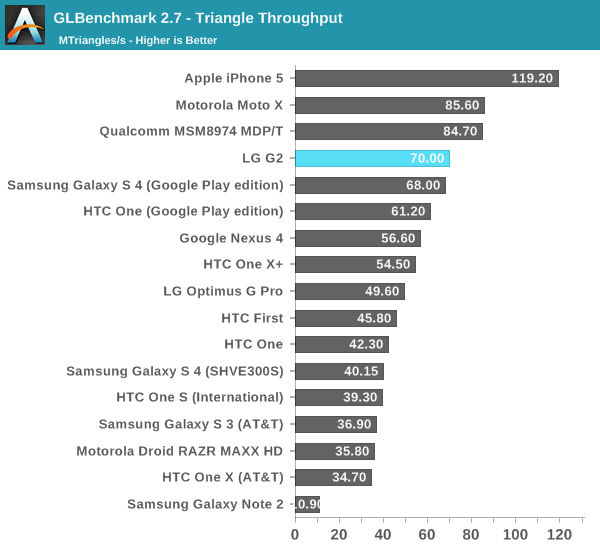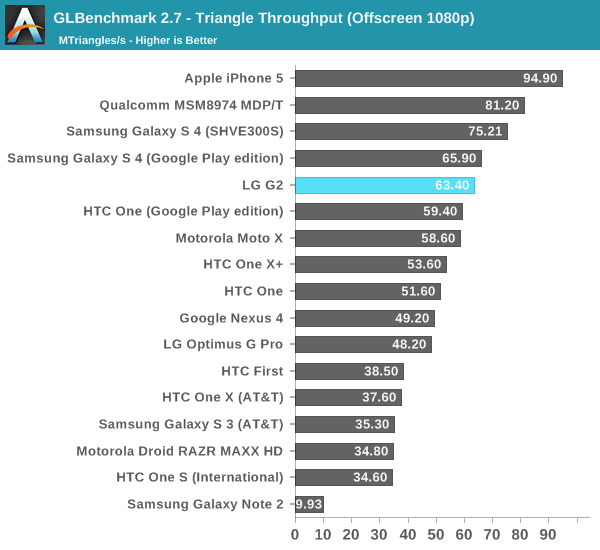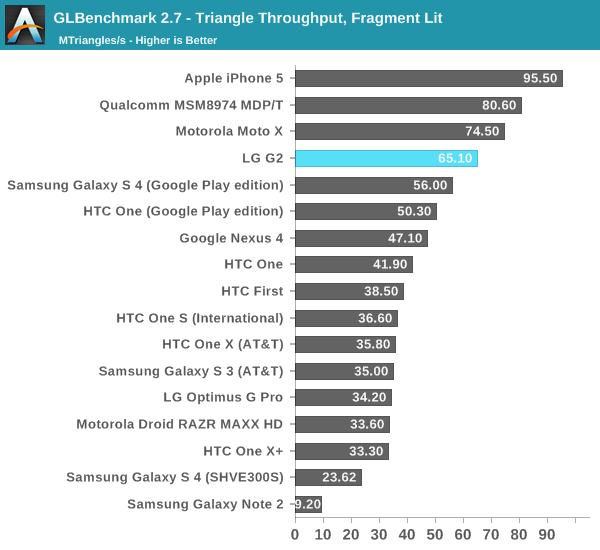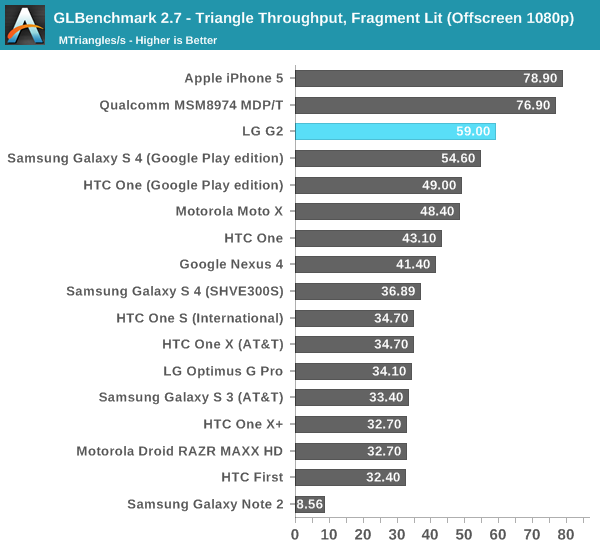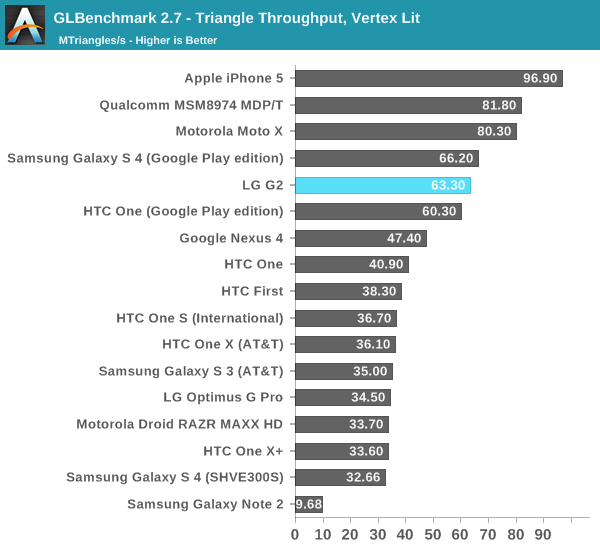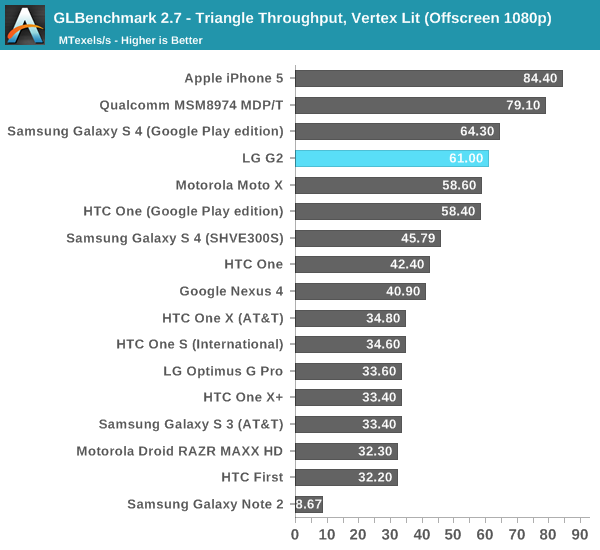 The low level tests put the G2 closer in performance to some of the Snapdragon 600 based devices than the MDP/T, again early software at work here. The T-Rex HD performance looks pretty good, putting the G2 between the S600 devices and S800 MDP/T.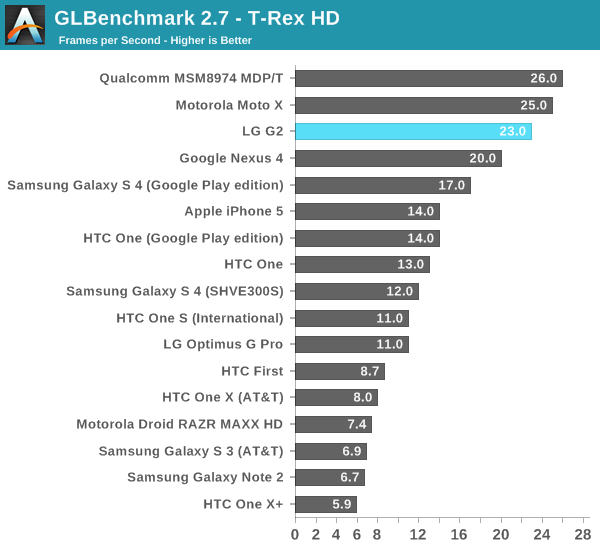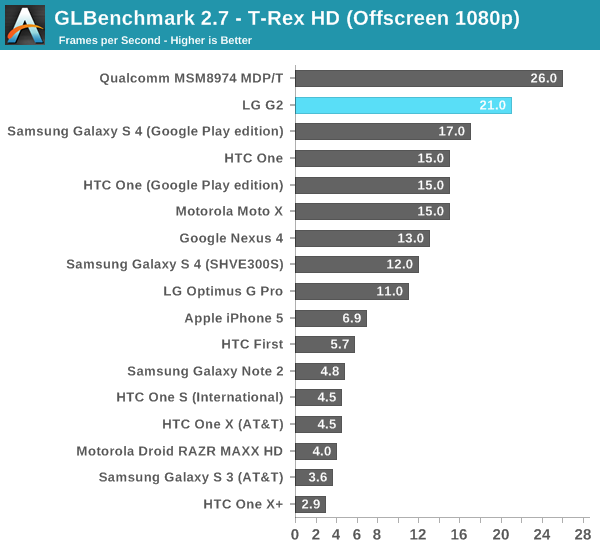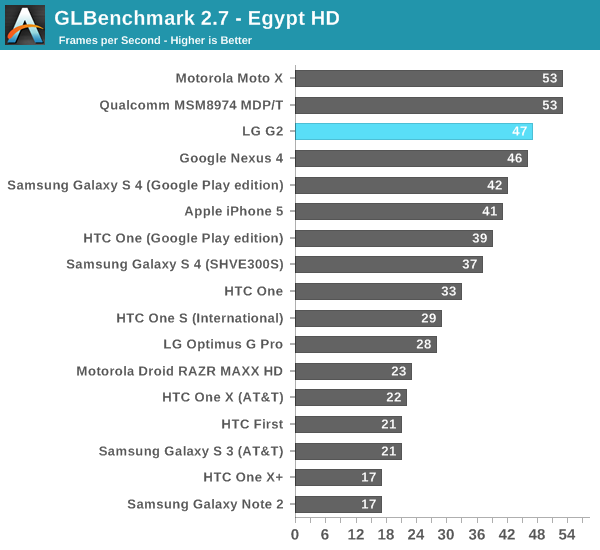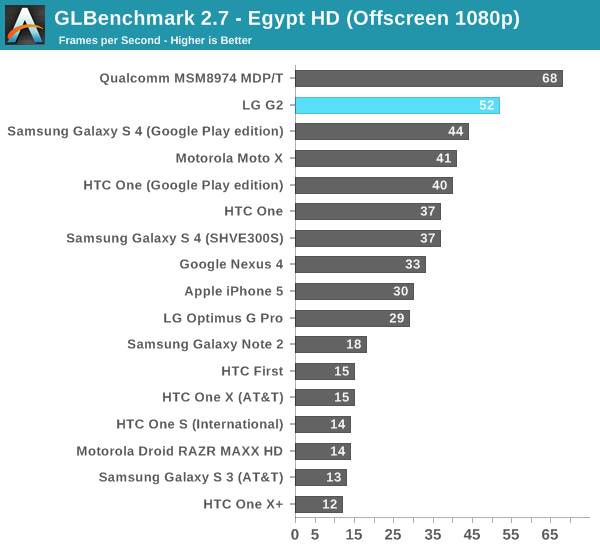 Basemark X
Basemark X is a new addition to our mobile GPU benchmark suite. There are no low level tests here, just some game simulation tests run at both onscreen (device resolution) and offscreen (1080p, no vsync) settings. The scene complexity is far closer to GLBenchmark 2.7 than the new 3DMark Ice Storm benchmark, so frame rates are pretty low: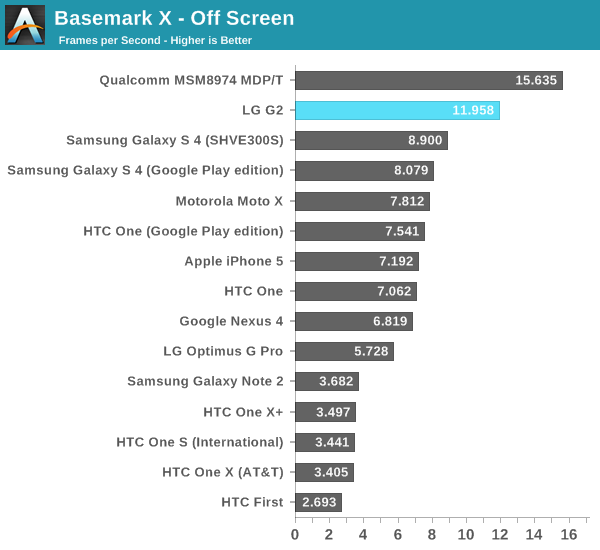 Basemark X performance tracks with what we saw in the GFXBench T-Rex HD test. Performance is clearly higher than on any other device, but not quite up to MDP/T levels. I wonder how much closer the final device will get.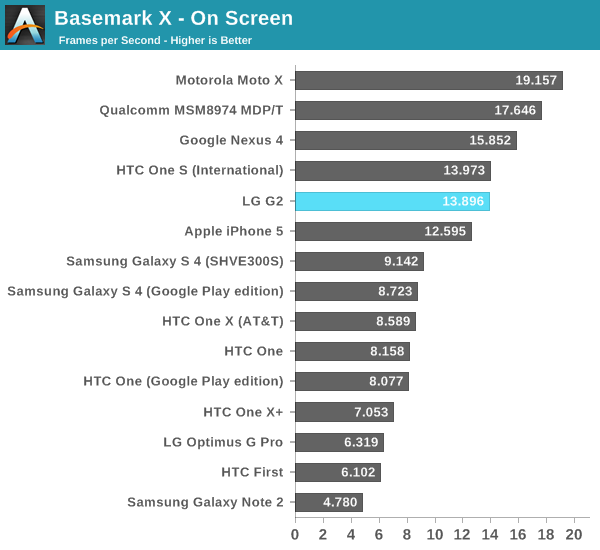 Epic Citadel
Epic's Citadel benchmark gives us a good indication of lighter workload, v-sync limited performance at native resolution. At 1080p, the Snapdragon 800 MDP/T offers over 50% better performance than the Snapdragon 600 based platforms. Granted we're comparing to smartphones here so there's some thermal advantage playing to the 800's favor.