CPU Performance
LG's G2 features a quad-core Snapdragon 800 SoC (MSM8974). For a quick refresher, Snapdragon 800 features four Krait 400 cores running at up to 2.3GHz courtesy of TSMC's 28nm HPM process. The 2.3GHz max clock speed comes at a surprisingly low voltage thanks to the low power HPM process. Gone are the days of 1.4V to hit near-2GHz frequencies it seems, instead 8974 will hit 2.3 GHz at around 1V. Krait 400 improves L2 access latencies over Krait 300 (which is at the heart of Snapdragon 600 and S4 Pro) and is optimized for higher frequency operation, but Krait 400 is otherwise architecturally similar to Krait 300. Make no mistake, MSM8974 is the new high-end, pushing Snapdragon 600 and S4 Pro parts further down into midrange category. There are other SoC level enhancements as well, including things like a new version of the Hexagon DSP and obviously Adreno 330 vs. Adreno 320 (which I'll get to later). We already ran through a performance preview of Snapdragon 800/MSM8974 using Qualcomm's 8974 Tablet Mobile Development Platform, but today we get to do the same with the G2.
LG was pretty eager to get us a G2 sample as early as possible, unfortunately that comes at the expense of software maturity. LG made it very clear to us that the International G2 sample (LG-D802) we received has nowhere near final software, and as a result may not deliver performance indicative of what we'll see when the device shows up later this month. This puts us in an interesting situation as we want to see how close shipping Snapdragon 800 devices come to the Snapdragon MDP/T we tested back in June. Software maturity aside, there's no skirting the fact that the G2 simply has a smaller chassis and perhaps lower thermal limits than the tablet MSM8974 MDP/T we tested previously.
The most interesting comparison points here will be to LG's Optimus G Pro which ships with a Snapdragon 600 (4 x Krait 300 running at 1.7GHz), the Exynos 5 Octa based Galaxy S 4 (SHVE300S) and to the MDP/T. As always, we'll start with a look at CPU performance.
The state of CPU performance testing under Android is unfortunately still quite broken. We're using a mix of browser based tests with Java & Native apps (AndEBench).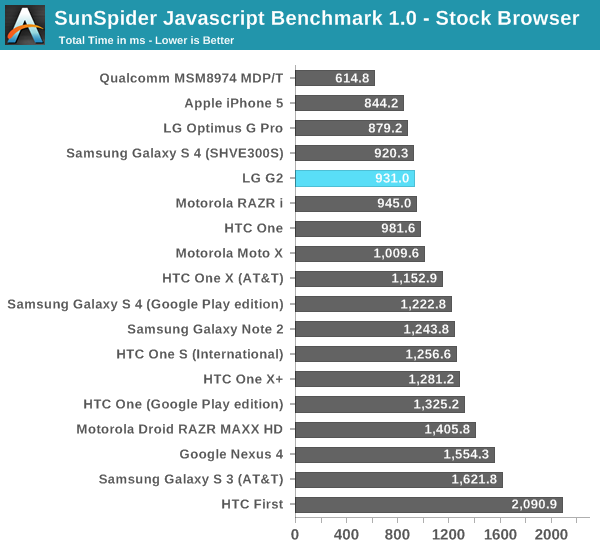 SunSpider has quickly become an exercise in browser optimization rather than platform performance. Qualcomm's browser optimizations are clearly good for showing off Snapdragon 800's potential, however the G2 doesn't appear to have the same optimizations in place (yet). Performance isn't bad, but it's merely on par with Snapdragon 600 and ARM's Cortex A15.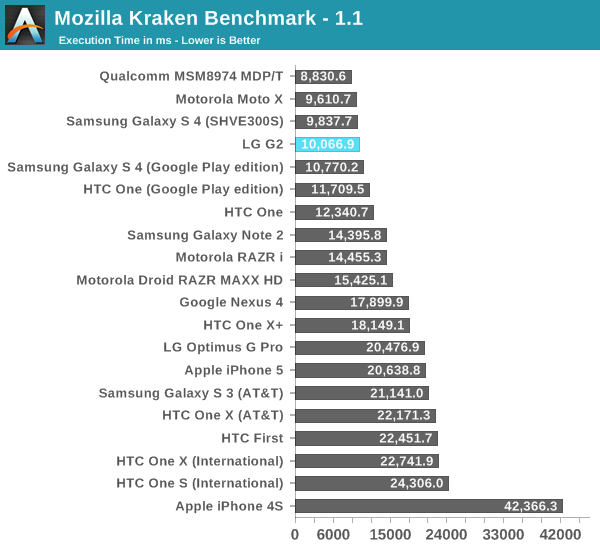 Kraken is an interesting test as it has (thus far) remained less of a browser optimization target. Kraken is also a physically larger and longer benchmark, which provides results that I tend to be a little happier with. The G2 once again falls short of Qualcomm's MDP/T, but given its early software I'm not too surprised. Performance is roughly on par with the Exynos 5 Octa, and slightly behind the very high clocked Snapdragon 600 in the nearly stock Moto X.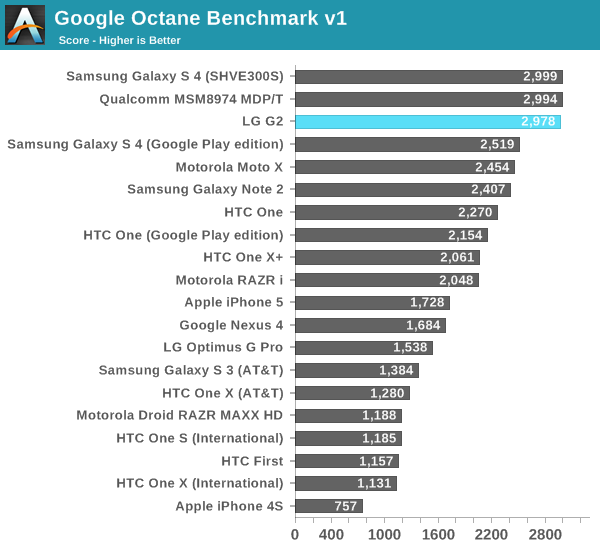 Octane is the first benchmark where we see the Snapdragon 800 flex its potential. Here the G2 not only ties the Snapdragon 800 MDP/T, but it also roughly equals the performance of the Cortex A15 based Exynos 5 Octa. Ultimately that's the comparison that Qualcomm will be most interested in winning. If Snapdragon 800 can deliver better performance (or at least perf per watt) than the Cortex A15, it'll be a definite win for Qualcomm.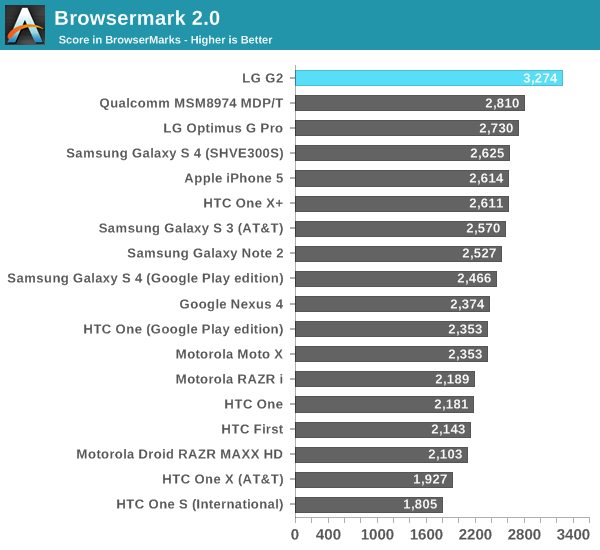 If Octane had the S800 in the proverbial passing lane, Browsermark 2.0 shows the G2 in the clear lead. Here LG was able to even outperform Qualcomm's own reference design by 16%. I suspect this has more to do with browser optimizations than anything else though, as the S600 based Optimus G Pro also does extremely well.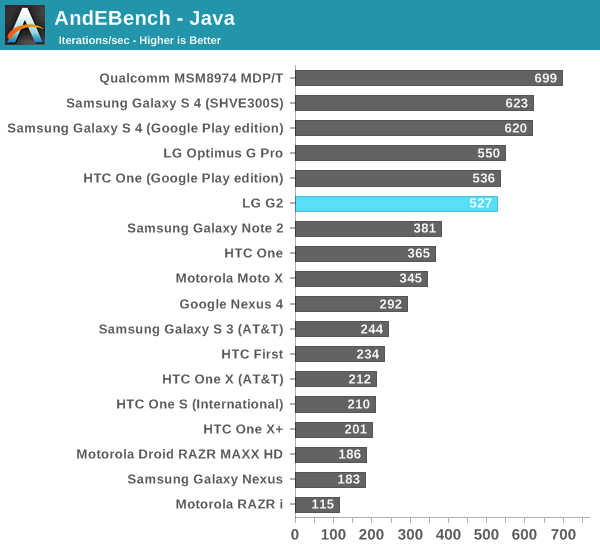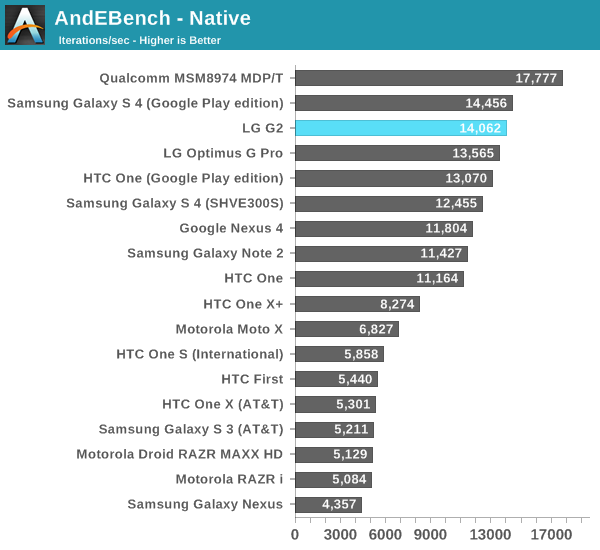 AndEBench provides us with very low level look at SoC performance. I'm not a huge fan of these types of tests, especially ones that aggregate a bunch of microbenchmarks and attempt to present a single performance number. AndEBench is unique (and useful) in that it presents performance in both native code and Dalvik interpreted states. The G2's native performance here is quite good, but it's actually equalled by the Galaxy S 4 GPe and not far ahead of the Optimus G Pro. I suspect we're once again seeing the limits of early software rather than a full understanding of Snapdragon 800's performance in a retail device. Dalvik performance is a bit worse. The relatively high ranking of the Google Play Edition devices points to software optimization being a culprit here.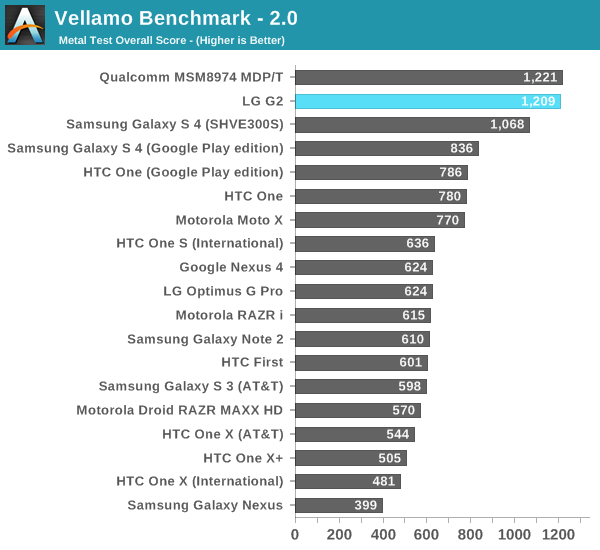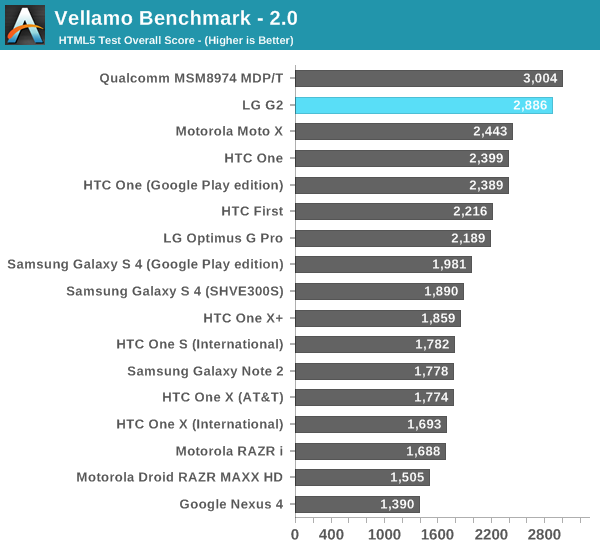 Both Vellamo tests put the G2 on par with Qualcomm's Snapdragon 800 MDP/T.