MSI Z87 XPower Conclusion
The motherboard industry is cruel. Manufacturers will judge the success of a product based on sales regardless of the purpose, and as such having a pure OC-oriented board is a big no-no. If you have to have a motherboard based on overclocking, it must also have features that will cause users to buy it for day-to-day use. We see this among all the manufacturers, even those that have tried a pure-OC board in the past. Despite what success extreme overclockers have had with it, it does not sell. As a result, users who buy these combination OC/daily motherboards end up with some features they will never use, and overclockers are sourced with potential areas of instability (and increased cost).
This is where the MSI Z87 XPower comes in. MSI have tried to make it, at its core, an overclocking motherboard. It comes with some of the obvious overclocking paraphernalia – OC buttons, an obscene amount of power phases, appropriate VRM cooling and voltage check points. However, it still comes with a WiFi solution, a Killer NIC, ALC1150 audio, additional SATA/USB hubs – these are all things useful to a 24/7 system but not necessarily to an extreme overclocker.
Perhaps the two are not mutually exclusive – running a 24/7 with an extreme water setup for example. But as shown in our overclock testing, motherboards have gotten to the point where 24/7 clocks are more limited by the processor than the motherboard. So what about longevity, doesn't 32 phases help? Sure, that is a stance that could be argued, although every 12-plus power phase setup relies on multiplexing, meaning that at least 1/8 of all phases are on at any one time. One could also argue that having 32 phases rather than 16 means 2x more elements that could go wrong.
Clearly I do get requests to look at motherboards for their intended market specifically and in this case extreme overclockers. Although for these users (of which I am one) price is almost no object, the amount of additional 'fluff' is – anything that could cause instability might be a big issue. Also, these users prefer easy to use/understand overclocking controls, which MSI needs to focus on big time. So even if I look at it from an OC standpoint, I have to ask what the additional controllers are for, and all roads point to 24/7 use, meaning I have to consider it from that perspective as well. Without those 24/7 features, the motherboard will not sell in the volume expected, and an OC board will never be the ultimate focus of the engineering of the company.
Aside from whether this motherboard is right for the industry, the motherboard does come at a large cost - $440 at the time of writing. This is a large ask, and MSI believe that 32 phases, 802.11n 2.4 GHz WiFi, a Killer NIC, 10 SATA ports, mSATA, 12 USB 3.0 ports, Audio Boost, a PLX chip for better tri-GPU performance and plenty of goodies in the box are sufficient to request this value.
As mentioned in the review, the 2.4 GHz WiFi solution is not a good idea for a Halo product, and users in this price range might request an Intel NIC rather than a Killer – perhaps the option of both might be best. The extended form factor is nice to see from a multi-GPU perspective, although this means that the audio traces are extended up to the rear jacks.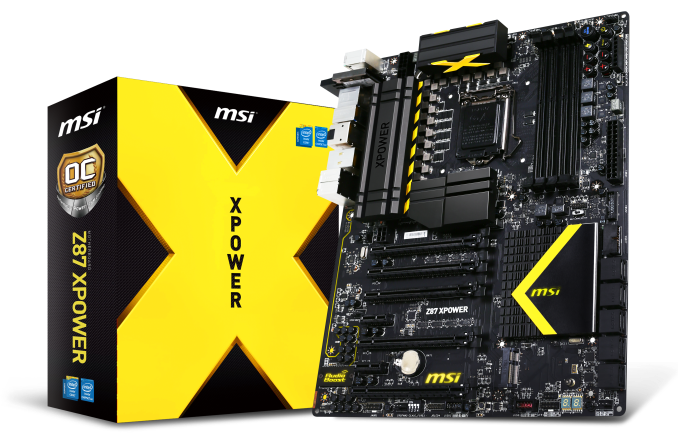 The BIOS needs maturing, especially to help stability and that 25 second POST time we got in our Win7/dual-GPU test. CPU performance is on par with other motherboards as well as our 24/7 overclocking on our i7-4770K, which essentially means there are other motherboards out there that will offer the same performance.
At this price point, I do feel the MSI is missing something other than a simple element of finesse. There needs to be a specific MSI feature that no-one else has. Any other manufacturer can order up 32 phases, a Killer NIC, bypassed PLX, OC buttons, voltage check points, and so on. In an industry where being good is no longer good enough, it is the unique engineering elements that help promote a brand, along with a killer product - and MSI needs one.
Addendum:
Since I started writing this review, MSI forwarded the following information:
- The structure of the BIOS is in development, and when it is finalized it should be easier to navigate the overclocking options
- The motherboard is new to the market, it will adjust to an appropriate price over time
- The WiFi solution will be upgraded to 802.11ac 5 GHz sometime in September. This will take the form of a new XPower SKU, although names are currently undecided.