Total War: Shogun 2
Our first detailed benchmark is Shogun 2, which is a continuing favorite to our benchmark suite. Total War: Shogun 2 is the latest installment of the long-running Total War series of turn based strategy games, and alongside Civilization V is notable for just how many units it can put on a screen at once. Even 2 years after its release it's still a very punishing game at its highest settings due to the amount of shading and memory those units require.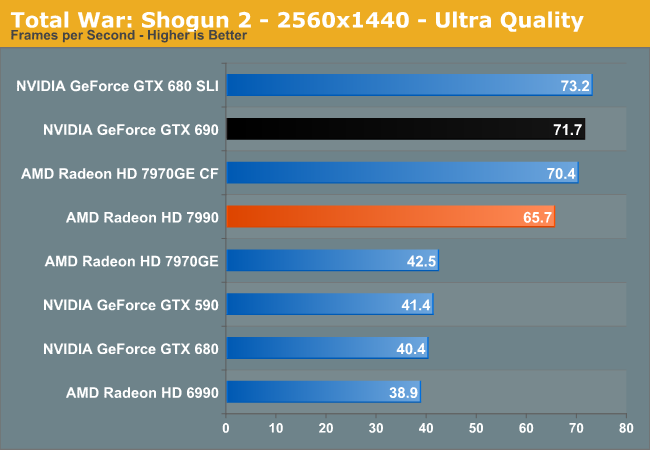 For the sake of completeness we're posting our frame rate charts for each of our individual games, but in general there's nothing here we haven't seen before in the 7990 review, in other reviews, or in Bench. The 7990 and GTX 690 still swap places fairly regularly.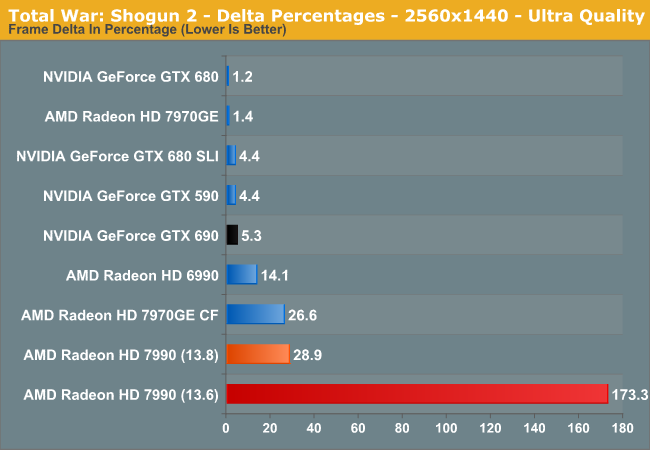 Looking at our expanded delta percentages for Shogun, we can see how the 7990 and other Crossfire solutions stack up to the GTX 690 and other SLI solutions. For all AFR configurations the results match what we saw in our summary, with NVIDIA's solutions offering lower deltas than AMD's even with the new drivers.
This is actually AMD's weakest game, with both the 7970GECF and 7990 exceeding 20% variability on this game. However it's also the only non-action game in this collection, so it's the game least affected by higher levels of variation and consequently the game AMD can afford to do the worst at. Nevertheless the improvement over Catalyst 13.6 without frame pacing is nothing short of amazing.
Meanwhile we'll hit upon this a few times, but as a reminder AMD's frame pacing improvements apply to older cards too, so the 6990 has its frame pacing problems resolved like the rest of AMD's multi-GPU cards. It actually does better than the rest, we believe due to the fact that the lower framerate and higher frame times give AMD's drivers more time to analyze and schedule frames.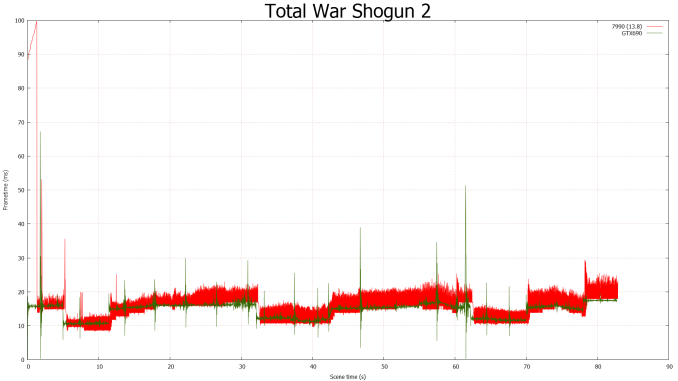 Looking at the FCAT graphs, we can see that the higher variability of the 7990's frame times is represented well. Though NVIDIA's frame time spikes are more extreme than AMD's.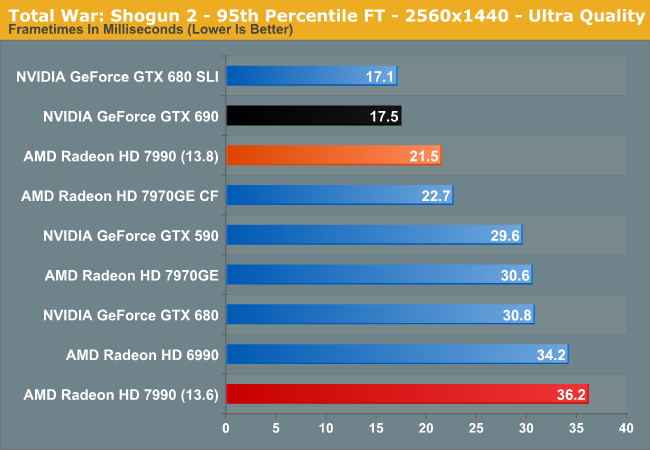 Finally we have our 95th percentile frame times. Despite the fact that AMD's framerates are down slightly versus Catalyst 13.6, their 95% percentile times are way up. Simply by instituting frame pacing they've dropped from 36.2ms to 21.5ms per frame.