Battery Life
NVIDIA's Shield includes a 28.8Wh battery, which is large for a device its size but small compared to what you'd find in a 10-inch tablet for example. The good news is that it only has to power a 5-inch 720p display, which makes the choice of battery size quite nice. Since Shield is a fully functioning mobile device, we put it through our current battery life suite. Normally we'd start with our WiFi web browsing test, but given the target market for Shield I figured starting with our 3D rundown test made the most sense.
Here we have a loop of the Egypt HD benchmark, capped to 30 fps, running on all of the devices with their screens calibrated to 200 nits.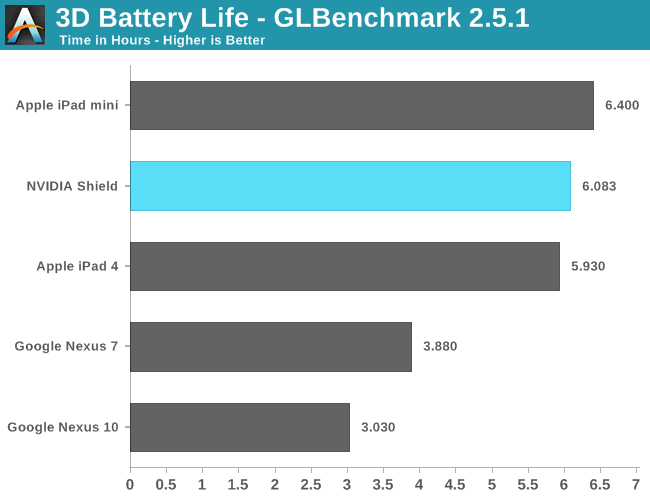 Shield manages just over 6 hours of use on a single charge, putting it up there with some of the best mobile devices we've put through this test. Being able to support 6 hours of locally rendered gaming without plugging in is pretty decent I'd say.
Video decode is also quite important, especially when you consider the use case where Shield acts as a remote display and controller for games rendered on your PC. In that case, the GPU is mostly powered down and only the video decode block is used to display what's being rendered on your PC. Our video playback test might be a good simulation of this use case. Our test remains unchanged from previous tablet reviews. Here I'm playing a 4Mbps H.264 High Profile 720p rip I made of the Harry Potter 8 Blu-ray. The full movie plays through and is looped until the battery dies. Once again, the displays are calibrated to 200 nits: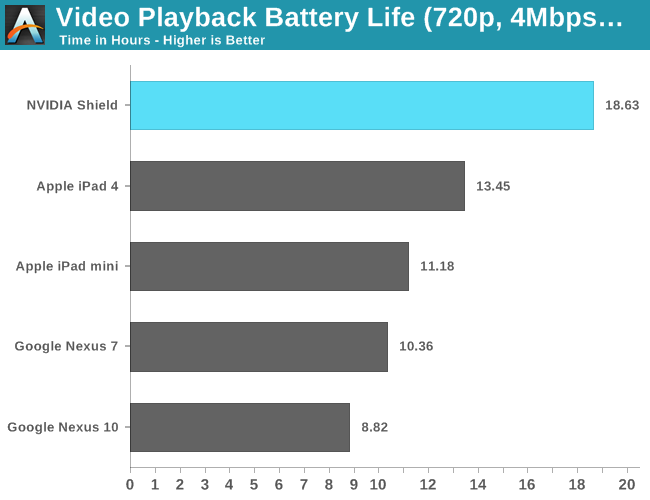 Tegra 4's video decode engine combined with a tiny 720p display and a 28.8Wh battery results in awesome battery life here - almost 19 hours on a single charge. If you can deal with the small screen, Shield might make for a good companion on long haul international flights just for video playback.
Finally we've got our standard web browsing battery life test:
We regularly load web pages at a fixed interval until the battery dies (all displays are calibrated to 200 nits as always). The differences between this test and our previous one boil down to the amount of network activity and CPU load.
On the network side, we've done a lot more to prevent aggressive browser caching of our web pages. Some caching is important otherwise you end up with a baseband/WiFi test, but it's clear what we had previously wasn't working. Brian made sure that despite the increased network load, the baseband/WiFi still have the opportunity to enter their idle states during the course of the benchmark.
We also increased CPU workload along two vectors: we decreased pause time between web page loads and we shifted to full desktop web pages, some of which are very js heavy. The end result is a CPU usage profile that mimics constant, heavy usage beyond just web browsing. Everything you do on your device ends up causing CPU usage peaks - opening applications, navigating around the OS and of course using apps themselves. Our 5th generation web browsing battery life test should map well to more types of mobile usage, not just idle content consumption of data from web pages.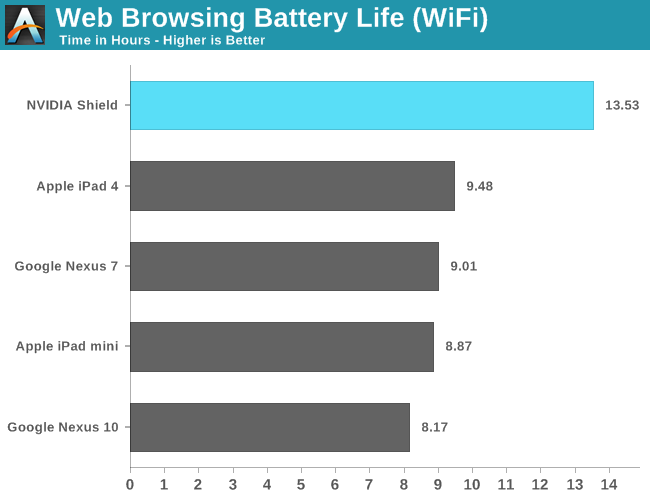 Once again, excellent battery life from Shield.
NVIDIA ships Shield with a 10W (2.1A) power adapter, capable of completely charging Shield in 5.45 hours: