Still Unique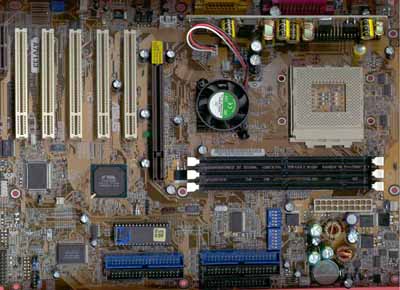 Click to Enlarge
The layout of the A7V133 is more or less the same as the A7V.  There are only some minor changes in the choice of components and layout of traces, but it is basically the same.  Once again, the most noticeable part of the layout would be the vertically mounted daughterboard next to the I/O panel at the back of the motherboard, which contains quite a few capacitors and power regulators.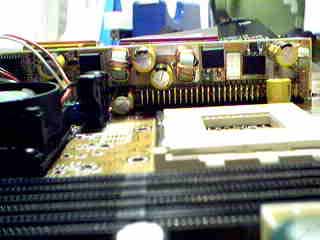 The vertically mounted daughterboard
The advantage of this daughterboard is that the rest of the board is now much "cleaner," in the sense that there are not as many capacitors on the board as with some other KT133A motherboards.  This leaves plenty of space around the CPU socket for you to install a large  HSF unit.  Our only complaint is that there is a short 820uF capacitor sitting pretty close to the top right hand corner of the CPU socket, which could affect the installation of some extremely large HSF units.
The DIMM slots are located right in front of the CPU socket. Thus ,if all DIMM's are populated with memory, unlocking the HSF unit using a screwdriver as a lever could be a problem unless you remove the memory first. 
The power connector is located below the DIMM slots, which ensures that power cables will not have to run over the memory and the CPU, potentially blocking  airflow to the CPU.  Moreover, just like most other KT133A contenders, the A7V133 is equipped with a full HSF unit on the VIA 8363A North Bridge for better cooling.
Also just like the A7V, we have to complain about the placement of the two IDE connectors provided by the Promise Ultra ATA 100 controller.  Since they are located in front of the AGP and first PCI slots, they may get in the way of long AGP or PCI devices on those slots. Careful routing of your IDE cables can usually overcome this oversight by ASUS.  Ideally, they would be located in front of the DIMM slots, just like the other IDE and floppy connectors.
One last thing to notice is that the A7V133 is uses a pretty hefty PCB, around 12 by 9.5 inches.  Therefore, make sure your case has enough space for the board.
Other than that, the layout is quite good.  There is enough space between the DIMM slots and the AGP slot such that you can add or remove memory with an AGP card already in place – something that is unfortunately not possible with many other motherboards.