In and Around the Razer Blade 14-Inch
As I mentioned previously, it's hard not to compare the Razer Blade 14-inch to Apple's MacBook Pro. That's not really a problem, though; I'm not an Apple user or an Apple fan, but it's hard to really argue that Apple's ID and general notebook quality have yet to find a good match in the Windows space. If you're going to crib from anyone's design playbook, that would probably be the one.
The Razer Blade 14-inch enjoys an aluminum chassis from head to toe. There are two slight ridges on the lid to give it class and character (and probably a tough of rigidity), and the Razer logo glows when the system is powered on. The body itself seems to be a unibody aluminum chassis, but what I'd like to draw attention to is the internal design.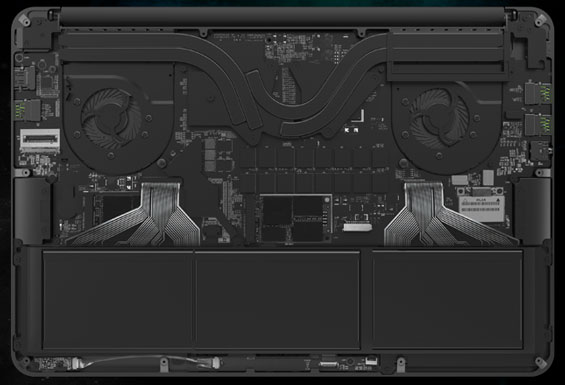 Source: Razer Blade website.
There's some incredibly smart engineering at work here to get the system this thin, but there are compromises made, too. Razer employs a pair of small fans that intake air from the bottom and exhaust it through heatsink arrays hidden in the hinge. The result is a chassis with virtually no visible ventilation yet still has actual cooling potential.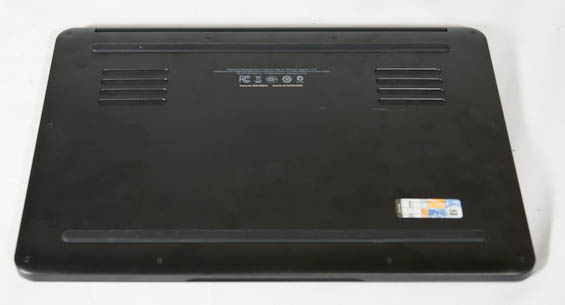 A look at the bottom of the notebook reveals exactly that. Two ventilated intakes for the fans, no visible exhausts. The tradeoff with this design is a tremendous amount of heat above the keyboard. Razer does a fantastic job of managing noise, but the panel of aluminum above the keyboard, where the power button is, gets extremely hot and unpleasant to the touch.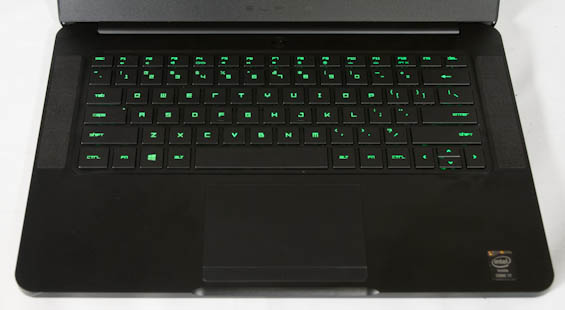 With the chiclet keycap design this radiant heat won't be a major issue during prolonged gaming sessions, but it's something to be aware of. The internal thermal design means the palm rests never get too warm, though; it's all actually pretty slick.
Users who aren't enamored with Razer's Switchblade panel in the larger Blade Pro unit will be overjoyed to see a spacious touchpad complete with two dedicated mouse buttons. As for the keyboard itself, it's plenty comfortable, though for some bizarre reason I found myself frequently fat-fingering it despite a lack of actual fat fingers. I suspect this problem will be unique to me and maybe a couple of other users; the keyboard still has plenty of travel and depth and it's tough to find any real fault with. In fact my only real complaint is the lack of any indication that the document navigation keys are mapped to Fn combinations with the arrows. That's a sacrifice made for the sake of ID, though, and I have a hard time complaining too much.
For the past two Razer Blade reviews, it was easy for me to sit back and quibble with Vivek's enthusiasm over the industrial design of the Blades at the expense of the notebook's actual practicality. Yet with the 14-inch Blade, it's hard not to see his point. Even if Razer has essentialy created the RazerBook Pro, they still cribbed from the right playbook. The Blade is for anyone who wanted the MacBook Pro in black (which does go with everything), and it's for anyone who has gotten more than a little tired of ostentatious, gaudy gaming notebook designs. It's a shot fired across the bow of vendors like Alienware, stating in no uncertain terms that you can have a powerful, performance gaming notebook in a sleeker form factor. The Blade's ID feels like gaming for grown-ups.