The number of readers requesting for encryption benchmarks after reading our NAS reviews has shown an uptick in the recent past. For consumers paranoid about security, Addonics is launching the Secure NAS storage appliance series. Unlike other established NAS vendors' offerings, the Secure NAS R5 (the first model in the series) differentiates itself in the following aspects:
The entire RAID volume (including the boot sector and the partition table) is encrypted.
Encryption is activated with a hardware cipher key (which can be replicated only by specialized means). There is no software to run or password to enter.
The unit also acts as a Direct Attached Storage (DAS), thanks to an eSATA port on the unit.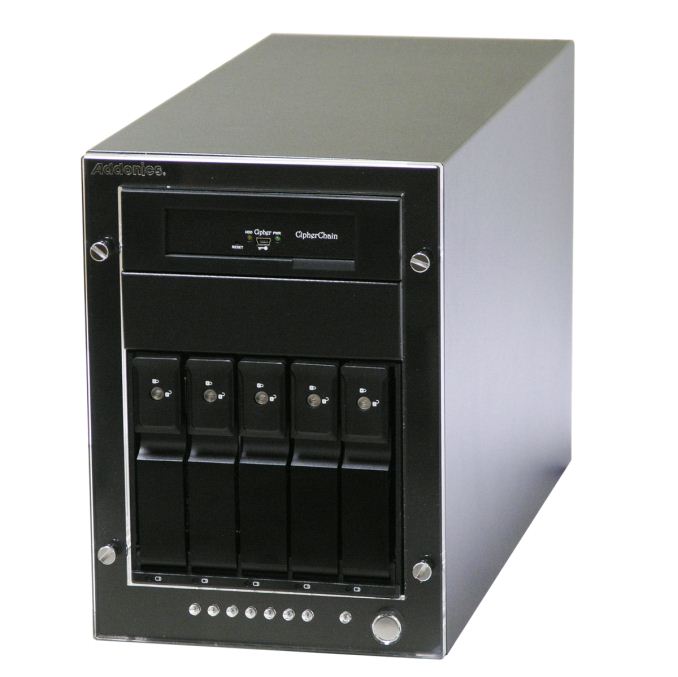 The Secure NAS R5 is a five-bay unit with very basic configuration only. All five drives are configured
in a single volume and encryption is done with a 256-bit AES crypto engine. The RAID configuration (RAID0 (Striping), RAID 5 (Parity), RAID 5+S, Large Drive or Clone Mode (N-Way Mirror)) is set via DIP switches at the rear of the unit. We have built-in SMB and FTP servers and a web server for Web GUI administration. As a NAS, the supported formatters for the internal file systems are XFS and EXT3. However, when connected as a DAS, the volume can be formatted in EXT2 / EXT4 / NTFS or FAT32. Such volumes are still available when the unit is connected as a NAS. The network link is 10/100/1000 Mbps. The unit claims speeds of up to 85 MB/s over the network.
The Secure NAS R5 has a MSRP of $499.

Source: Addonics