Battlefield 3
Our major multiplayer action game of our benchmark suite is Battlefield 3, DICE's 2011 multiplayer military shooter. Its ability to pose a significant challenge to GPUs has been dulled some by time and drivers, but it's still a challenge if you want to hit the highest settings at the highest resolutions at the highest anti-aliasing levels. Furthermore while we can crack 60fps in single player mode, our rule of thumb here is that multiplayer framerates will dip to half our single player framerates, so hitting high framerates here may not be high enough.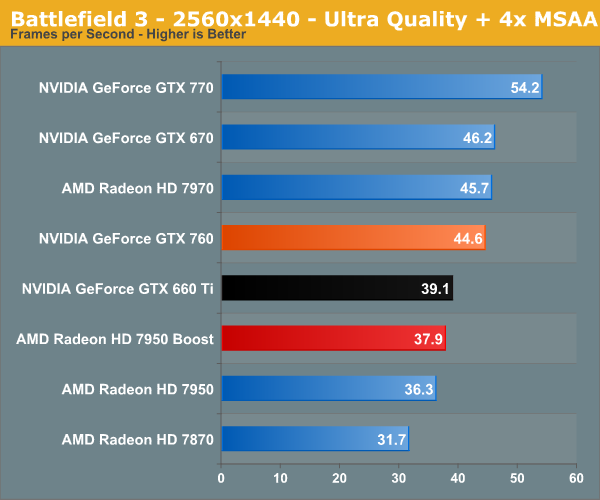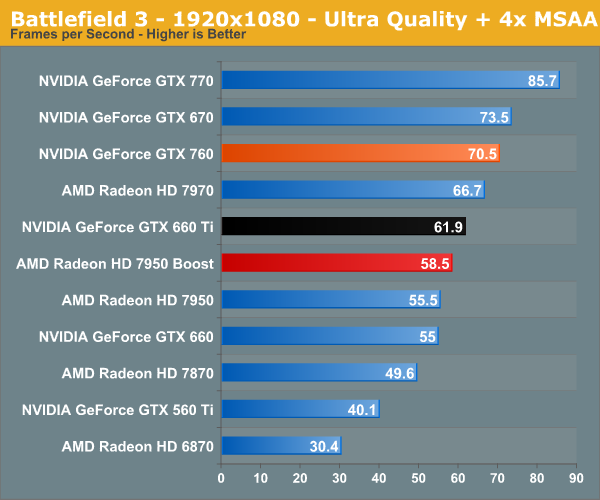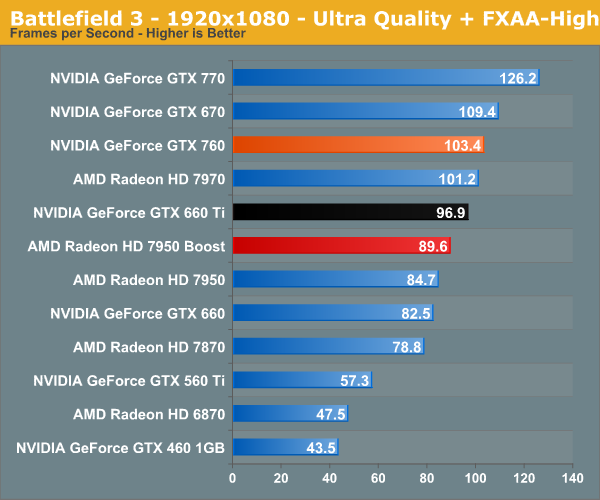 Battlefield 3 has continued to favor NVIDIA parts and the GTX 760 is no exception. The gap at 1080p with MSAA is 20%, one of the largest leads for the GTX 760 out of all of our games. Even the full-fledged 7970 is still slower than the GTX 760 here by a few frames per second.
Meanwhile it's interesting to note that this is another title that really favors the ROP performance advantage of the GTX 760, with the GTX 760 once more shooting well ahead of the GTX 660 Ti, coming within a few frames per second of the GTX 670. How close these cards depends on the game – as we've seen it's anywhere between equal to a GTX 660 Ti to equal to a GTX 670 – but this is a fairly typical example of the GTX 760 giving the much more expensive GTX 670 a run for its money.
Finally, looking at our last generation cards the GTX 760 once again cements its position as a solid generational upgrade. At 1080p without MSAA we're looking at performance 80% better than a GTX 560 Ti, and more than doubling the 6870 and GTX 460 1GB.