Mainstream/High 1600x900 Gaming Performance
Moving up to our "Mainstream" gaming tests (high detail, no 4xAA, 1600x900 resolution), there's a lot more demanded of the GPU this time around, so CPU and platform limitations aren't likely to be as large of a factor. Integrated graphics solutions (outside of perhaps Intel's Iris Pro Graphics) are also going to prove insufficient for our test suite in nearly all of these games. Let's look at round two of the 7970M performance.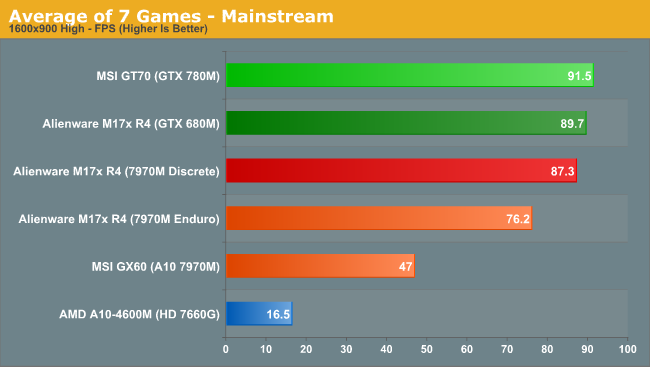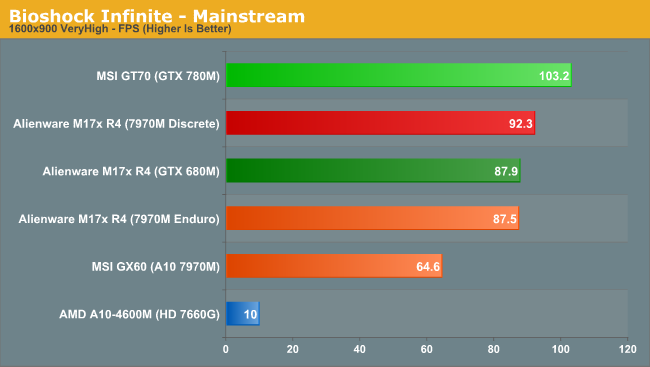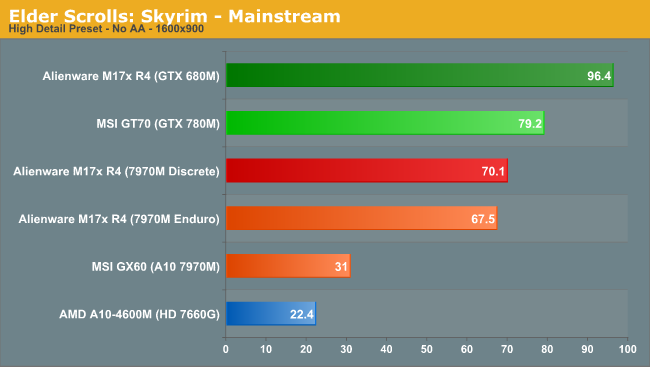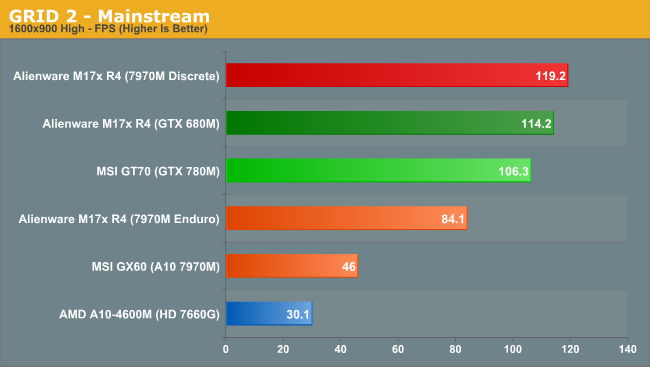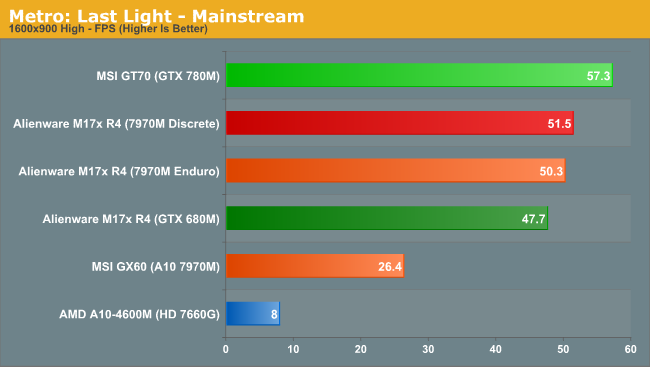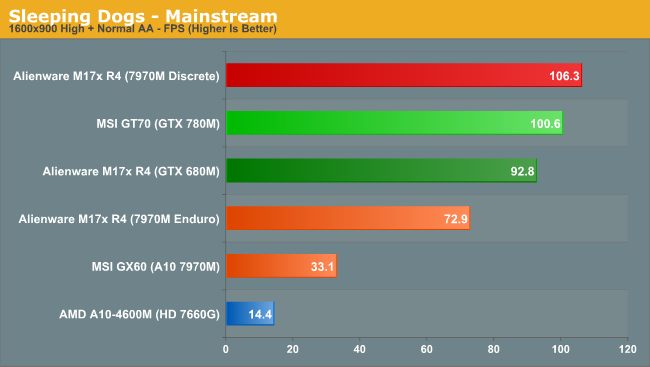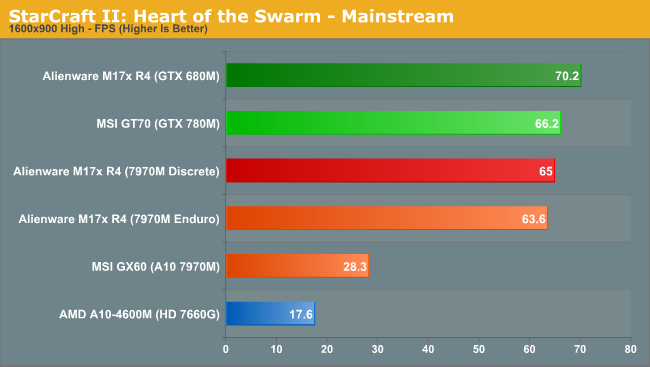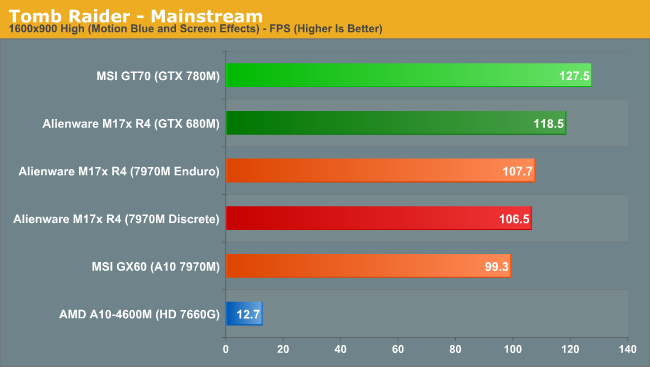 Despite the increase in graphics complexity, at least on the Alienware M17x R4 the use of Enduro is still bringing a performance penalty in some titles. On average, switching to discrete mode improves performance by 14%, slightly less than we saw with our Value settings; however, the individual games show varying amounts of separation. Bioshock is now nearly the same, with only a 5% performance increase, and in fact most of the games show less than a 5% increase by using discrete mode (though again it's worth mentioning the rendering errors on DX9 titles with the 13.6 beta drivers). The two titles that show a significant performance increase by using discrete mode are GRID 2 (42%) and Sleeping Dogs (46%); interestingly, Tomb Raider is actually slightly faster with Enduro at these settings, though the 1% difference is within the margin of error.
The Intel Enduro vs. AMD Enduro results are much closer this round, though Intel still holds a commanding lead. No longer is the Core i7 offering twice the frame rates in most games; at 900p High it's "only" 62% faster on average—but that's mostly due to the closer performance in two of the seven games. Skyrim, Sleeping Dogs, and StarCraft II are still the big losers, with more than twice the performance on Intel's CPU, but GRID 2 and Metro are nearly as bad at 83% and 91% performance improvements, respectively. In fact, of those five titles, Skyrim and Sleeping Dogs flirt with the 30FPS "playable" boundary, and Metro and StarCraft II actually fall below 30FPS. Getting to the last two games, Bioshock isn't too bad, showing a mere 35% performance increase, and Tomb Raider is the one exception where platform doesn't make much of a difference. Tomb Raider has proven to be almost wholly dependent on GPU performance, and the advantage for the Intel platform is an insignificant 8%. At our Mainstream presets, the 7970M also proves much faster than the 7660G, as it should; this time, it's nearly three times as fast.
Finally, the NVIDIA vs. 7970M matchup continues to be quite close on average. The GTX 680M leads by 3% overall, with the only significant lead coming in Skyrim (38%); the 680M also claims smaller (<10%) leads in StarCraft II and Tomb Raider (that last one being an AMD title). Meanwhile, the 7970M holds small leads in Bioshock, GRID 2, Metro: Last Light (an NVIDIA title, so turnabout is fair play), and Sleeping Dogs. The 780M continues to be hamstrung by CPU throttling in the GT70, and we hope to have a new test notebook shortly to see what the 780M can really do when it's allowed to stretch its legs. For now, the lead over the 7970M is 5% on average, with a smaller lead in Skyrim and only two small losses (GRID 2 and Sleeping Dogs).