Final Words
On the desktop, Haswell offers a reasonable increase in IPC, and a decrease in idle power consumption. The combination of the two feel very evolutionary over Ivy Bridge however. In high-end notebooks, Iris Pro dramatically improves the processor graphics story by finally delivering discrete GPU class gaming performance. In Ultrabooks, Haswell's offer is dominated by significant improvements in battery life.
Intel refers to Haswell ULT's performance in Ultrabooks as being the single largest improvement in battery life of Intel history. As far as I can tell, that's true. Under heavy load I wouldn't expect any substantial increase in battery life, however most notebook usage models boast significant periods of idle time. Staring at your screen, browsing the web, or even multitasking all offer opportunities for idle power optimizations to kick in. That's where Haswell ULT excels. Using Acer's Aspire S7 as a comparison platform and normalizing for battery capacity differences I measured anywhere from a 15% to a 60% increase in battery life thanks to the move to Haswell.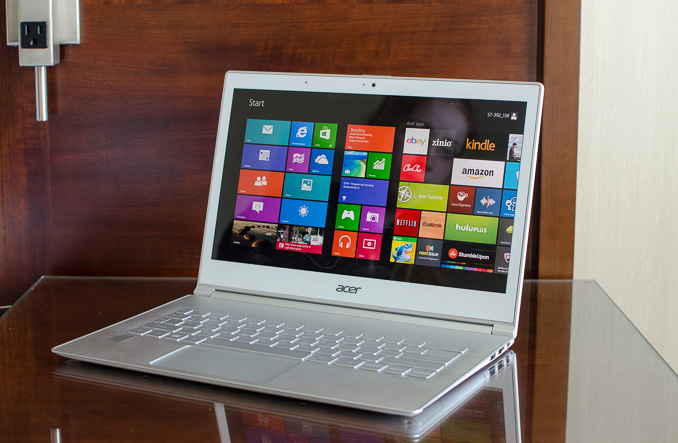 Peak CPU performance doesn't really change with Haswell ULT. Performance on battery on the other hand does improve by a bit over 10%. On the GPU side you should expect to see around a 15% increase in performance compared to last generation's HD 4000 GPU. Neither improvement is significant enough to dramatically change the performance class of Ultrabooks, but the situation at least improves.
With the last generation of Ultrabooks, the tradeoff between portability and battery life was more evident than ever. The Ultrabook targeted Haswell U-SKUs aim to change that. Based on what I've seen here, they will.