Haswell ULT Graphics
As I mentioned in our Iris Pro review, Intel's 128MB eDRAM die (codename Crystalwell) isn't available on any dual-core parts, excluding it from Haswell ULT. Intel will offer both GT2 and GT3 GPU (20EU/40EU) implementations however. With max GPU clocks below 1100MHz, these parts are devoid of Iris Pro branding and are instead referred to as Intel HD Graphics.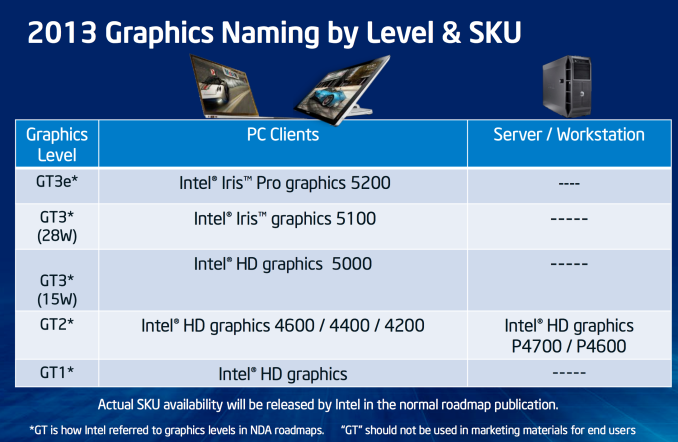 The Test System and Haswell ULT SKUs
Before Computex, Acer announced the 2nd generation Aspire S7 based on Haswell ULT. I managed to get my hands on an early version of the new S7 and that will serve as the platform for the performance and battery life comparisons going forward.
I'll do a separate piece, likely post-Computex, on the new S7 but I did want to share some preliminary thoughts about the machine here. The 2nd generation S7 looks a lot like the Ivy Bridge model. The chassis retains the Gorilla Glass covered display backing, aluminum base and capacitive touch screen. The Aspire S7 is still a beautiful notebook and shows huge progress from where Acer was just a few years ago. Despite the similarities, the 2nd generation Aspire S7 does come with some much needed tweaks and enhancements.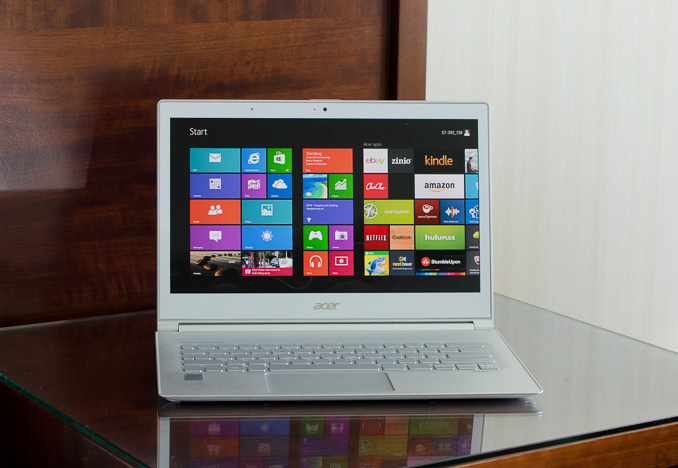 Acer started with the backlit keyboard, and increased key travel almost to the point of the MacBook Air. I didn't have a ton of experience with the previous generation model, but this one feels a millimeter or so short of the travel on the MacBook Pro with Retina Display. Unfortunately there's still no function lock, which means that things like Alt+F4 are still three-key combinations. The clickpad is powered by Elan, although I've heard murmurings of Acer switching to Synaptics going forward. Synaptics remains the closest to providing an Apple-like solution for clickpad performance, although even its solutions still need a little more work. Ergonomically the S7's clickpad is recessed into the chassis just slightly more than I'd like.
The display was the target of major attention as well. By default the new Aspire S7 comes with a 13.3-inch 1920 x 1080 panel, however some models will offer an optional 2560 x 1440 panel instead. Unfortunately my sample only had the 1080p panel, but I've seen the 1440p version up close and it's very impressive. I'm glad to see more PC notebook vendors not only go beyond 1366 x 768, but also exceed 1080p. Now all we need is for Microsoft to do a better job of handling high-DPI monitors in desktop mode.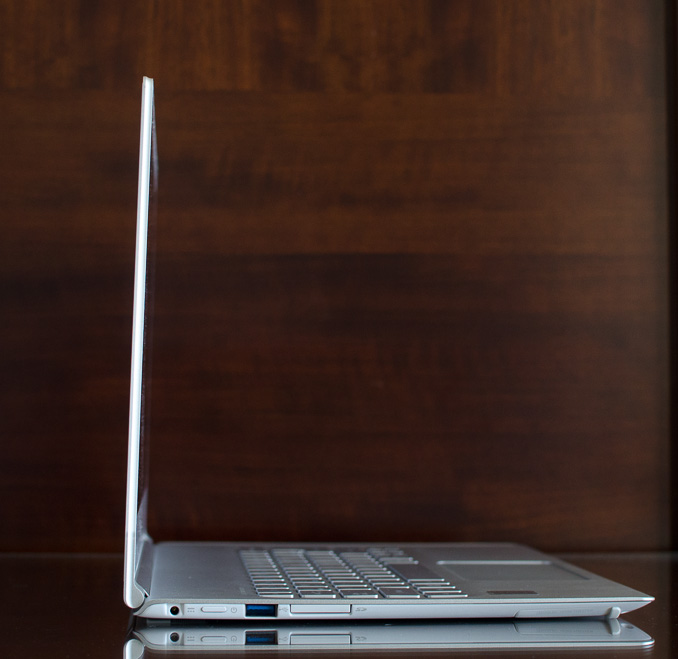 Internally, my sample has a Core i7-4500U. The 4500U is the spiritual successor to the Core i7-3517U from our 1st generation Aspire S7 review unit. A look at the high level specs points to only a 100MHz reduction in base frequency, but identical max turbo frequencies. On the GPU side, there's an increase in the number of EUs but relatively similar max operating frequencies. Based on the EU and clock differences, the max increase in graphics performance should be limited to around 19.5% (assuming both Haswell and Ivy Bridge are capable of hitting the same GPU turbo frequencies with the same regularity). I'm very eager to get my hands on an Ultrabook based on Intel's GT3/HD 5000/Iris 5100, however that will have to wait for another day.
Intel 4th Gen Core i7/i5/i3 Dual-Core U-Series Processors
Model
Core i7-4650U
Core i7-4550U
Core i7-4500U
Core i5-4350U
Core i5-4250U
Core i5-4200U
Core i3-4100U
Core i3-4000U
Cores/Threads
2/4
2/4
2/4
2/4
2/4
2/4
2/4
2/4
CPU Base Freq
1.7
1.5
1.8
1.4
1.3
1.6
1.8
1.7
Max SC Turbo
3.3
3.0
3.0
2.9
2.6
2.6
n/a
n/a
Max DC Turbo
2.9
2.7
2.7
2.6
2.3
2.3
n/a
n/a
TDP
15W
15W
15W
15W
15W
15W
15W
15W
HD Graphics
5000
5000
4400
5000
5000
4400
4400
4400
GPU Clock
200-1100
200-1100
200-1100
200-1100
200-1000
200-1000
200-1000
200-1000
L3 Cache
4MB
4MB
4MB
3MB
3MB
3MB
3MB
3MB
DDR3/DDR3L
1600
1600
1600
1600
1600
1600
1600
1600
vPro/TXT
Yes
No
No
Yes
No
No
No
No
VT-d
Yes
Yes
No
Yes
Yes
No
Yes
Yes
Intel SBA
Yes
Yes
Yes
Yes
Yes
Yes
Like all 15W Ultrabooks, the Aspire S7 uses a single fan to cool the Haswell CPU. You will hear the fan ramp up, and the bottom of the chassis gets warm, but neither were uncomfortable to me personally.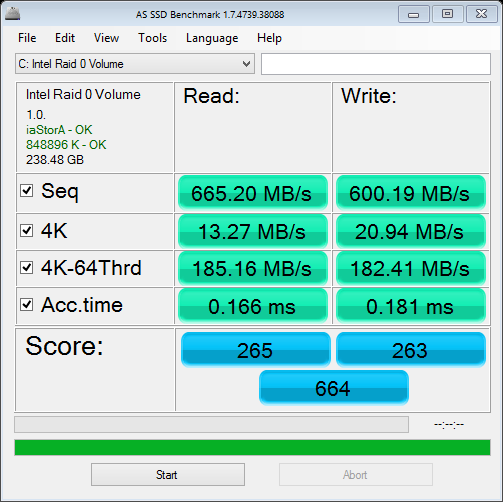 Acer continues to use an internal RAID-0 of Lite On mSATA SSDs. In this case there are two Marvell 88SS9174 based SSDs in RAID-0. The combination yields a peak sequential throughput of 665MB/s, which is pretty fast for an Ultrabook. Although I'd personally prefer a simpler, non-RAID setup, I can understand why Acer would be tempted to do something like this.
The SSDs in the S7 now support device sleep (DEVSLP), which boasts incredibly low power consumption when the system is asleep. The way it works is pretty neat. Using HIPM and DIPM, SSD controllers can do a good job of powering down big blocks of the controller however the SATA PHY can't be powered down otherwise you risk losing communication with the drive itself. The device sleep spec calls for an out of band signal telling the SSD when it can go to sleep and when it can wake up. Since the signal is out of band, the SATA PHY doesn't need to be active for communication, and thus the SATA PHY itself can power down. Lite On tells me that in DEVSLP mode, its SSDs will draw somewhere around 2mW of power - that's compared to around 100mW when they're in DIPM slumber. With Haswell, Intel is very focused on driving power outside of the CPU as low as possible - DEVSLP is a very good example of doing just that.
Acer dramatically increased the battery capacity of the Aspire S7 from 35Wh up to 46Wh. Despite the higher capacity battery there's no increase in weight. The 13.3-inch S7 still weighs around 2.86 lbs.