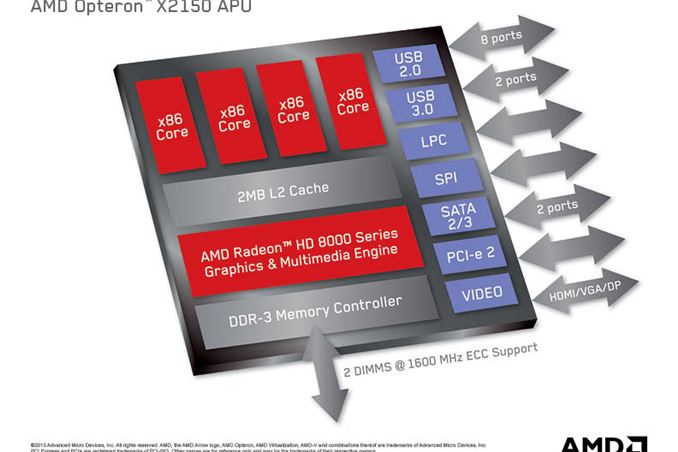 Last week AMD launched its Kabini APU for clients, a quad-core Jaguar based SoC with GCN graphics aimed at entry-level and mainstream ultraportable notebooks. In our review we found significantly better CPU performance than Intel's current 32nm Atom, but lower CPU performance than low end Core based parts. Given its small die size, Kabini is price competitive with Atom but performs between it and Core - leading to some interesting value propositions for OEMs building systems around it.
Today, AMD announced that Kabini would make its way into servers in the form of an SoC codenamed Kyoto and under the Opteron brand. The Opteron X1150 CPU and X2150 APU are both quad-core Jaguar SoCs, the main difference between the two is that the X2150 has its Radeon 8000 series GPU enabled while the X1150 is CPU-only. We'll be seeing more solutions in servers with processor graphics enabled going forward, especially given how competent these integrated GPUs are at non-gaming workloads.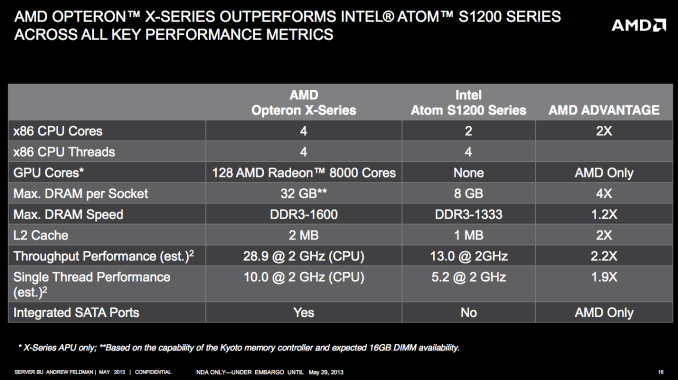 AMD boasts better CPU performance (single and multithreaded) than Intel's current 32nm Centerton Atom server platform, which is quite believable given what we've seen from Kabini vs. Atom.
The Kyoto parts are BGA-only, but come with extremely attractive pricing. The X2150 carries a $99 MSRP, while the X1150 is priced at $69. TDPs range between 9 - 17W (depending on CPU clock) on the X1150 with a 2GHz max CPU clock and 11 - 22W on the X2150 with a slightly lower 1.9GHz max CPU clock.
AMD Kyoto Offerings
CPU Cores
CPU Configurable Frequency
GPU Cores
GPU Configurable Frequency
TDP Range
1Ku Pricing
Opteron X1150
4
Up to 2.0GHz
-
-
9 - 17W
$64
Opteron X2150
4
Up to 1.9GHz
128
266 - 600MHz
11 - 22W
$99
The market for microservers based around really low power/perf CPUs like Atom or Jaguar isn't huge today, but it's growing and one that AMD already has the IP to compete in. The quick turnaround from Kabini to Kyoto is indicative of AMD's new more agile nature and focus on targeting weak points in the competition's lineup. Kyoto alone isn't going to turn AMD's server business, but compared to Atom today it's likely the best option in that power/price bracket. There's only one way to go from here, and Kyoto looks like a step in that direction.
Although not immediately related, Andrew Feldman included this slide in his presentation on Kyoto. I like it a lot so I thought I'd share it here: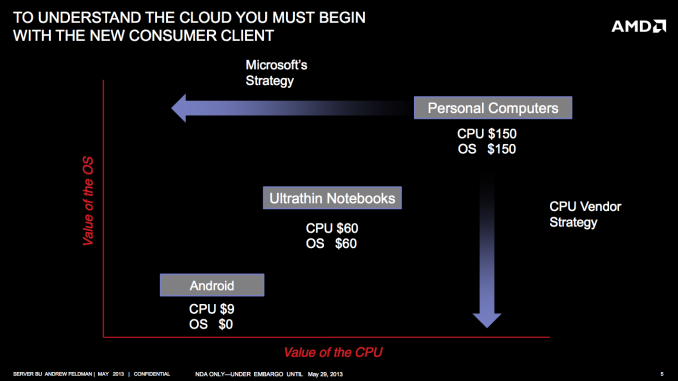 In my last Kabini piece I mentioned the two non-negotiables in PC pricing, the cost of the Windows license and the cost of the Intel CPU. As the market puts even more pressure on PCs to reduce pricing, even Microsoft and Intel are forced to look for ways to maintain their margins. Once great partners, those two are presently eyeing each other's lunch.