MSI Z87-GD65 Gaming Conclusion
On the back of the Z77A-GD65 Gaming that we reviewed late into the Z77 lifespan, the Z87 take at the GD65 level is clearly an evolution on the concept. The features that MSI could not introduce due to time constraints / platform limitations are all put into place for Haswell CPUs.
A motherboard manufacturer at every price point has a linear scale with which to play – on the one hand they can offer the base chipset features and then increase the number of ports in each area, or they can add in a 'knock-out' feature (or two) that they can advertise over other motherboards in a similar price segment. The Z87-GD65 Gaming is pretty much in the latter segment, with the dragon styling and Qualcomm Atheros Killer network port (rather than a Realtek or an Intel).
Aside from the Killer NIC, we get Audio Boost which is MSI's interpretation of the Realtek ALC1150 specifications, using headphone amplifiers for high impedance headsets and filter caps to improve signals. OC Genie gets an upgrade, now featuring two levels of overclock, and both the BIOS and software get an overhaul. The BIOS offers explanations for the options it now shows as well as Hardware Monitor and BIOS Explorer to improve fan controls and hardware detection respectively.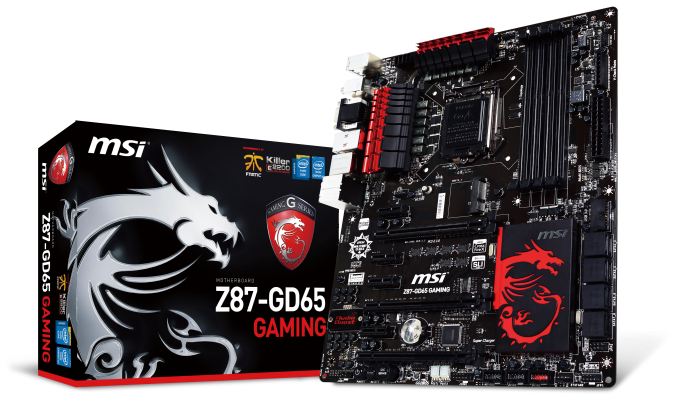 On the performance side of the spectrum, the MSI enables MultiCore Turbo as per standard and actually seems rather efficient from our testing. Unfortunately the DPC is a little higher than I would have liked by default (it seems Haswell DPC > Ivy Bridge DPC on the whole so far), and our dynamic range audio tests are a few dBA away from some of the other ALC1150 implementations. In the early BIOSes we have had trouble adjusting VRIN voltage for overclocks (this may be updated in a public BIOS), and users might be confused that the mouse and keyboard do not wake the machine up from sleep by default – you have to press the power button.
Overclock wise all seemed well from the MSI, with both OC Genie settings giving mid-range overclocks at reasonable temperatures, though the system still lacks an extreme overclock setting. Manually we were able to push our CPU to 4.6 GHz easily enough, and 4.7 GHz at a push as we hit 92C at load.
The sticking point will be whether users will want a motherboard with more of everything (SATA, USB 3.0), or that one 'Killer' feature. For a gamer, features like OC Genie and a Killer NIC on the MSI Z87-GD65 Gaming will be worth strong consideration.