DiRT: Showdown
As always, starting off our benchmark collection is our racing benchmark, DiRT: Showdown. DiRT: Showdown is based on the latest iteration of Codemasters' EGO engine, which has continually evolved over the years to add more advanced rendering features. It was one of the first games to implement tessellation, and also one of the first games to implement a DirectCompute based forward-rendering compatible lighting system. At the same time as Codemasters is by far the most prevalent PC racing developers, it's also a good proxy for some of the other racing games on the market like F1 and GRID.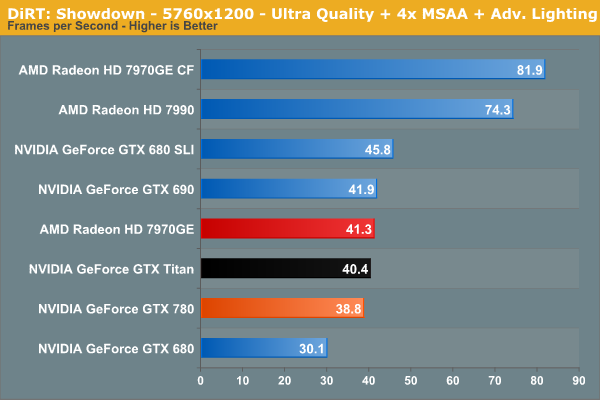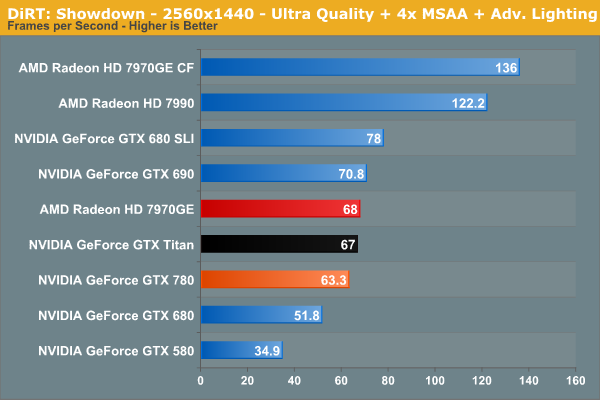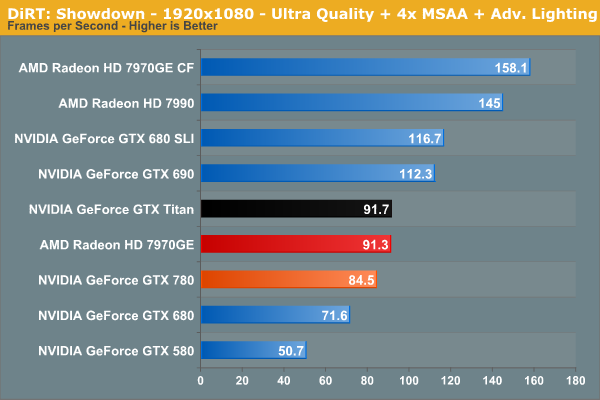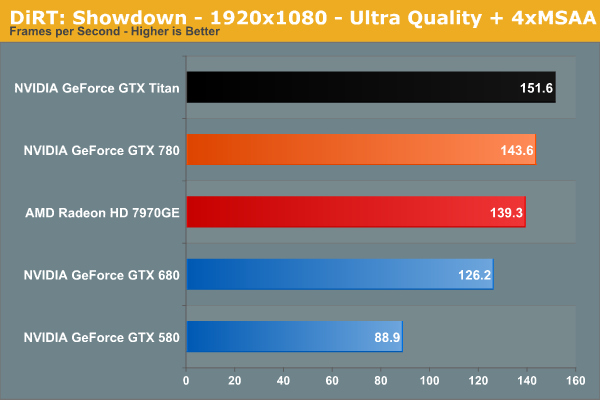 DiRT: Showdown's lighting system continues to befuddle us at times. Though GK10x Kepler parts generally have mediocre compute performance in pure compute tasks, NVIDIA's DirectCompute performance has otherwise proven to be appropriately fast, except in the case of DiRT. The fact of the matter is that DiRT is easy enough to run even with its advanced lighting system that there's no reason not to use it on a card like the GTX 780 at any single-monitor resolution, but doing so does put the GTX 780 in a bad light relative to AMD's best cards. Nor does this put GK110 in a particularly good light, as its compute enhancements don't bring it much of an advantage here beyond what the larger number of shaders affords.
Like Titan before it, the GTX 780 falls slightly behind AMD's Radeon HD 7970 GHz Edition, the only such benchmark where this occurs. The end result being that the GTX 780 trails the 7970GE by about 7%, and the GTX Titan by 6%. Otherwise we've seen Titan (and will see GTX 780) do much better in virtually every other benchmark.